STYLE
Fall Into Fashion With Katrina Bowden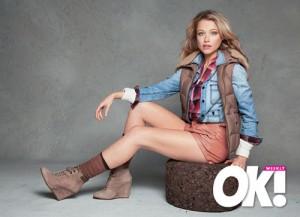 I've loved fashion from the time I understood how to get dressed!" 30 Rock star Katrina Bowden tells OK!. No wonder the former model knows what works when it comes to clothes. "Wear what makes you feel amazing and confident! If you don't feel good about what you're wearing, there's no way you're going to have fun!" OK! couldn't agree more!
Should fashion be fun or serious?
Have fun with fashion — absolutely!
Article continues below advertisement
Any new fashion obsessions for fall?
I love the trends at this shoot! Leather shorts and skirts, plaid, military jackets!
You work with some of the funniest stars on 30 Rock. Is it true comedians are anti-style?
Maybe less concerned. A sense of humor means more than their outfits anyway!
Being around Tina Fey, Alec Baldwin, Tracy Morgan — are you funnier by osmosis?
Definitely! Watching Alec on set is like a little comedic timing lesson every day! Tracy taught me to just go for it — he does and is loved for it! Tina showed me that you can be funny, beautiful, sophisticated and down-to-earth all at the same time.