STYLE
#ItsYourThing! A Behind-The-Scenes Look At SlimFast's New Ad Campaign That Hollywood's Using To Lose The Pounds — And Keep Them Off!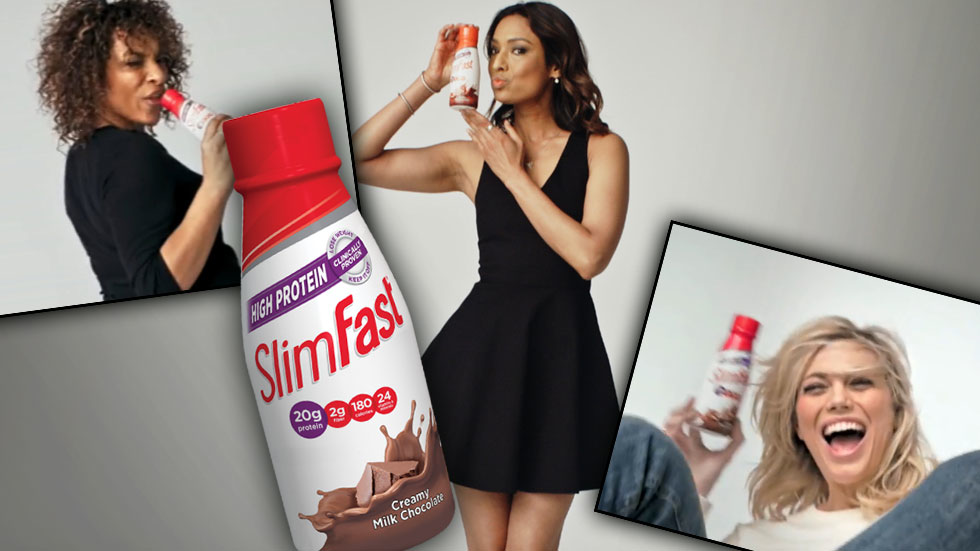 With summertime weddings, reunions and bikini outings oncoming, models and celebs have a secret to shedding those extra pounds or losing that baby weight: SlimFast!
And in image-conscious Hollywood, the rich and famous are well-aware of SlimFast's weight-loss shakes, which are low-cholesterol, gluten-free and a great source of fiber. The nutritious shakes -- which dozens of studies have endorsed as a great way to lose the weight, and keep it off -- contain 20 grams of protein and 24 vitamins and minerals.
Article continues below advertisement
The convenient, on-the-go shakes are perfect whether you're getting ready to walk the red carpet or pick the kids up from camp.
And now, SlimFast is taking things to a new level with their electric new "It's Your Thing" campaign, which encourages users to get into shape while having fun! And OK! is taking you behind the scenes of a high-energy, V.I.P. commercial shoot behind-the-scenes of the new campaign.
The spot, which was shot at Chelsea Studios in New York City last month, features models, dancers, a production crew, and hair and makeup professionals, set to the upbeat tone of a revamped version of the Isley Brothers classic "It's Your Thing."
The inside look well represents the high-energy attitude of the "It's Your Thing" movement, which is perfectly tailored to the busy lives of everyone from first-time moms to athletes to college students.
Article continues below advertisement
Watch the video on OKMagazine.com!
Kamini Chinloy, a beauty who SlimFast helped shed 60 pounds after she gave birth, boasted of the brand's modern innovations.
"I now know I can take it with me anywhere and get real protein and fiber," Chinloy said, "and I love the taste!"
Laura Petersen, a new mom who's also featured in the spot, said that SlimFast perfectly meets her fast-paced needs of balancing motherhood and her career.
"Not only does SlimFast taste great, it's definitely getting the job done," she said. "The weight is finally slipping away!"
For more info on this, check out SlimFast.com or on social media under the hashtag, #ItsYourThing.