STYLE
Katy Perry and the Case of Her Dazzling Costume Changes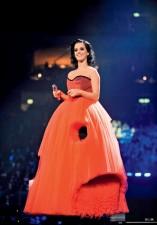 The "Hot N Cold" diva makes a style statement at the MTV Europe Music Awards.
Making the most of a global TV appearance in Berlin on Nov. 5, Katy Perry wowed viewers by donning 12 different outfits throughout the show. "It's meant to be fun, not meant to be taken too seriously," Katy told reporters at the event.
By the way, Halloween may be over, but it's never too late to wear a pumpkin-looking outfit designed by Viktor & Rolf.
Article continues below advertisement