STYLE
Kym Johnson's 'DWTS' Diary: On the Chopping Block Tonight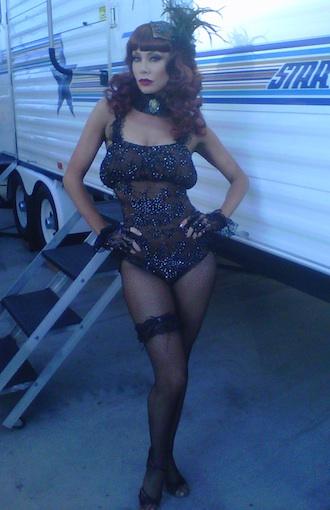 Our chances are pretty high of going home tonight, unfortunately. I think our dance was pretty good, and David did a great job. We had a few things that went wrong right before we danced. His trick wasn't there ready, he didn't have on his kneepads in the beginning, so there was a lot of stress. But he handled it so well and danced really really well. The team dance we didn't do too well with the judges' scores so that mark pulled us down.
Article continues below advertisement
The judges were so nice to us, we got pretty good scores for our own dance, so that was great. Unfortunately in the team dance we didn't get scored too well in. I was really happy with what we did, I think we should've got scored a little higher. Unforuntaly that score really affected our spot in the competition. The other team were amazing, they really pulled it together, so I think there scores are deserving. That's the way it goes!
I would love to stay in the competition, I think that David has been improving every week and he's got so much more to do. I was optimistic last night and went and choreographed our next routine, and it's really good, so I'm excited to do the next dance, and I really want to stay in! But if we don't, I've had a really good time with David. I'm still optimistic that we'll stay in.
If we find out we get to stay… Oh my gosh, I will be SO HAPPY. I know David will be so excited. He's doing so well and he's really enjoying this competition, I think it's been so great for him. He knows as well, we're the second to last couple, so if we don't have enough people who voted for us, we're on the chopping block for sure.
Article continues below advertisement
It looks like it'll be between us and Nancy Grace with Tristan. you never know with the show, it's unpredictable, but if I were a betting girl I'd say more so us, I guess. You just don't know.
We're going to New York tonight, because David has something going on. We're doing GMA I think, and then he has an event so if we do get through, it'll be a tough week with the traveling, but we'll make it work!
Fingers crossed we'll still be in the show!
Kym