STYLE
Marisa Miller: "I Was Always Shy About My Body"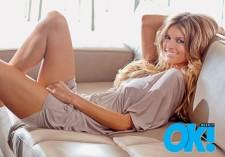 "When I'm home, I either do Pilates or boxing," the 5-foot-8-inch Santa Cruz, Calif., native Marissa Miller tells OK!. "I also surf. It's important that you do something." OK! caught up with the 31-year-old Victoria's Secret Angel in L.A., where she opened up about how she stays in shape, has a weakness for cheeseburgers and learned to love her body.
How do you maintain your amazing figure?
One of the most important things is consistency, which is difficult for me with all the traveling I do. I have to plan a lot. I bring nutrition bars with me in case I'm in a pinch and can't get a salad or something fresh. When I'm home, I cook and try to eat really clean. I try to eat vegetables at every meal. I stay away from pasta and bread and have brown rice and potatoes instead. The great thing about having a healthy diet is that when I splurge and have that day where I have the cheeseburger and fries, I don't feel bad about it, because I know I've been eating well and one meal isn't going to kill me.
Article continues below advertisement
Does staying slim come easily for you?
If I have to be in lingerie in front of everybody, that's plenty of motivation! But anybody who knows me knows that I have a very healthy appetite. It's not about being as tiny as possible; it's about having balance. If you feel like having a cheeseburger, have one, but let your diet be healthy 90 percent of the time.
Do you have insecurities?
Growing up, I was always really shy about my body. One of the greatest things about my job is that I had to learn to be comfortable with it. When I started in the modeling business, I had a curvy figure and that whole androgynous look was in. All the others girls were completely flat, but I learned to embrace my curves. It's so important to love your body and work with what you have and know that everybody has their own beauty. It's not about being this or that.
How does it feel to wear the Victoria's Secret $3 Million Harlequin Fantasy Bra by Damiani?
You feel like a princess, but instead of the crown, you get a bra! It comes out of this black suitcase, and it's gorgeous. And you get some lovely, large bodyguards following you around. I tease them that I was going to run out the door with it.
You also get to work with Heidi Klum! Do you ever feel like you have to live up to her success?
Article continues below advertisement
No, all of us have such camaraderie. One of my very first commercial shoots for Victoria's Secret was with Heidi, and I have always looked up to her. She has such a great work ethic. If anything, I feel like she's been a mentor to me; she's amazing.
You've partnered with Harley-Davidson. How do you feel about that?
My dad and my uncle rode Harleys, and I ride dirt bikes, but to have my own bike and represent this iconic American brand is crazy — and so much fun. I got my motorcycle license, so I am totally legit. It was great because I took a riding course with my husband, Griffin, and my dad, and I ended up getting my dad a bike so he and my mom can ride together.