STYLE
5 Sun Safety Tips You Need to Read NOW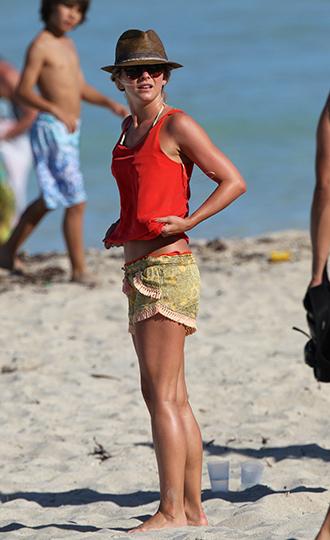 May is National Skin Cancer Awareness Month and since today is May 1st, there's no better time to brush up on your sun safty than today. Read on for Celeb Dermatologist Dr. Howard Sobel's advice on what to wear, what to avoid, and the #1 thing you should never do.
OK!'s 12 Week Countdown To Summer Week 5 Roundup
Dr. Sobel's Top 5 Sun Safety Tips
1. Avoid the sun between 10 a.m. and 4 p.m. This is when the sun's rays are strongest, so if you can steer clear of the sun during these peak hours, do so! If you are outside during these times, be sure to wear sunscreen!
Article continues below advertisement
2. Wear protective covering. UV-protected clothing is on the rise, which can provide extra protection against the sun, otherwise try to wear hats and articles of clothing that cover your skin.
3. Wear sunglasses that provide 100% UV ray protection. Many forget how harmful the sun can be on our eyes in conjunction to our skin. Be sure to wear sunglasses that defend against rays which can impair your eyesight.
4. Avoid artificial tanning. As much as you may like the way you look when you're tan, it's extremely harmful to purposely make your skin this way. Never use tanning beds or any other simulated tanning device. These are just as bad as the actual sun.
5. Always wear a broad-spectrum sunscreen. Whether you're on your way to the beach or the office, use SPF 15 or greater whenever stepping out into the sun. Look for a sunscreen which blocks both UVA and UVB rays. Apply the sunscreen 30 minutes before sun exposure and reapply every 1 ½ to 2 hours. Try DDF Daily Protective Moisturizer with Sunscreen Broad Spectrum SPF15.