STYLE
Melrose Place's Stephanie Jacobsen Shows How to Rock Menswear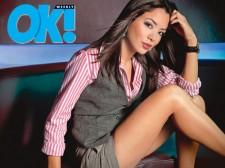 After playing a kick-ass resistance fighter in TV's Terminator: The Sarah Connor Chronicles, Stephanie Jacobsen moved into Melrose Place as Lauren Yung — a med student who moonlights as a prostitute. The role is a departure for her in terms of acting — and her style. "On Terminator, I ran around with no makeup on, in combat boots, carrying a plasma rifle; now I'm playing a character who wears designer dresses and Louboutins," Stephanie, 29, tells OK!"I'm a little bit of a tomboy — so Melrose has taken me to the other end of the spectrum."
Article continues below advertisement
Meeting up with Stephanie at West Hollywood spot Mi-6, part of the SBE empire, OK! brought the Hong-Kong born, Australia-raised actress back to her sartorial home base — menswear-inspired fashions — while she dished on her gig, her go-tos and why she's gaga over Gwyneth Paltrow.
So what's the next for your character, Lauren?
Lots of moral turmoil. Her story line for the next few episodes is based on a life-changing ethical decision she had to make in the pilot in response to a financial hurdle that she came up against. Everyone knows by now she's moonlighting as a prostitute, so you can expect to see all the ways in which having that double life affects her.
How fun is it to play her?
Oh, it's great. I kind of feel this character I've been given is an actress' dream, because she's a self-contained dichotomy: On the one hand, she's academic and conscientious — and on the other hand laughs, she is selling her body. So it's very challenging and rewarding.
What is it like working with Heather Locklear?
Heather's wonderful. She's incredibly easygoing and very accessible and she kind of just came in and merged the cast.
Article continues below advertisement
How wold you describe your personal style?
Well, as I said, I'm kind of a tomboy, so the theme for this shoot really suits me. I love mixing casual stuff with dressy stuff, like wearing denim shorts with 6-inch Burberry heels and a flannel shirt.

Who are your favorite designers right now?
I've loved everything I've worn and seen from Balenciaga recently. And I really like Baby Phat. I wore one of their dresses to a Melrose Place premiere party.
Do you spend a lot of money on clothes, or can you rein it in?
I have myself on a rewards system: When I achieve something, I'll go out and buy myself a pair of shoes or a jacket.
What do you think of the menswear look you're modeling today?
It's cheeky. Being dressed like a man encourages a woman not to take herself too seriously, but at the same time, it's kind of empowering in a way, and it's kind of defiant to say, "I can wear this and still look sexy."
Who's your style icon?
I really love Gwyneth Paltrow. My style is nothing like hers. She, to me, is the epitome of femininity and grace, and that's why I like her so much. I'm so the opposite.
OK!'s photo shoot with Stephanie took place at hot West Hollywood nightclub Mi-6, located at 9077 Santa Monica Blvd. Go to Go to www.sbe.com/mi6 for more info.
Reporting By Patricia Ramos