STYLE
OK! Exclusive: Ciara Talks Red-Carpet Must-Haves and What She Loves to Do in Bed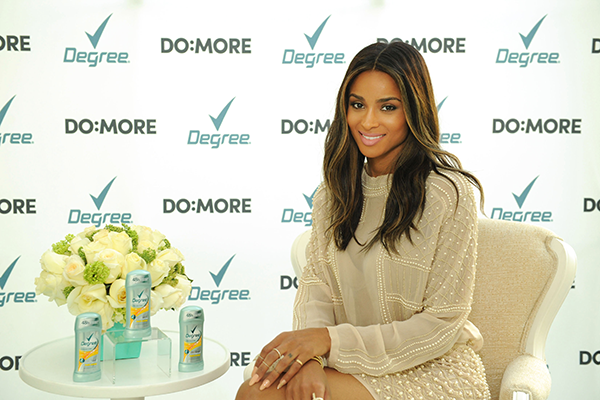 Since the only thing we care about this weekend is the MTV Video Music Awards, we've been taking every opportunity to stalk, ahem, chat with the stars nominated for a Moonman, which brings me to...Ciara. She's killing it with the body, the voice, and the charm, but I needed to delve deeper to see just what she relies on to make her so hot. Take note ladies—and—you're welcome.
OK!: You recently partnered with Degree for their DO:MORE Campaign—why was this important to you?
Article continues below advertisement
Ciara: It's the message that they're delivering—it's about encouraging and inspiring women to do more. Being a hardworking woman myself, I'm always pushing myself to do more and to be better; I don't ever want it to stop. That's the energy and mind-space I like to live in.
OK!: So we're at the Alvin Ailey dance studio in NYC and you're nominated for a VMA Moonman for "Best Choreography" (fitting), how do you make working out fun?
Ciara: Luckily I have a trainer who makes it fun. Gunnar makes it so it's not just about doing the same old routine. I love doing different things that keep me interested, because when you keep practicing the same moves, you get a little bored. I think it's about keeping it different—doing the unexpected and challenging yourself so you feel like you've really done something great.
OK!: Any particular workouts you're loving right now?
Article continues below advertisement
Ciara: I'm all about mixing plyometrics with weight training because I'm a performer and I need to be able to jump around and condition my body for high, fast movement. That's what I like about plyometrics and the weight training helps you keep on a little muscle so you don't whither away.
OK!: What about workout music? Do you work out to your own music?
Ciara: I don't really like to listen to myself or self-indulge too much, but I do have cool moments where I put my album on every now and then if I'm getting ready for a show. Beyond that, I like listening to Michael Jackson's greatest hits when I train. I love tempo and listening to albums as opposed to individual songs like FutureSex/LoveSounds by Justin—I love working out to that album.
OK!: Aside from music and dance, what else do you love to do in your spare time?
Ciara: Be a lazy couch potato. I put my feet up and make these nachos with queso cheese, then I kick back in bed, eat my nachos with sour cream and salsa, and watch TV. If I feel like getting out of the house, I'll ride my bike on the beach.
OK!: Any guilty pleasure TV shows?
Ciara: Love and Hip Hop Atlanta. That's my TV. It's pretty ratchet, but I love it.
Article continues below advertisement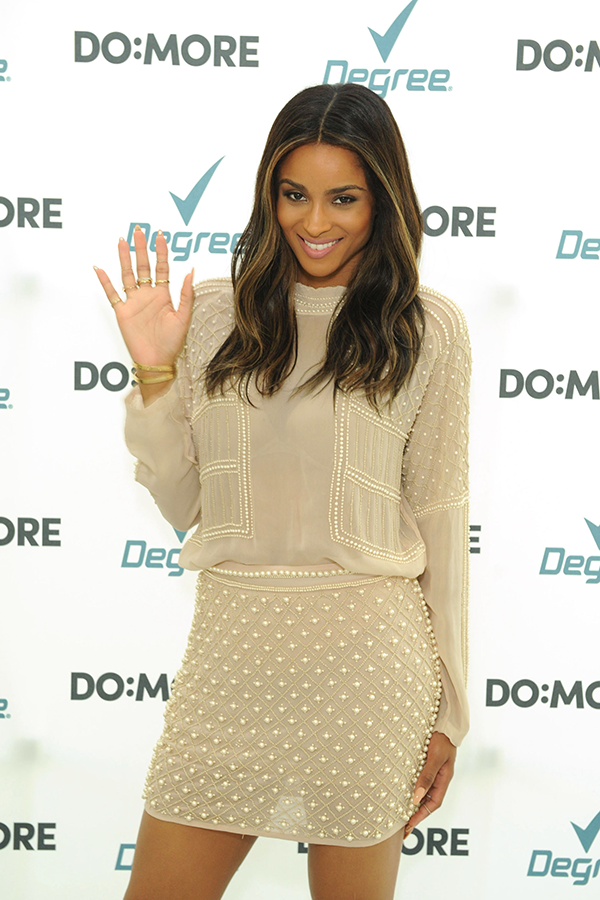 OK!: Since you're going to be walking the red carpet at the Video Music Awards, let's take a second to talk about the prep for that... What do you rely on?
Ciara: Deodorant. I've used Degree for years and I love and live by it. I've tried everything in the world and nothing works like this deodorant and the thing that's so cool is the motionsense technology that they've added to their new Clinical Strength deodorant—whenever you move, it moves with you and protects.
OK!: What else is in your red-carpet survival kit?
Ciara: A peachy-nude lipstick or a classic red and tinted moisturizer with SPF. Also, a paddle brush and a small thing of holding spray and I always have to have my floss—I'm addicted to flossing. I love the little floss sticks. Floss sticks on deck.
OK!: Who are you looking forward to seeing at the VMAs?
Ciara: I'm excited to see Bruno Mars, Justin Timberlake, and Katy Perry.
OK!: What's been your best VMA memory?
Ciara: Winning a Moonman with my friend Missy Elliot.
Are you excited for the VMAs this Sunday? Are you rooting for Ciara to win? Leave a comment below or tweet us @OKMagazine and don't forget to check out Degree's Facebook page to view more of Ciara's DO:MORE story and win signed goodies from her!