STYLE
OK! EXCLUSIVE: How Brooke Got Her Inspiring Bikini Body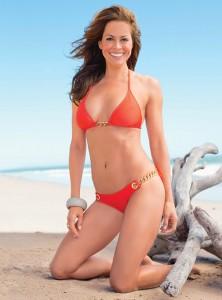 Dancing With the Stars is having its hottest season yet, thanks in part to Brooke Burke, the season seven winner who's now the show's sexy co-host. Despite trading her dancing shoes for the emcee duties, Brooke, 38, still has that killer DTWS bod, which she shows off here in summer's hottest styles.
The sexy mom of four opened up to OK! about co-hosting the hit dance show and being Bikini ready.
What's it like being a co-host?
Article continues below advertisement
It brings me back! I feel all that energy before the dancers go onstage. Hosting live TV isn't easy, but remembering what I went through, I know I have the easy job now. As a contestant, I was terrified!
OK!'S RED CARPET CONFIDENTIAL: BROOKE BURKE'S LAST WORD OUTTAKES
What do you think of your glamorous DWTS wardrobe?
It's the most fun part of the job! It's like being a princess every single week!
How often do you wear bikinis?
I always wear bikinis. I don't know if I own a one-piece. I stay in shape all year. I don't want that panic because summer's coming up. I do Pilates, but I believe 95 percent of being in shape is what you eat.
OK! NEWS: BROOKE BURKE PICKS DWTS FAVORITES
What is your diet secret?
Mediterranean. I don't waste calories on sugar, juices or sodas. I eat meat (beef, grilled fish, a lot of sushi), vegetables, salad, clear soups — and I drink a lot of lemon water. I don't eat white flour, starches or bad fats, but I'll do olive oil, avocado, almonds and flavorful herbs. Red wine. Lots of red wine.
WHAT I ATE TODAY: BROOKE BURKE
Are you really as confident as you look?
This is the first bikini shoot I've done since becoming a mother of four. I feel confident and comfortable. I don't even look back and think about my 22-year-old body. I think about the woman I am right now, and I actually feel really good!