STYLE
OK! Exclusive: Lucy Hale Reveals The Lipstick Color She Lives For and Her Fave PLL Memory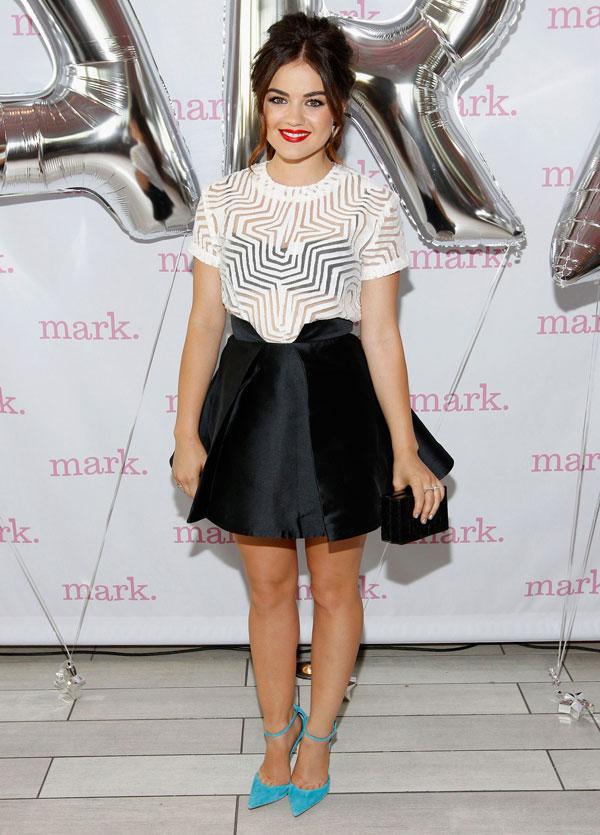 Despite being on a hit show, working on her music career, hosting one of summer's biggest awards shows, and being the new face of mega beauty brand mark., Lucy Hale continues to remain one of the most grounded celebs in Hollywood. I mean the girl lives for unicorns and brings her best friend everywhere—could she be any cooler? I sat down with the Pretty Little Liars star at mark.'s 10 year anniversary party to grill her on product obsessions, fashion trends she's loving, and summer vacation highlights—see what she had to say below!
Article continues below advertisement
OK!: You were amazing at the Teen Choice Awards—what was the best part?
Lucy Hale: The first time I went to Teen Choice, I was just in the audience as a fan. The next time I went, I was a part of a show. The next time I went, we were nominated. The next time I went, I presented. So hosting it was just crazy. I actually can't believe it, but me and Darren had a great time. I love that kid.
OK!: Congrats on also being mark.'s newest brand ambassador as well! Do you have a beauty philosophy you live by?
LH: It's hard to be a women. We all have bad days and we all have things we're insecure about, but just focus on one thing you love about yourself—focus on that.
OK!: What are your favorite mark. must-have products?
LH: I love the Make It Rich Lip Crayon in 'Hot Sauce' and their Lash Act Mascara. I also like the 'Touch & Glow' palette.
Article continues below advertisement
OK!: You always do the best bold lip, but if you had to choose one favorite shade, would it be a pink, red, or coral?
LH: Definitely classic red!
Lucy Hale is mark.'s Newest Brand Ambassador!
OK!: What about fashion trends you're loving?
LH: I love a good one pantsuit. Shay Mitchell wore one at the Teen Choice Awards, but I'm too short to pull it off.
OK!: Speaking of Shay, what's been the best behind-the-scenes moment filming PLL with your cast mates?
MORE ON:
Teen Choice Awards
LH: Probably my birthday this year because it was like three in the morning and my best friend Annie was there because she was an extra in the background and we had a little party.
Who's the #1 Celeb Lucy Hale Would Go Shopping With?
OK!: What's in your beach bag?
LH: Oil-free sunscreen, Aquaphor lip balm, Maui Babe Browning Lotion, and magazines—OK! included!
OK!: Anything you'd wear that Aria's worn this season?
Article continues below advertisement
LH: I'd definitely wear a lot of the outfits, but only certain pieces from each one. I adore Aria's style, but I'm just a little more subdued. Some of the crazy denim she has worn so far I would wear, but with a basic t-shirt. I LOVE all of Aria's jewelry.
OK!: What's the best place you've been this summer?
LH: Maui! It's such a magical place. Everything is so green and the air is so refreshing.
OK!: What's the first thing you think about in the morning?
LH: Coffee!
Are you a fan of Lucy's? What do you think of her as the new face of mark.? Sound off in the comments below or on Twitter @OKMagazine!