STYLE
OK! Look of the Day: Rose McGowan's Sundance Snow Style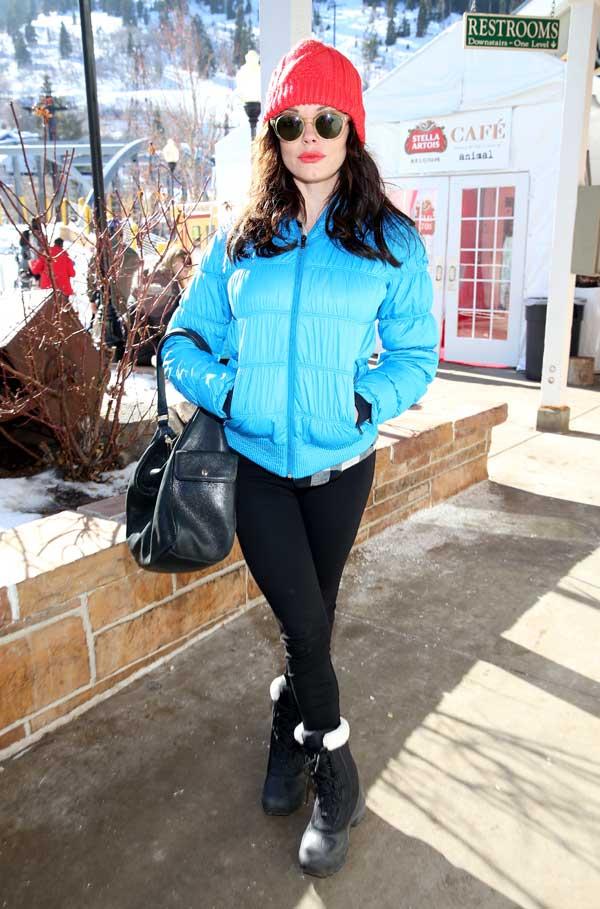 One winter blue we won't wish away? How about Rose McGowan's neon down bomber jacket that she wore during her stay at the Sundance Film Festival—almost makes you want to go outside and make friends with Janus, eh?
Channel Your Inner Snow Bunny With These Cold Weather Styles
While at the Village at the Lift events in Park City, Rose paired her brightly colored coat with slim black leggings and your typical mid-calf snow shoe. So you're thinking her outfit isn't that grand? No studs, diamonds, crop tops, or tons of fur embellishments—so what's the big deal? Yes, the ensemble really isn't that shocking, but it's her use of that to-die-for scarlet red Columbia beanie and the addition of the circular sunnies that got us talking—er, typing.
Article continues below advertisement
Social Sundance: Tweets and Instagrams From Inside the Annual Film Festival
The pop of red brings this low-maintenance look to life—plus, with those mod shades, doesn't it kind of look like Megan Draper took a ski trip? I personally would LOVE to look like this when I go out to shovel my car. Note: I'm usually fighting off tears of mascara residue dripping down my face. Rose, on the other hand, doesn't have that problem and even pulls off a pretty coral lip better than most.
MORE ON:
OK Look of the Day
What do you think of this Sundance style? Tweet @OKMagzine and leave a comment below.