STYLE
OK! Loves: Glitter Nail Polish for #ManicureMonday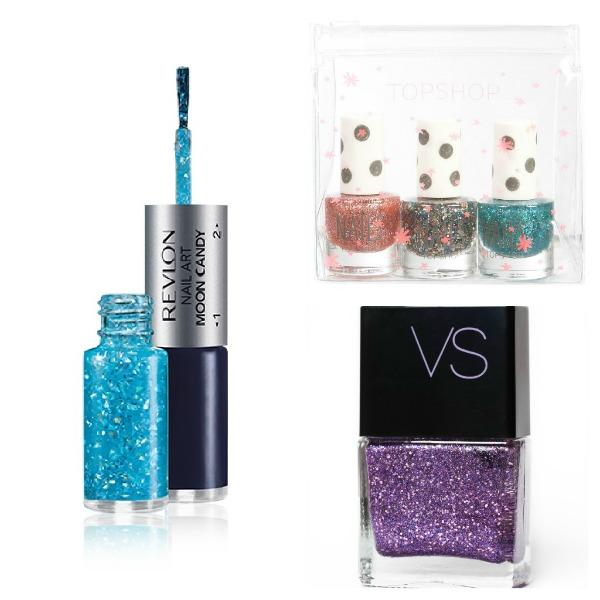 It's #ManicureMonday and in honor of one of my favorite days of the week I wanted to share a few nail polishes that I'm loving with you guys. First of all, if you follow me on Instagram you know I post pics of my nails ALL THE TIME and my favorite thing to do it fix a chipping mani with systematically placed flecks of glitter polish, hence #TipsforChips. These new colors are perfect for this and I'll tell you why:
Article continues below advertisement
1. Revlon Nail Art Moon Candy: Why someone hasn't created a duel-ended wand featuring a solid base coat and a glitter top coat is beyond me. Thank God Revlon just did. Their Moon Candy sticks come in ten perfectly paired shades to create custom nail art looks whenever you want! Available for $9 at drugstores.
2. Topshop Make Up Nail Trio: Can't decide which color to go with for your next mani? Why not try a mix of these three glitzy shades on alternating fingers—more is more in my eyes. Or, paint over a semi-flawed tip with a complementary hue from this trio. Available at Topshop stores for $28.
3. Victoria's Secret Nail Lacquer: As if you needed another reason to shop at Vicky's. Well, the sexy retailer of all things lingerie and shimmery body bronzer just launched thier first 20-piece nail color collection and it's pretty amazing. The line includes stunners like 'Steal the Show' (a metallic rose gold), 'Perfect' (a pretty pinky-lilac), and this sparkly purple gem called 'Drama Queen'. Available at Victoria's Secret stores for $10 each.
What's your fave glitter polish? Tell me below or tweet me @KelliAcciardo!