STYLE
OK! Loves: These Four Winter Beauty Must-Haves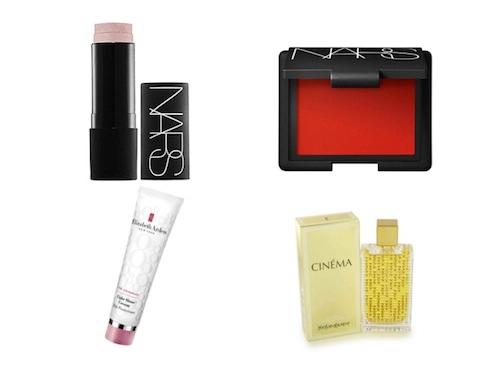 It's winter and I hate it, but these things make it a little more bearable!
1. NARS Multiple in Copacabana
Confession: You can use this all the time, but I especially like it for winter. I have been a NARS devotee for like, 10 years now (OMG, I feel old), and the Multiples are awesome because you can use them on your eyes, cheeks and lips. That makes it pretty much the best option ever if you're constantly on the go. The Copacabana reminds me a bit of a winter frost (in a good way). Another bonus: they last forever. $39, narscosmetics.com; some department stores, Sephora
Article continues below advertisement
Don't be scared by this insane red color, people! This gives me the winter flush I'm looking for, and I don't have to spend much time outside. I should note that I have an olive complexion, and my fairer friends have given me that "Are you insane?" look countless times when they see me about to appy this blush. But I promise it will leave you rosy-cheeked and not at all clown-like. $28, narscosmetics.com; some department stores, Sephora
3. Elizabeth Arden Eight Hour Cream Skin Protectant
This stuff is amazing. You have been looking for it your entire life, I promise. I have a losing-my-gloves problem, and my hands get super dry as a result—to the point where it hurts. This stuff will heal your hands in no time, and then protect them from the elements. If you're looking for something that smells amazing, sorry. This stuff is not for sissies. It's kind of sticky, but once it's dry, you're good to go. And it works. You will never stop using this. $19.50, elizabetharden.com; some department stores
Article continues below advertisement
4. Cinema Perfume, Yves Saint Laurent
You can still buy this on Amazon, and some other places that carry discontinued fragrances. In my former life, I was a perfume spritzer. I became obsessed with this when it came out, and I'm obsessed with it today. Its base notes are amber, benzoin, white musk and vanilla, and that's pretty much all you smell—I never notice the floral and citrus notes in the scent. It's warm, inviting and delicious. If you're a perfume freak (I'm reformed), order this online. Even if you don't like it, someone will. Send it to me, I'll take it! $50 for 3 oz., amazon.com
I want to know if you have used any of my favorite things and what your must-haves are for keeping things glam in the cold! Tweet me @reallylsass and let me know!