STYLE
OK! Loves: Tried and Tested Skin Care Products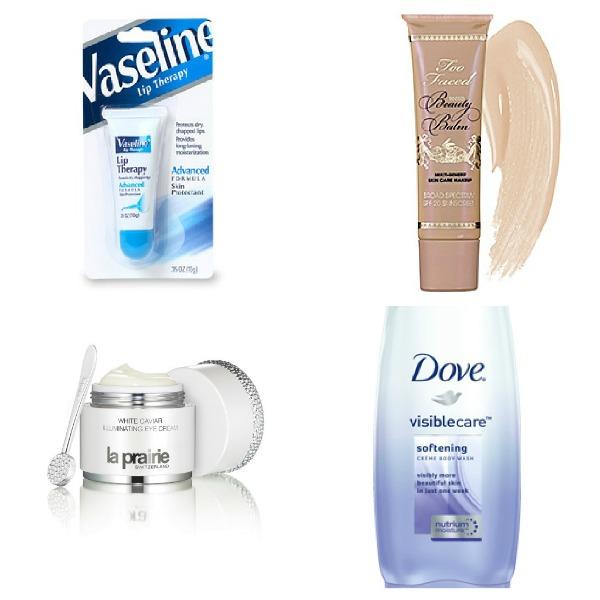 This is no newsflash, but it's winter and it's freeeezing. Seriously, my skin couldn't feel any drier or more depressed, which is why I've been digging deep into my beauty product archives to test-drive super-moisturizing creams, serums, and body washes. Here are a few of my current loves:
1. Dove VisbleCare Softening Creme Body Wash: This is legit the only body wash I will be using until spring. A lot of formulas focus only on the clean part and not so much on the softer skin part, but it's a two-in-one bonus in this bottle! $8, drugstores
Article continues below advertisement
2. La Prairie White Caviar Illuminating Cream: I swear I look younger every time I put this on. OK, maybe that's wishful thinking, but this eye cream is good, really good. I love the instant firmness I feel and the brightening effect it has thanks to pearlescent powders. Plus, it comes with a tiny applicator that has small bumps on it so you actually feel like you're getting a skin massage while you're applying the stuff. I'm not even done—the rare white honey ingredient found inside helps with hydration and it also contains white truffles to combat those pesky signs of aging. It's a bit of a splurge (did you read the part about truffles??), but a little goes a long way. $350, shoplaprairie.com
MORE ON:
Winter Beauty Products
3. Too Faced Tinted Beauty Balm SPF 20: Anyone who knows me knows I'm a BB Cream fanatic and this is my new fave. Wouldn't you rather spend more time on your eye makeup or accessorizing instead of applying SPF, then primer, then tinted moisturizer, then concealer? I would, which is why this all-in-one tube is a must-have. I also like that it's not super-goopy or too thick like other BB Cream formulas can tend to be. EDITOR'S NOTE: if you have very dry skin you might want to wear a moisturizer underneath. I have normal/oily skin so the coverage was just right for me. $32, Sephora
4. Vaseline Lip Therapy: Protects dry, chapped lips—'nuff said. Wait no, it's also $2—no better bargain out there! Available at drugstores.
What's your favorite beauty product to use during winter? Tell me by leaving a comment below or tweet me @KelliAcciardo!