STYLE
OK!'s Diet Confessions With AnnaLynne McCord!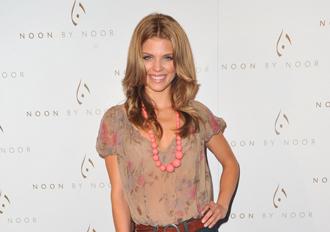 90210 star AnnaLynne McCord dished out her diet confessions to OK! at the Trident Liberate Fun Tax Day in Los Angeles, Calif., revealing that a huge bowl of mac 'n' cheese would definitely be her last meal on earth!
OK! GALLERY: ANNALYNNE MCCORD GETS DRAMATIC WHILEF FILMING SCENES FOR 90210
My eating habits in one word.
Healthy.
Last time I skipped a meal.
I do sometimes, but not on purpose. Bit it happens accidentally when I get busy.
Article continues below advertisement
My last feast on earth.
My mac and cheese that I make with extra cheese and extra cream sauce. I would want the whole entire cheesy dish for myself.
OK! NEWS: OK!'S DIET CONFESSIONS WITH AMY SMART
Least healthy thing I've eaten all week.
Cotton candy! I am very lucky in the genes department.
Healthiest thing I've eaten all week.
I had a lovely dinner of fish — girlled, not fried — like I like it from the South, with steamed asparagus and spinach.