STYLE
OK!'s Fashion Week Blog: Tracy Reese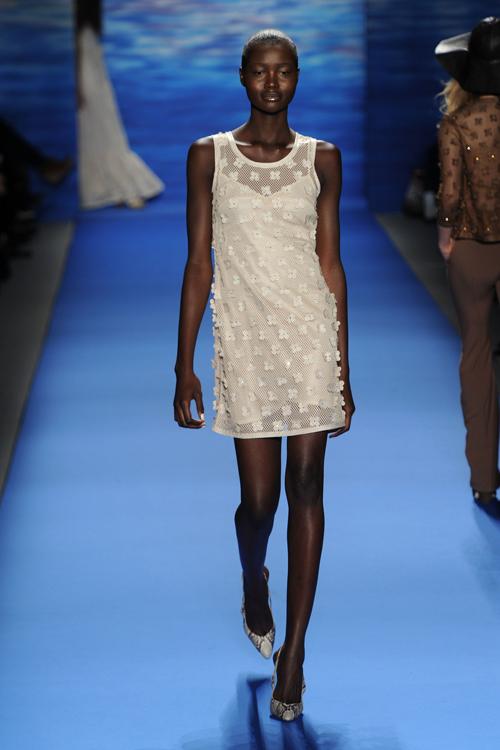 Can't make it to NYC for Fashion Week? Don't worry, OK!'s got you covered! Today we headed over to check out Tracy Reese's runway show for a sneak peek at the designer's spring collection and loved every minute!
SHOW: Tracy Reese
WHEN: Sept. 13, 2010
WHO: Kelly Osbourne, Denise Richards, Angela Simmons, Dania Ramirez, Aisha Tyler, Veronica Webb and NBC's Natalie Morales.
Article continues below advertisement
FASHION: Combining a passion for fashion with travel, Tracy Reese's Spring 2011 collection paid great attention to detail. Lace embellished with linen and extra beading added flair to the tops and dresses that hit the catwalk. Mixed prints (florals combined with stripes), wonderful neutrals, great flared pants, beautiful silk blouses and some "really foxy dresses" — as Tracy would describe them — rounded out the collection. Bright corals and blues were a welcome surprise on the catwalk that consisted of mainly neutral pieces — ivory, saddle brown, camel, black. Cut-out backs and peek-a-boo slits were also popular in the tailoring.
"It's really about travel, I'm kind of a daydreamer when it comes to travel, where would I like to go and how would I like to get there," Tracy told OK! of her latest Spring collection. "People used to travel so glamorously, you would go on the ocean liner and travel to some great destination and you had a wardrobe for the ocean liner because you had a five-day trip to get there. That is kind of the inspiration for the first part of the group."
Article continues below advertisement
Tracy also said there is a timelessness appeal to her clothing.
"It also could work anywhere," she said. "It's classic clothing."
The show went from a great wearable travel look to a more resort-esque feel.
"We arrive at our destination, it's a little more exotic," Tracy said about the second half of designs to hit the runway. "More laid back, a little more groovy. There is a little '70s undercurrent there but it's very modern very real, and I think it's the right thing for women now."
BEAUTY: Models sported long, loose wavy locks paired with a neutral make-up color palette incorporating pail pink lips and blush tones. Big, psychedelic sunglasses with tinted color lenses and floppy hats added to the 1970's vibe.
COLOR/OVERHEAD: The front row celebs were very excited about Tracy's collection.
The beloved designer greeted all her guests backstage. To everyone's surprise, Tracy was wearing the same dress as Denise Richards. The duo made the best of the situation, laughing and posing together for photos.
Article continues below advertisement
Kelly Osbourne chatted with her publicist for the majority of the show, seeming very enthusiastic about the looks on the catwalk.
The star has become a fashion icon herself, and her sense of style has landed her next to Joan River's on E!'s Fashion Police.
"It makes me really excited but at the same time really nervous, because you never want to really disappoint anyone, but at the same time I wear what I like," Kelly told OK! of her style icon status.
"Clothes are a form a self-expression. It's an art," she added. "You can make yourself into anyone with what you wear."
Kelly sported extended blonde locks, which she was a little concerned about, but she received a positive response from photogs and many compliments backstage.
She said she left gray/purple hair and went back to blonde for a film she is currently working on.
"I kind of miss my gray hair, but I'm really liking the blonde right now."
Angela Simmons loves attending Tracy's shows and as an aspiring designer herself, she said she looks up to Tracy for inspiration.
"She has a lot of really nice dresses and stuff and I love seeing her do her thing," Angela told OK!. "I come out and support all different designers who I think have great stuff."