STYLE
OK!'s Guide to Picking the Most Stylish Shades!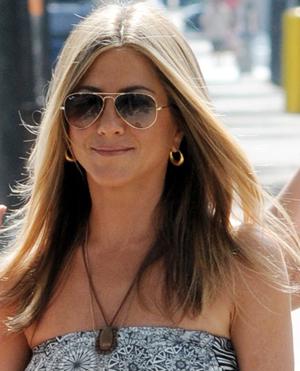 It can be hard to get the right dress size. Picking out a perfectly proportioned bra is a miracle of mathematics. Shoes have to fit exactly, if you're the type who likes to avoid agony.
But sunglasses. They're easy, right? Just pick out the cutest pair and slip 'em on your pretty little nose.
Au contraire, says stylist Jenn Rade. And she should know — it's her job to dress a certain Ms. Angelina Jolie.
Article continues below advertisement
Jenn, who is the brand ambassador for sunglasses wonderland that is the Ilori boutique, tells OK! it's just as important to match your shades to your shape as it is with a dress.
And while she says that sunglasses are a simple way to give your look an edge, not every pair will suit every face.
"Fashion is fun and sunglasses are an easy way to experiment," says Jenn. "I suggest people try new styles and let go of the idea that there's just one style or color that will compliment them best.
"Experiment with color, style and size – you may just surprise yourself. Between wraps, aviators, and over-sized plastics. There's something for everyone."
Here, Jenn has picked out some glasses that go perfectly with certain face shapes and she demonstrates them with the help of some of our favorite celebs.
Heart-Shaped Faces
Reese Witherspoon, Scarlett Johansson, Zac Ephron and Jennifer Aniston (pictured) all have gorgeous heart-shaped faces — broad at the forehead and cheekbones, narrow at the chin with a delicate jaw.
Article continues below advertisement
Jenn says that to broaden the appearance of the chin and draw more proportion throughout the face, those guys could try thin, light metal or clear plastic frames that have broader bottom halves.
"Jennifer Aniston has a face shape that works with many sunglass styles, from a great pair of aviators with very little framing to an oversized wireframe style – maybe a fabulous pair of Prada or Dolce & Gabbana," Jenn recommends.
Square Faces
Square-shaped faces — like David Beckham's, Katie Holmes' and Vanessa Hudgens' (pictured) — have a strong jawline and equally broad forehead, with predominantly straight lines from top to bottom.
Jenn says that people with square-shaped faces should pick frames that are slightly rounded at the edges to soften and balance features and to go for frames that sit high enough on the face to downplay the sharpness of the jawline.
Article continues below advertisement
For example, says Jenn, "Vanessa has amazing bone structure and would look great in lots of styles. Slightly rounded plastics often compliment square faces as they soften the face shape. I suggest Vanessa check out the Persol 649, which is a great rounded plastic aviator."
Round Faces
If, like Eva Mendes or Isla Fisher (pictured), you have a round face, Jenn would tell you to try on a pair of rectangle or square frames — they downplay the roundness by adding some definition to your cheek structure and jaw line.
Also deep colors such as black or tortoiseshell minimize fullness, or thin metal frames are another flattering option because they focus attention away from the sides of the face.
"Isla is a perfect example of great round face," says Jenn. "I would suggest she try on a great pair of square oversized shades like the Nina Ricci "Jackie O" or a more angular frame like the Tiffany "Return to Tiffany" pair.
Article continues below advertisement
Oval Faces
According to Jenn, people with oval faces, such as Beyoncé (pictured) or Sarah Jessica Parker, are blessed when it comes to sunglasses — almost any shape will look great perched on their nose as long as the frames are no wider than the broadest part of the face.
But she adds that the frames should cover as much of the center of the face as possible in order to minimize length. Cat-eyes, wraparounds and square or rectangle oversized plastics work best.
"Beyoncé has a classic oval shaped face, which means she can pretty much wear any style frame," says Jenn. "The Versace Vanitas would be stunning on her - the slightly rounded square shape, with bold golden temples would really suit her style and face."
All the pairs mentioned here, plus thousands more are available in Ilori boutiques.