STYLE
OK!'s NYC Fashion Week Blog: Ralph Lauren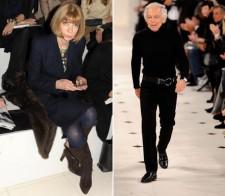 Can't make it to NYC for Fashion Week? Don't worry, OK!'s got you covered! We'll be hitting all the big shows and reporting back right here, every day, as soon as we tear our eyes off the runway! This morning we enjoyed Ralph Lauren's collection!
SHOW: Ralph Lauren Collection
WHEN: Feb. 18
WHO: Anna Wintour, Lauren Bush, André Leon Talley and Joe Zee.
OK!'S NYC FASHION WEEK BLOG: BRIAN REYES
FASHION: Lots of long, '90s-style floral silk dresses; black caps; sweaters; velvet jackets; brown suede pointy, high-heeled boots; gray pants; lots of velvet dresses; gaudy necklaces; black tights; high-water pants; patches on pants; brown fur jackets; aviator-style leather vests; low belts; ruffled shirts; beaded caps; sequined loose babydoll tops; fishnet lace gloves. Jewelry from Bess and from Janis by Janis Savitt.
Article continues below advertisement
BEAUTY: Hair down, parted in the middle, long and naturally wavy. Makeup was also light and natural, the all-American girl. Hair by Guido, makeup by Tom Pecheaux.
OK!'S NYC FASHION WEEK BLOG: G-STAR RAW
COLOR/ OVERHEARD: The music was '90s — one song was a beautiful woman singing a cover of Michael Jackson's "Billie Jean." Vogue's Anna Wintour and her rumored rival, French Vogue's Carine Roitfeld were seated far away from each other. Anna had her signature dark sunglasses on the entire time. Ralph Lauren came out at the end and greeted his family and walked down the entire runway, shaking hands with people. Anna seemed a little miffed he didn't make a point to greet her. It all felt like a scene straight out of The Devil Wears Prada.