STYLE
"Pap the Question" & Get Engaged Like a Celebrity!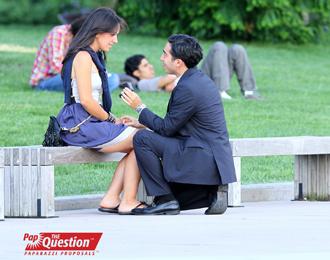 Wish you could capture your proposal on camera like the winners of The Bachelor and Bachelorette?" Pap the Question" has come up with a solution!
Now anyone can get engaged like a celebrity by capturing the moment on film.
A proposal is a very intimate moment for couples, but also one that you wish you could catch on camera. So, the paparazzi are putting their skills to good use by photographing your proposal without your partner knowing!
Article continues below advertisement
Photographer James Ambler came up with the idea after he proposed to his girlfriend and created Pap the Question.
"We offer guys to have the chance to have their whole engagement photographed without her knowing," Ambler said (via Today). "And the beauty of having pictures taken without being seen is you're capturing raw emotion."
Find out more at PaptheQuestion.com and in the Today show video, below!