STYLE
The PhilmGuy Reviews: 'American Reunion'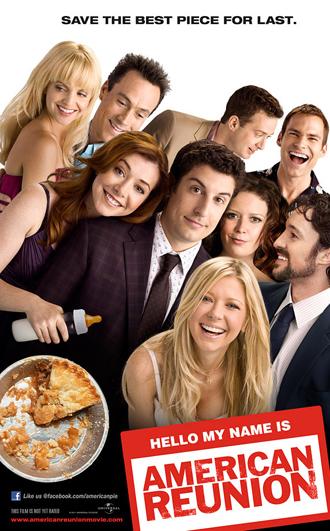 For all American Pie alumni not named Alyson Hannigan, the decision to make yet another unasked-for movie in the series was a no-brainer. It was either that or Celebrity Rehab. So everyone you remember from the original movie and its decreasingly funny sequels is back, including the sad, animatronic approximation of Tara Reid concocted by plastic surgeons and Botox.
OK! GALLERY: AMERICAN PIE CAST REUNITES FOR AMERICAN REUNION HOLLYWOOD PREMIERE
Article continues below advertisement
It's been nine years since the last American Pie; it only feels like 50. American Reunion seemed practically destined for failure, with its band of burned-out, typecast-and-discarded actors huddling together for the sake of teaming up once again rather than comedic design.
So it's all the more a pleasant surprise that American Reunion is funnier than all other movies in the series combined. Remember that Twilight Zone episode in which the old people come out and play kick the can, rediscovering their youth for a little bit as they transform back into little kids? That's sort of what happens here, courtesy of the writing/directing team of Jon Hurwitz and Hayden Schlossberg, the team behind Harold and Kumar Escape from Guantanamo Bay.
All the funnier jokes are disgusting and wrong, which is just as it should be for an American Pie movie. If poop in beer coolers, sex organs trapped in laptops and obliviously creepy 30-somethings socializing, flirting with and fighting kids half their age aren't funny to you, you'd best steer clear. But if you've defiantly not allowed yourself to mature a bit since 1999, American Reunion will be your happy place.
Article continues below advertisement
Everything that has to click into place, does. Jason Biggs carries the film with his hapless klutz schtick, and Seann William Scott is more outrageous than ever as a gleefully idiotic manchild who doubles as someone who would be a terrifying sexual predator if he weren't so obviously a screenwriting construct. Everyone else is a bit player who stays out of the way for the most part, stepping in when necessary to claim stray punchlines while filling out a convincing rapport with the band of long-lost buddies.
OK! GALLERY: JASON BIGGS, TARA REID & MORE REUNITE AT THE PREMIERE OF AMERICAN REUNION IN AUSTRALIA
So many comedies start off with an insanely funny first 15 minutes or half hour, only to die out, setting up a contrived crisis, solving it humorlessly and calling it a day. But not this one. I was sure American Reunion wouldn't maintain its momentum after its start, but it never fell off. Like a blackjack player who inexplicably keeps drawing winning hands despite all odds, the movie pushes further and further, letting the ridiculousness of its characters crowd out the insignificant plotlines.
Article continues below advertisement
Somehow, there's even something resembling a heart to the riotous proceedings. Each character is dealing with some sort of midlife crisis or relationship problem — sexless marriages, rehashed high school flings, dead-end careers — and the filmmakers spin their insecurities and failures into comic gold. The movie heedlessly telegraphs its payoffs, builds up to them in a comedic avalanche, then makes you feel as though you're a part of it when it hits.
During the end credits, pangs of nostalgia follow the laughs in a bittersweet chaser. We see current shots of each actor juxtaposed with their bright-eyed 1999 versions. They were all so, so young then. I guess all of us were.
Starring Jason Biggs, Seann William Scott, Alyson Hannigan, Tara Reid, Thomas Ian Nicholas, Mena Suvari, Chris Klein, Eddie Kaye Thomas and Eugene Levy. Written by Jon Hurwitz and Hayden Schlossberg, with characters by Adam Herz. Directed by Hurwitz and Schlossberg. Rated R. 113 minutes.