STYLE
The PhilmGuy Reviews: 'Sparkle' Starring Jordin Sparks and Whitney Houston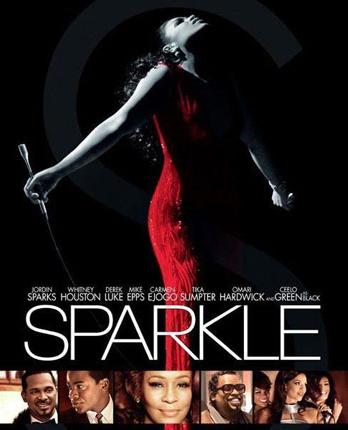 There may or may not be an actual movie hidden among all the showstopping musical numbers in Sparkle. Not that there needs to be.
Sparkle is all about the music, and seems to have been created for Jordin Sparks, who so thoroughly owns the affair that you'd swear it was named after her. It's cosmically appropriate that Whitney Houston looms in the background as Sparks's mom, and it seems as though there's a passing of the torch from one generation's crossover star to the next.
Article continues below advertisement
A slimmed-down Sparks seizes the spotlight with the ferocity that fellow American Idol alum Jennifer Hudson did in Dreamgirls. There's no Hudson-like Oscar in store for Sparks this time out, but she finds something at least as valuable — a new dimension to her growing superstardom. There's enough meat in Sparks' role for her to show she's a skilled actress who will show up in future movies because she belongs rather than a Katy Perry-style gimmick.
OK!'S PHILMGUY REVIEWS HOPE SPRINGS STARRING MERYL STREEP AND TOMMY LEE JONES
Sparkle, a 1960s Motown-set historical fiction-style retelling of The Supremes' rise to fame, is a remake of a long-forgotten 1976 movie that starred Irene Cara and Mary Alice. Sparks plays the title character, an unconfident dreamer who writes songs for her more confident sisters, the aspiring med student Dolores (Tika Sumpter) and the appropriately named diva Sister (Carmen Ejogo).
Article continues below advertisement
Stix (Derek Luke), a not-quite-trustworthy manager, romances Sparkle and convinces her to round up her sisters into a girl group. The girls shimmy, dance and croon their way up the ladder to fame, dodging slimy record label execs and cokehead comedian boyfriends along the way. And they do it under the nose of Houston's character, their disapproving, Bible-bopping mom.
Houston, a gifted actress who rarely got much of a chance to show what she could do, turns in some of her finest work in this movie. Many of her lines are haunting and almost transcendent with unintended double meanings, such as when she scolds her daughters for not learning from her mistakes.
Describing any more of the movie's plot would be like breaking down the narrative intent of Carly Rae Jepsen's "Call Me Maybe" video. The movie is mostly an excuse for slick choreography, heart-melting soul grooves and stage-owning razzle-dazzle.
OK!'S PHILMGUY REVIEWS DR. SEUSS' THE LORAX STARRING ZAC EFRON AND TAYLOR SWIFT
Ejogo shows sexy flash as the group's troubled lead singer, and Sumpter's sassiness fills out the trio nicely. But wouldn't you know it, Houston effortlessly draws all attention to her when given her one chance to perform, belting out a heartbreaking number at the climax that all but ensures everyone in the theater will be wiping their eyes.
Sparkle may be the title, but in moments such as these, the movie truly shines.
Starring Jordin Sparks, Whitney Houston, Derek Luke, Cee-Lo and Mike Epps. Written by Mara Brock Akil, based on a story by Howard Rosenman, Directed by Salim Akil. 116 minutes. Rated PG-13.