STYLE
The PhilmGuy's DVD Review: '21 Jump Street' starring Jonah Hill and Channing Tatum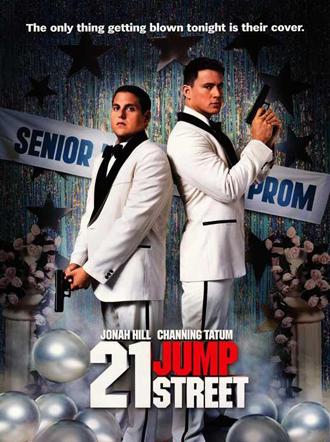 Deliverance Blu-ray — The stomach-turning 1972 horror flick probably permanently harmed rural Southern tourism. Burt Reynolds, Jon Voight, Ned Beatty and Ronny Cox play a group of city-slicker pals who brave the not-so-great outdoors, only to fall victim to the unforgiving elements and even tougher-to-handle residents, a cruel band of backwoods predators. Tension and suspense simmer throughout the movie, one of the most frightening films I've ever seen. The Blu-ray is packaged as a tribute booklet, and extras on the disc include filmmaker commentary, a cast reunion and loads of background featurettes.
Article continues below advertisement
Dr. Seuss's Green Eggs and Ham and Other Stories — Three 1973 adaptations of Dr. Seuss books come to DVD, which is perfect for parents too lazy to read the books themselves. In addition to the famous Green Eggs and Ham, there's also the lesser-known The Sneetches (about creatures who imprint stars on their bellies to fit in) and The Zax (about a pair of stubborn beings who refuse to get out of one another's way). It sounds like quite a bit of material, but each story is so short that the total package wraps up within half an hour, making it tough to justify the cost. Some interactive games round out the slim package.
OK!'S PHILMGUY DVD REVIEW: THE VOW STARRING CHANNING TATUM AND RACHEL MCADAMS
A Thousand Words — If you're building a movie around Eddie Murphy, the stupidest thing you can do is take away the voice. Yet that's what happens in this unfunny comedy, featuring Murphy as a literary agent whose fate somehow becomes tied to a tree that sheds a leaf every time he utters a word. Murphy's energetic mugging and the contributions of the always entertaining Clark Duke as his assistant aren't enough to keep the ill-conceived movie interesting. Extras include deleted scenes and an alternate ending.
Article continues below advertisement
21 Jump Street — Jonah Hill and Channing Tatum resurrect the 1980s cop drama as an action-comedy, playing a pair of young cops assigned to go undercover as high school students to bust up a drug ring. There's chemistry between the leagues, and some occasionally funny jokes, but the premise wears thin, just as it does in most other ill-advised movie adaptations of TV shows that are long past their prime. The Blu-ray/digital copy combo includes cast and crew commentary, 20 deleted scenes, a look at cameo-making Johnny Depp's time on the set and several other background featurettes.
Tyler Perry's Good Deeds — Writer/director/star Perry sheds his Madea drag getup for his most confident dramatic performance so far, playing a privileged business executive who re-evaluates his life after a confrontation with one of his employees, a homeless single-mom janitor (Thandie Newton). Friendship between the two blossoms into romance, threatening his engagement with his controlling fiancée (Gabrielle Union). Like all of Perry's movies, the drama is painfully formulaic and predictable, but there's also his trademark heart and charm that makes just about all of his movies successes at the box office. The Blu-ray/digital copy combo includes a pair of featurettes that examine the movie's themes.
Article continues below advertisement
OK!'S PHILMGUY DVD REVIEW: CONTRABAND STARRING MARK WAHLBERG
Wilfred: Season 1 — Elijah Wood and Jason Gann star in this FX comedy, for my money last season's funniest new show. Gann, reprising the role he started in Aussie television, wears a dog suit and plays the part of Wilfred, a hedonistic mutt who can speak. Wood is the timid next-door neighbor of Wilfred's owner, the girl of his dreams, and does plenty of dog-sitting to try to get in her good graces. Wood and Wilfred share riotous banter, and sight gags abound, with Wilfred's man-dog antics providing constant chuckles. Extras include deleted scenes, the show's Comic-Con appearance and a featurette examining Wilfred's sexual relationship with a stuffed animal.
Wrath of the Titans — The movie is a very special gift for those who loved that crappy 2010 Clash of the Titans remake so much that they needed a sequel. Jockeying for attention among a sea of fiery special effects, Perseus (Sam Worthington) throws down against the Titans, vying to rescue Zeus (Liam Neeson) from Ares (Edgar Ramirez), Hades (Ralph Fiennes) and the vengeful titans who unleash their anger on humanity and gods alike. Although the story is more cohesive than the predecessor, the dialogue and hammy acting is as laughable as ever, making this one strictly for Greek mythology geeks. The Blu-ray/DVD/digital copy combo includes a well-done Maximum Movie Mode interactive commentary, as well as storyboards.