STYLE
The PhilmGuy's DVD Review: 'Abduction,' 'The Ides of March'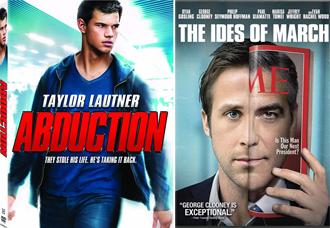 Abduction — The serviceable thriller follows a path set by Enemy of the State, only with a high school bent. Taking a break from his broken-hearted werewolf calling card, Taylor Lautner shows the makings of an action star. He plays a teen who learns that he might have been abducted as a child, and begins an investigation that entangles him with government operatives and terrorists, forcing him to go on the run with his crush (Lily Collins). Sigourney Weaver shows up in an interesting supporting role. The Blu-ray/digital copy combo features Lautner's production journal, a gag reel and a look at the stunts.
Article continues below advertisement
The Ides of March — George Clooney directs and stars in a political thriller that echoes the initial Bill Clinton presidential campaign, as well as All the King's Men. Clooney plays a firebrand who appears to be the Democrats' best hope to reclaim the White House, but the bulk of the narrative focuses on his strategist, played by the ubiquitous Ryan Gosling. Paul Giamatti is strong as a conniving rival, and Evan Rachel Wood makes an impression as an idealistic intern who works closely with Gosling. The film takes some predictable turns, but is worth watching for its astute political observations and solid performances all around. The Blu-ray/digital copy combo features commentary with Clooney and his co-writer/producer Grant Heslov, as well as a string of behind-the-scenes docs.
Traffic Blu-ray – Director Steven Soderbergh's multifaceted 2000 analysis of the faces of the drug war gets the Criterion treatment, which adds scores of bonus features —including three commentaries, extended scenes and background featurettes — and a small tribute booklet. The story hops among various sets of characters, including politicians, law enforcement, drug manufacturers and users, showing all they're all interconnected in a series of loops. Stunning performances abound, particularly by Michael Douglas, Benicio Del Toro and Dennis Quaid.