STYLE
The PhilmGuy's DVD Review: 'The Amazing Spider-Man' Starring Peter Garfield and Emma Stone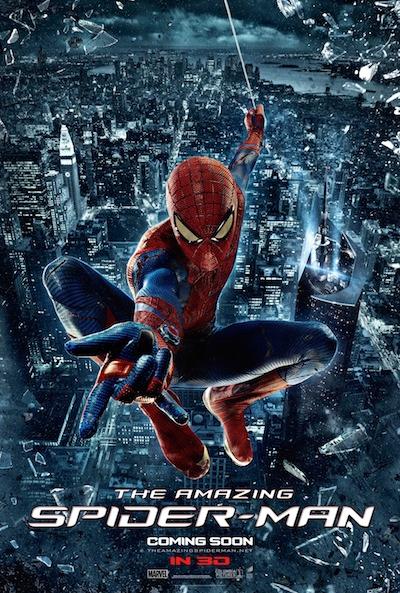 The Amazing Spider-Man — Due out Friday, director Marc Webb's franchise reboot casts Peter Garfield in the title role and Emma Stone as his first love, Gwen Stacy. Spectacular special effects, which far surpass those in the Sam Raimi trilogy, serve as a welcome distraction from the rehashed, been-there, done-that story. Rhys Ifans checks in as the megalomaniacal scientist who mutates himself into the humdrum villain The Lizard, and Martin Sheen, Sally Field and Denis Leary check in with memorable supporting roles. I enjoyed the movie as silly action fare, but expected more from Webb, who had such a promising debut with the great (500) Days of Summer. The Blu-ray/DVD/digital copy combo spins a web of extras, including filmmaker commentary, 90 minutes of background docs, deleted scenes, stunt rehearsals and a second screen app meant for tablets that fills you in on background info as you watch the movie.
Article continues below advertisement
Arthur Christmas — In the oddball British answer to The Year Without a Santa Claus, James McAvoy voices Arthur, the zit-faced son of Santa Claus (Jim Broadbent). Disappointed that his pops has gone callous and corporate — not caring that he's skipped a child on Christmas Day — Arthur takes it upon himself to make things right, getting in over his head. Parents who buy or order this film without thinking may mistake this movie as an extension of the delightful PBS show Arthur, and others will probably just be bored. Maybe I watched the film too early in the holiday season, but it's efforts to tug on the sentimental Christmas heartstrings didn't register. The Blu-ray/DVD combo has a featurette that takes you inside the animation process, as well as a sort of mock propaganda video meant to recruit elves.
Disney Prep & Landing Totally Tinsel Collection (includes Prep & Landing: Naughty vs. Nice) Blu-ray — The pair of Christmas-themed TV specials will probably air on TV in the coming weeks, but if you don't trust your DVR you can pick them up together in this set. Looking dapper in HD, the comedies focus on military-like logistics that elves work out as they plan out present delivery. Both are delightful and rewatchable, which is good because your kids will force you to sit through them several times. Extras include a pair of short films, as well as some witty "behind the scenes" pitches.
Article continues below advertisement
Entourage: The Complete Series Blu-ray — All eight seasons of HBO's relentlessly upbeat, living-the-dream fantasy world gather in a surprisingly compact 18-disc package. Adrian Grenier plays a star actor who goes through ups and downs, taking his band of hangers-on (Kevin Connolly, Jerry Ferrara and Kevin Dillon) along for the ride. The series started strong and peaked in its fourth and fifth seasons, eventually becoming a silly self-satire with gratuitous amounts of guest stars and Jeremy Piven's once brilliant caricature of an egotistical agent devolving into farce. Even on the downhill slide, though, it was one of the best sitcoms ever created. The set overflows with bonus features, including tons of behind-the-scenes featurettes and interviews, as well as commentaries for several episodes.
Planes, Trains & Automobiles 25th Anniversary Blu-ray — The 1987 John Hughes Thanksgiving classic came out on Blu-ray a year ago in what was billed as a Best Buy exclusive, and this release appears to be the same version, dressed up as an anniversary release. John Candy plays a lonely, desperate-to-please traveler who meets an uptight jerk (Steve Martin), whom he haplessly helps try to get home. The bitingly funny, emotionally devastating dramedy is one of the most rewatchable movies ever created. Tributes to Hughes and Candy, who have since passed away, a making-of mini-documentary and a deleted scene make up the extras.
Article continues below advertisement
Sunset Boulevard Blu-ray — Director Billy Wilder's 1950 specimen of cinematic perfection finally rises in HD, with its elegant black and white cinematography looking spectacular in a restored transfer. William Holden, whose character is dead and narrating from beyond the grave, plays an unsuccessful screenwriter who falls in with a former silent film star (Gloria Swanson), discovering disturbing secrets about her life and the way the Hollywood machine has worked through the ages. Some so-called classics feel like homework, but Wilder's movies — this stunner and The Apartment, in particular — are utter bliss to watch again and again. The Blu-ray's extras include featurettes that analyze several facets of the movie, such as its film noir influences, Swanson's character, Holden's career and the movie's score.
Take This Waltz — A lifelong actress who somewhat recently became a writer/director, Sarah Polley follows up Away from Her (2006) with an agonizingly poignant anti-romance. Michelle Williams plays her specialty, a pathetically unhappy woman, married to an oblivious doofus (Seth Rogen), who engages a nonphysical affair with a man (Luke Kirby) she spends time with on a flight. The guilt-ridden Williams character is tortured and morose, but her despair is an important part of the engrossing tapestry Polley weaves. A pair of making-of featurettes round out the package.
Your Sister's Sister — Mark Duplass, Emily Blunt and Rosemarie DeWitt form a bitter, resentful and awkward love triangle in the talky romantic comedy. The affable Duplass plays a man who's struggling with the year-ago death of his brother, and Blunt is the brother's ex who has become tight platonic friends with him. She sends him off to stay at a remote cabin, unaware that her lesbian sister, played by DeWitt, is crashing there. When Blunt shows up, the trio engage in a fascinating struggle of emotions, deception and lust. Writer/director Lynn Shelton provides commentary, with Duplass as well as other members of the filmmaking team.