STYLE
The PhilmGuy's DVD Review: 'Beginners'; 'Larry Crowne'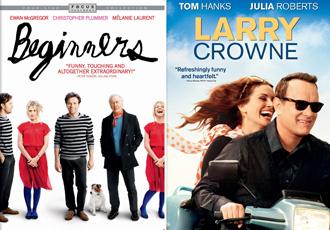 Beginners – Ewan McGregor stars as a romantically challenged moper who starts up a new relationship while recalling the final days of his deceased father (Christopher Plummer), who came out as gay after his wife passed away. Pointless tone poems aren't inherently bad, but the shape and format certainly does Beginners no favors. Little pep or irreverence combined with a whole lot of navel gazing make this a tough sit. The extras aren't worth sticking around for.
Article continues below advertisement
Larry Crowne – Tom Hanks directs and stars in this limp romantic comedy, featuring Hanks as a burnout who loses his middle management job and tries to re-start his career at community college, where he falls for one of his teachers (Julia Roberts). Braindead, dull and lacking the punch of the actor's romantic comedies from the 1990s, Larry Crowne is basically a movie of the Community TV show, only with no funny people whatsoever. The extras -- deleted scenes and a brief featurette -- as perfunctory as the film itself.
THE PHILMGY'S DVD REVIEW: CALIFORNICATION; CARS 2
Evil Dead II: Dead By Dawn 25th Anniversary Blu-ray – Sam Raimi's gonzo 1987 remake/sequel of his cruedly break-out hit pits square-jawed, smack-talking hero Ash (Bruce Campbell) and his friends who are holed up in a cabin against relentless ghouls. Leaning just as much on comedy as horror, the film earned Raimi a legion of followers so dedicated that they went on to defend his horrid Spider-Man 3. While Raimi's next movie in the Evil Dead Series — Army of Darkness (1992) is far superior, Evil Dead II packs enough gross-outs and giggles to claim a spot as a bona fide classic. The undead extras include a recent cast and crew commentary, making-of doc, production stills and behind-the-scenes goodness.
Article continues below advertisement
Looney Tunes: Platinum Collection Vol. 1 Blu-ray – Fifty famous cartoons from the golden era of animation come in this three-disc set, graced with book-style packaging with sketches and commentary on the iconic characters (including Bugs Bunny, Daffy Duck and their pals) and the shorts that made them stars. The book-like packaging includes character sketches and tributes, and the third disc is full of looks back on the creation of the groundbreaking animation, as well as lauded creator Chuck Jones. The limited edition version of the set comes with a Bugs Bunny shot glass and a lithograph with a certificate of authenticity.
THE PHILMGUY REVIEWS THE RUM DIARY STARRING JOHNNY DEPP
Mutiny on the Bounty Blu-ray — The rickety but occasionally enthralling 1962 high-seas adventure finally surfaces on Blu-ray. Vying against control-freak Captain Bligh (Trevor Howard), Marlon Brando plays a First Lieutenant who leads a mutiny. Rich compositions, spirited — if hammy — performances and convincing period decor/costumes make the voyage worthwhile, but the nearly three-hour running time sometimes leaves you feeling marooned at sea. Extras include an alternate prologue and epilogue and the true story of the real events on which the film is based.
Article continues below advertisement
My Fair Lady Blu-ray – In one of her many iconic roles, Audrey Hepburn dons a Cockney accent as a diamond-in-the rough who learns the manners and pretenses of high society. Rex Harrison plays the snooty professor who takes her under his wing in a bet. The 1964 musical is severely dated, and at 170 minutes can be arduous to sit through. Hepburn fanatics will eat the overrated movie up, though. The disc comes with a chorus line of extras, including period featurettes, an interview with Harrison and vocal performances from Hepburn that were left on the cutting-room floor.
THE PHILMGUY'S DVD REVIEW: CAPTAIN AMERICA; MONTE CARLO
West Side Story: 50th Anniversary Limited Edition Collector's Set Blu-ray – I'm not among the throngs of fans of this 1961 musical, which adapts Shakespeare's Romeo and Juliet to a racially divided New York gangland. But the mass appeal of the film, and especially the Leonard Bernstein and Stephen Sondheim soundtrack, is undeniable. Richard Beymer plays a goofy gang member who falls for the belle among his Puerto Rican rivals, played by a badly miscast Natalie Wood. As is usually the case with gang wars, the enemies stare each other down, snap their fingers, dance intimidatingly and occasionally throw stage punches that come nowhere near connecting. Exhaustive special features include a modern breakdown of the song and dance routines, a tribute documentary and a jukebox-like add-on that lets you skip to whichever number you like. There's also a hardcover tribute book and postcards of the film's posters.