STYLE
The PhilmGuy's DVD Review: 'Big Love,' 'The Help'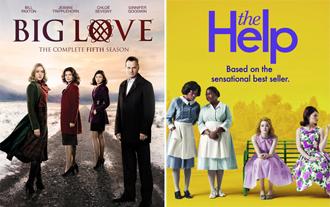 Another Earth – I dig sci-fi films that don't feel the need to trot out laser blasters, metallic unitards and flying cars. This quiet character study tells the story of a broken 21-year-old woman (Brit Marling) who is desperate to win a contest that will let her travel to a recently discovered parallel dimension. She confides in a sullen recluse (William Mapother) from whom she harbors a dark secret, and they develop a connection that deepens as the story plays out. Deleted Scenes and some Fox Movie Channel-produced featurettes on the lead actors make up the extras.
Article continues below advertisement
The Art of Getting By – This emo coming-of-ager features Freddie Highmore as a nihilistic teen on the verge of graduating high school, who gets a change of perspective when he starts up a fragile romance with a popular girl (Emma Roberts). The solemn, sometimes thought-provoking dramedy toes the line between art flick and John Hughes-style surrealism and never quite hits a rhythm. The reasons it's worth a rental are the two leads, who are both on the verge of making their way to the A-list. Extras include filmmaker commentary, as well as a featurette focusing on Highmore.
Big Love: Season 5 – HBO's spectacular drama about a polygamous Utah family nails a satisfying conclusion, focusing on the efforts of state senator and patriarch Bill (Bill Paxton) to extinguish the unceasing fires involving his intersecting business, personal and political lives. Rapid pacing and tremendous acting, particularly from Ginnifer Goodwin, Jeanne Tripplehorn and Chloë Sevigny, make the series as addictive as ever, building to a final pair of episodes that are absolute home runs. Extras include commentaries and End of Days, in which the cast and crew look back on the show.
Article continues below advertisement
Big Love: The Complete Series – My only gripe against the five-season round-up is that it's not on Blu-ray. Since HBO has yet to release comprehensive HD renditions of other beloved series, such as The Sopranos, Entourage or Six Feet Under, it's not much of a surprise. The compact packaging helps save the shelf space fat season-by-season boxes of the show would take up. The show is so addictive that it's easy to power through an entire season in a weekend.
THE PHILMGUY REVIEWS: SHAME STARRING MICHAEL FASSBENDER & CAREY MULLIGAN
Cowboys and Aliens – After a flawless run as a director that included Made, Elf, Zathura and two Iron Man movies, Jon Favreau finally cranks out a dud. Teaming Harrison Ford with Daniel Craig and Olivia Wilde, he adapts a sci-fi graphic novel into a popcorn-chomping explosion fest. The title says it all: This is about cowboys, with an assist from their newfound buddies the Indians, going at it with mean, earth-conquering aliens. While the action delivers, the performances are lackluster and the story is non-existent. The Blu-ray/DVD/digital copy combo includes Favreau's commentary, as well as interviews with the filmmaker. It's at least entertaining to watch him attempt to justify the mess he's created.
Article continues below advertisement
The Debt – Set in 1997, this potboiler looks in on retired Israeli secret agents who start to question their actions 30 years previously, when they brought an alleged former Nazi to justice. It's a remake of a 2007 Israeli film. Helen Mirren and Jessica Chastain play older and younger versions of a key character. Although the film moves methodically, a stunning late twist helps re-energize it heading into the finale. Extras include director commentary and a pair of featurettes, including one that examines the plot more closely.
Dragon Tattoo Trilogy: Extended Editions Blu-ray – Noomi Rapace sizzles as a cyberpunk badass in this Swedish tech-heavy espionage trilogy, based on books by Stieg Larsson. Clocking in at nine hours, the films — shown here unedited from their original run on European TV — approach The Lord of the Rings-like epicness. While the extra stuff helps color the characters and motivations, and goes miles toward satisfying lovers of the books who felt the films omitted too much, they also make some arguably already too-long movies even longer. An hour-long documentary on Larsson fills out the package.
Article continues below advertisement
Friends with Benefits – In a far superior alternative to the similarly themed No Strings Attached, Mila Kunis plays a commitment-phobic headhunter who buddies up with a hotshot magazine editor (Justin Timberlake) she recruits to New York. The story is as predictable as can be — Gee, I wonder if they'll decide to be more than just friends? — but what makes the comedy work is the entertaining writing and top-of-their-game performances by Kunis and Timberlake. The Blu-ray/DVD combo pack boasts commentary with the two leads, plus director Will Gluck, as well as deleted scenes, pop-up trivia and a featurette about flash mob choreography.
The Hangover: Part II – The Wolfpack (Bradley Cooper, Zach Galifianakis and Ed Helms) is back at it, matching the original escapade with Las Vegas swapped out in favor of Thailand for an impromptu bachelor party. Once again, the blacked-out goofballs retrace their steps from the wild night before, piecing together the depths to which their drunken alter egos sunk. Director Todd Phillips is in autopilot mode, repeating the plot structure and character arcs from the original. I'd normally lambaste a sequel for being so derivative, but Part II is too damned funny to let me hate it. The Blu-ray/DVD/digital copy includes a look at the monkey co-star and a few half-hearted featurettes.
Article continues below advertisement
THE PHILMGUY'S DVD REVIEW: SUPER 8, CONAN THE BARBARIAN
The Help – Emma Stone plays a budding journalist in Mississippi at the dawn of the civil rights movement. Eschewing the prejudices of her obliviously racist circle of friends, she begins a project to profile black female maids and the numerous ways their employers mistreat them. The drama, way too long at 146 minutes, goes hog wild on the emotional button pushing, nearly devolving into self-parody as it mocks the ignorance of early-1960s Southerners. Bryce Dallas Howard, in particular, plays a villain who's so over the top she makes Cruella de Vil of 101 Dalmations seem like a choir girl. Still, the movie is worthwhile for its endearing earnestness and camp value. The Blu-ray/DVD combo serves up a making-of featurette and deleted scenes.
The Lady Vanishes Blu-ray – Alfred Hitchcock's 1938 thriller about a young socialite (Margaret Lockwood) who investigates the apparent disappearance of an elderly passenger (May Whitty) on a train ride in Europe, has always looked and sounded horrid. It's still no looker in this Criterion Blu-ray remaster, but the grain-heavy transfer is still worlds better than previous fuzzy public domain DVD releases. The drama is stagy but suspenseful, showing many signs of the master filmmaker Hitchcock would one day become. A tribute booklet, film historian commentary track and a 1962 Hitchcock interview hitch themselves to the train.
Article continues below advertisement
The Simpsons: Season 14 Blu-ray – I like the way Fox's season-by-season Blu-ray releases of the animated stalwart run almost a decade behind, allowing fans to get a better perspective on each season. This release tackles the 2002-03 season, including such memorable episodes as "A Star is Born-Again," in which Ned Flanders finds romance with a character voiced by Marisa Tomei, as well as "Pray Anything," the one where Homer starts calling on God to do his bidding. Extras include commentary for each episode, deleted scenes and a smattering of ho-hum featurettes.
Transformers Prime: Darkness Rising – The Autobots and Decepticons just can't seem to get along. The warring robot factions slug it out once again in this five-part animated series, in which Optimus Prime, Bumblebee and their pals befriend some earthlings as they fend off the menace led by Megatron. Old-school fans may be turned off by the newfangled character designs, but I see the changes as improvements, providing sleeker, more intimidating looks. Special features take a look inside concept art and the animation process.