STYLE
The PhilmGuy's DVD Review: 'Boardwalk Empire,' 'Moneyball'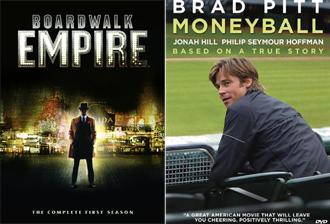 Boardwalk Empire: Season 1 – HBO's exquisite Prohibition-era drama details the exploits of fictionalized bootlegger barron Nucky Thompson (Steve Buscemi), who wrangles family life while trading favors with mobsters, politicians and celebrities to elude the feds and help him take over Atlantic City. Michael Pitt plays his protege who ventures off on his own, Kelly Macdonald is Nucky's put-upon mistress while Michael Shannon casts a brooding figure as a federal investigator who wrestles with inner turmoil. The show is a step below the likes of The Sopranos, but stunning performances, intense period detail and an eclectic selection of songs from the era make this a must-watch. Available on Blu-ray and DVD, the set contains six commentaries, a making-of doc and character dossier.
Article continues below advertisement
THE PHILMGUY REVIEWS: THE IRON LADY STARRING MERYL STREEP
Killer Elite – Jason Statham plays an assassin who thinks he's done with the game, but is called back into action to save an old friend/father figure (Robert De Niro), which forces him to utter inane dialogue and risk his life about four times a minute for the rest of the movie. The film is so filled with twists it gets dizzy, the plot makes little sense and the action is more ridiculous than inspiring. The Blu-ray/DVD/digital copy combo must have assassinated most of its special features, because the only significant extras are deleted scenes.
Moneyball – Brad Pitt stars as maverick Oakland Athletics general manager Billy Beane, who uses unorthodox mathematical evaluation to put together a bargain-basement team capable of matching up with the big boys. While a game about baseball team budgeting sounds less than enthralling, director Bennett Miller's film is as fast-paced as The Social Network, and a fascinating underdog tale. Jonah Hill makes an excellent foil to Pitt, playing his man-childish assistant. The Blu-ray/DVD/digital copy combo pack includes making-of featurettes and deleted scenes.
Article continues below advertisement
THE PHILMGUY REVIEWS: YOUNG ADULT STARRING CHARLIZE THERON
Shark Night – Playing like a scaled-back, PG-13 version of last year's Piranha remake, Shark Night tosses a bunch of nubile no-names, as well as former American Idol competitor Katharine McPhee, into a Louisiana lake and lets the sharks do what they will with them. The self-aware horror-comedy is a freewheeling romp that falls short of Piranha's manic levels, but still manages to entertain. The Blu-ray/digital copy combo lets you sink your teeth into a shark survival guide, a look into the film's special effects and a feature that lets you jump directly to the movie's over-the-top kills.
What's Your Number? – Anna Faris is a rarity among romantic comedy stars because she pulls off the magic trick of being funny and sexy at the same time, and she continues to establish her unique brand in this film. After a magazine article convinces her character that she'll never find the right guy if she pushes her total number of lifetime sex partners from 19 to 20, she embarks on an obsessive quest to reconnect with the other 19 dudes she's done, assisted by her friend-zone neighbor (Chris Evans). You can see where this is going, but Faris has the comedic chops to make the predictable romcom fascinating. The Blu-ray/DVD/digital copy combo includes deleted and extended scenes, as well as a gag reel.