STYLE
The PhilmGuy's DVD Review: 'Californication,' 'Cars 2'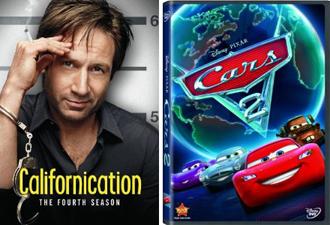 Californication: Season 4 – David Duchovny continues to rock hard in the role that stretches his powers of transformation by the maximum, asking him to pretend to portray a sex-addicted celebrity. Poor decisions from his character's past come back to haunt his character this season, as he faces a court trial for having sex with a minor -- don't ask. Carla Gugino, Rob Lowe and Zoe Kravitz make memorable guest appearances, but it's Addison Timlin who leaves the most memorable impression, as an actress in the autobiography-based movie Duchovny is writing. Extras are lame, including only a sampler platter of episodes from other Showtime series.
Article continues below advertisement
THE PHILMGUY REVIEWS THE RUM DIARY STARRING JOHNNY DEPP
Cars 2 – While no movie that hauls in $190 million at the box office can be considered a flop, Cars 2 certainly was no raging success. The sequel to Pixar's weakest movie stalls as it shifts gears into a dull, paint-by-numbers spy caper, ditching most of the characters to focus on McQueen (Owen Wilson) and Mater (Larry the Cable Guy). The Planes, Trains and Automobiles-like dynamic the duo shared in the first film is gone, replaced with what seems to be apathy disguised as exuberant expressions of adoration. A slow-moving disappointment, the film's best moments come in its slapstick action. Under the hood of the Blu-ray/DVD combo are director John Lasseter's commentary and two enjoyable shorts, featuring the Cars and Toy Story gangs.
Cop Land: Collector's Edition Blu-ray – Sylvester Stallone, Robert De Niro, Harvey Keitel and Ray Liotta star in the tense 1997 thriller, in which a small-town Jersey sheriff (Stallone) tries to keep the peace despite pressure from corrupt, thuggish New York policemen residents to let them bend the law to their collective will. Stallone admirably tones down his machismo to play a meek, nervous character, and much of the film consists of snappy one-liners and brutal fisticuffs. Commentary, deleted scenes and a making-of featurette are included.
Article continues below advertisement
Confessions of a Dangerous Minds Blu-ray – George Clooney's 2002 directorial debut stars Sam Rockwell as Chuck Barris, host of The Dating Game and The Gong Show who claims to have moonlighted as a CNN assassin. Clooney and Drew Barrymore co-star, and Charlie Kaufman pens a lively script for the ludicrous but enjoyable story. Commentary, deleted scenes and a look at the real Chuck Barris make up the extras.
Crazy, Stupid, Love – Steve Carell returns to the 40-Year-Old Virgin well, playing a hapless man on the way to a divorce who is new to the dating scene. He befriends a thick-skinned womanizer (Ryan Gosling, star of every third movie these days), who trains him in his methods of getting women to go crazy for you by pretending to be indifferent. There are a few laughs to be had here, but Gosling's character is hollow, with a forced transformation, and Carell has little to work with as a pseudo straight man. You can do worse as far as romantic comedies go, but you can also do far better. The Blu-ray/DVD/digital copy combo is filled out by deleted scenes and a pair of limp featurettes.
Article continues below advertisement
THE PHILMGUY'S DVD REVIEW: CAPTAIN AMERICA; MONTE CARLO
It's a Wonderful Life: Collector's Edition Gift Set Blu-ray – A rerelease of the rock-solid 2009 Blu-ray edition, the newer version of the 1946 holiday classic comes in a fatter box with a Christmas ornament and a slim mini-tribute pamphlet. The film looks excellent in HD, even in the abhorrent colorized version that's included. Don't worry, the pristine black-and-white original is still here, looking worlds better than you remember from butchered TV broadcasts as a kid. The movie deserves an all-out mega-box monument to its excellence, but for now this is the closest thing to that.
Robot Chicken: Season 5 – The Adult Swim animation series, in which a gaggle of geniuses mocks pop culture with a cavalcade of quick-hit stop-motion shorts, continues to be an under-the-radar triumph. The set comes with a downloadable song, commentary on each uproariously crude episode, dozens of deleted scenes and silly featurettes.
Tabloid – Documentarian Errol Morris (The Thin Blue Line, The Fog of War) catches up with Joyce McKinney, a former beauty queen who rocked the British tabloids in the 1970s and 80s with a sex scandal, including one in which her fiance accused her of kidnapping him, chaining him up and raping him. Now well into middle age, she reflects on her exploits as we gawk at her former and current eccentricities. This is lighter, more easygoing subject matter than that which Morris usually dwells, but just as entertaining, unfolding in his usual staccato pace. The disc's extras are thin.
Water for Elephants – Taking a break from the glittery vampire nonsense, Robert Pattinson plays a Depression-era college dropout who runs away with the circus and becomes an elephant whisperer. His lover interest is a badly miscast Reese Witherspoon, as a sprightly acrobat who wants to choose Team Edward but must deal with the slight problem of a tyrannical husband/ringleader (Christoph Waltz), who beats on elephants as though they are Oakland protesters. Although the slow-moving film doesn't do the fine Sara Gruen novel justice, it does enough to keep you to stay entertained. By the way, I hope the elephant in the movie wins the Oscar for Best Elephant. Extras include commentary and featurettes focused on Pattinson and Witherspoon.