STYLE
The PhilmGuy's DVD Review: 'The Dictator' Starring Sacha Baron Cohen and Anna Faris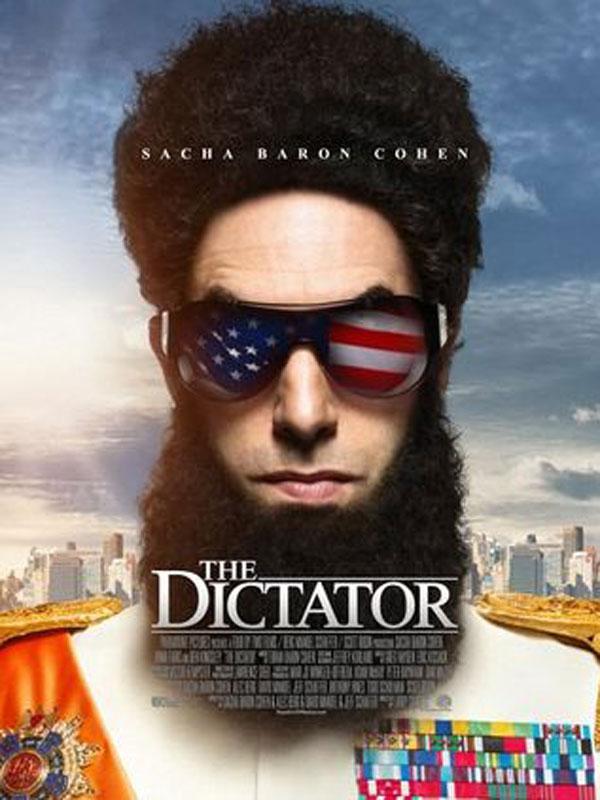 The Aristocats Blu-ray — Disney's oft-overlooked, feline-focused 1970 film gets some overdue HD love. Set in Paris, the story is a barely comprehensible pastiche of kidnapping, jazz performances and high society hobnobbing, which is either disappointing or a welcome change of pace from the studio's usual formula, depending on your point of view. It's easiest to appreciate the movie for its willful strangeness, its subversive, cat-centric satire of wealthy intellectuals and a dynamite voice turn by Scatman Crothers as Scat Cat. The Blu-ray/DVD combo includes a deleted song and a breakdown of other material that ended up on the cutting room floor.
Article continues below advertisement
Bernie — Jack Black shows impressive acting chops in this quirky biopic about a confessed killer, a Texas mortician, actor and church leader who snapped and murdered his domineering employer (Shirley MacLaine). Rather than mugging for laughs like usual, Black nails the nuances of a squirrelly eccentric. Matthew McConaughey is excellent as a district attorney bent on taking Bernie down. The movie is yet another ace from the great Richard Linklater (Before Sunrise/Sunset, Waking Life, Slacker). Featurettes tell the true story on which the movie is based, and there's also footage of Black delivering an inspired and weird rendition of Amazing Grace.
OK!'S PHILMGUY'S DVD REVIEW OF DR. SEUSS'S THE LORAX STARRING ZAC EFRON AND TAYLOR SWIFT
Chimpanzee — In the vein of African Cats, this Disney documentary tags along with an African chimp family, shoehorning stunning cinematography into a cut-and-dried narrative of a fable. Tim Allen's narration doesn't help much in making it easy to take the story seriously, but the brilliance of the footage overcomes the hokey trappings to make the movie worthwhile and educational. Featurettes highlight a bunch of interesting side stories, such as the crew's confrontation with swarms of bees and a look at the way chimps use tools in their daily lives.
Article continues below advertisement
The Dictator Blu-ray — Following Borat and Bruno, comedy mastermind Sacha Baron Cohen's latest creation is Aladeen, a Third World, Middle Eastern despot who goes incognito in New York while trying to prevent himself from being usurped by a devious lackey (Ben Kingsley) and starts up a romance with a hipster (Anna Faris). Cohen's humor, which works better in the guerrilla documentary format of his previous movies, yields diminishing returns in a scripted affair. The movie is funny at times, but drags more than it should, and often seems too desperate to strike up some shock value. The Blu-ray/DVD/digital copy combo includes an unrated version of the movie with 20 extra minutes of footage, deleted scenes and Larry King interviewing Cohen in character.
Freelancers — 50 Cent plays a thug-turned-cop who infiltrates a crime ring on the force run by Robert De Niro, with the goal of avenging his father's betrayal and death. It's a meaty role for 50 Cent, whose acting career hasn't seen much success since launching in 2005 with Get Rich or Die Tryin', and a slumming De Niro adds gravitas to what otherwise might play like a lame direct-to-video crime flick. Cliched yet exciting, the movie had a short run in theaters before sliding onto home video. The Blu-ray/digital copy combo boasts commentary with the director and 50 Cent and cast and crew interviews.
Article continues below advertisement
Glee: Season 3 — No longer quite the talk-of-the-internet show it once was, Glee trucks along in its third season, occasionally showing some of the flash and glitz that brought it accolades early on. If you can overlook a groan-inducing late-season plot twist involving one of the regulars, you'll be able to enjoy the season for its high points, including a show-stopping adaptation of Adele's 'Rumor Has It' and an understated but powerful rendition of Taylor Swift's 'Mean.' Extras include a music jukebox, a featurette about the making of the finale and a 'Santa Baby' music video.
OK!'S PHILMGUY REVIEWS THE AMAZING SPIDER-MAN STARRING ANDREW GARFIELD AND EMMA STONE
Good Will Hunting 15th Anniversary Edition Blu-ray — The seminal 1997 coming-of-age saga stars Matt Damon as a ne'er do well math savant who overcomes his rough upbringing to fulfill his potential. The anniversary edition includes a pair of new featurettes, one which features Damon looking back on the film that launched the careers of him and BFF Ben Affleck, and the other including Damon and several other cast and crew members recounting the making of the movie. This disc is only for super-fans, because the Blu-ray released less than a year ago has most of the extras, plus a digital copy, which this one lacks.
Article continues below advertisement
Pocahontas and Pocahontas II: Journey to a New World Blu-ray — The 1995 Disney animated musical and its throwaway 1998 sequel sail to the shores of Blu-ray at the same time, making for an easy three-hour block of childhood distraction for parents and babysitters looking for some free time. Irene Bedard voices the title character in both movies. Even though both films are heavy-handed message movies that don't compare with the likes of The Lion King or Beauty and the Beast in terms of artistry, at least they provide a strong role model and never fail to entertain. Extras in the Blu-ray/DVD combo include an intriguing featurette about Disney's abandoned effort to develop a Hiawatha movie that ended up building the foundation for Pocahontas. There's also commentary and deleted scenes for Pocahontas.
The Rescuers: 35th Anniversary Blu-ray — There's a certain charm to late 70s/early 80s animation, which proudly boasted rough edges, choppy frame rates and washed out colors. High-def does the 1977 cartoon mouse caper The Rescuers no favors. But the story, benefiting from the voice talents of Bob Newhart, Geraldine Page and Eva Gabor still retains its heart. Also included is the 1990 sequel The Rescuers Down Under, which looks a little better but lacks the passion of the original. The three-disc set includes both movies on the same Blu-ray disc, as well as each movie on a separate DVD and a strange selection of shorts as bonus features.
Article continues below advertisement
The Super Hero Squad Show: The Infinity Gauntlet! Season 2, Volume 4 — Marvel's kid-friendly, Avengers-like take on a plethora of heroes, including Thor, Hulk, Captain America and other well-known and obscure heroes and villains, continues to deliver brisk action along with chuckles. The new release is light on content, with only six episodes and basically no extras, but if you need to get caught up on the series, now's your chance.
The Tigger Movie Blu-ray — The 77-minute 2000 film finds Tigger in unnaturally foul mood, bitter that he's the only one of his kind. It's up to Pooh and the gang to put the spring back in Tigger's tail by making him feel accepted. The adorable character interactions and whimsical dialogue bolster a weak plot, although HD doesn't add much to the movie's rustic look. When the movie is paused you can play a slew of minigames, and there's also a featurette about the making of the movie.
Virginia — Jennifer Connelly takes on her juiciest role in ages, as the title characters, an unglued small-town single mom who's obsessed with making things tough on her lover, a Sheriff (Ed Harris) who's running for state senate. Her son (Harrison Gilbertson) only complicates matters by pursuing marriage with the sheriff's daughter (Emma Roberts). Virginia's ill-advised schemes to nab her lover's attention and raise money for her son's wedding send her into a self-destructive death spiral that's a thrill to watch. A making-of featurette is the disc's only extra.