STYLE
The PhilmGuy's DVD Review: 'Drive' Starring Ryan Gosling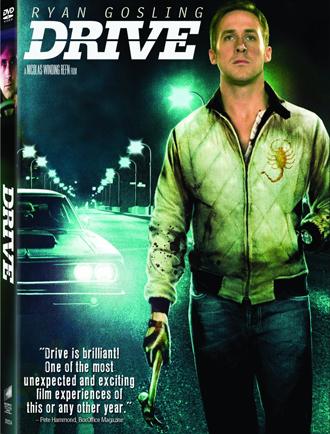 Adaptation Blu-ray — The trippy 2002 film from the formidable Spike Jonze-Charlie Kaufman directing-screenwriting team casts Nicolas Cage in a double role as a pair of twin screenwriters who attempt to adapt the book The Orchid Thief into a movie. Meryl Streep plays the author, who gets involved in the twins' shenanigans, and Chris Cooper is stunning in an Oscar-winning role as a swampland orchid poacher. The absurd, mind-bending comedy is memorable for the way it breaks traditional storytelling boundaries. The only extra is a brief behind-the-scenes featurette.
Article continues below advertisement
Ancient Aliens: Season 3 — The History Channel's entertaining and relentlessly cuckoo−for−Cocoa Puffs show rounds up a gang of pseudo-academics to scour historic symbolism, art and religious rituals for signs that aliens have visited civilizations throughout time. The show is wacky and unbalanced, never allowing a hint of skepticism to its outrageous claims, but I adore its lunacy. There's not much in the set in the way of extras.
Annie Hall Blu-ray — Woody Allen writes, directs and stars in this 1977 romantic comedy, which traces the path of a doomed relationship between hopelessly neurotic characters played by Allen and Diane Keaton. A hard-edged cynicism gives way to a genuinely romantic core, and the endlessly quotable script keeps the movie rewatchable as it hits its 35th anniversary. The film looks exquisite in HD, but there are virtually no extras, as is typical of Allen's movies.
Article continues below advertisement
The Apartment Blu-ray — Bill WIlder's exquisite 1960 comedy tells the tale of a burned-out bean counter (Jack Lemmon) who lends his apartment out to philandering executives, including a bigwig played by Fred MacMurray. He finds his salvation in the form of an elevator girl (Shirley MacLaine). Bitingly funny in the way it satirizes the corporate world — the film can be viewed as the father of Office Space — the film is a genuine treasure that has never looked better. A film historian provides commentary, and there's also a tribute to Lemmon.
Best Picture Academy Award Winners - Five Film Collection — The value in this box is impressive. You get HD versions of Shakespeare in Love, The English Patient, Chicago, No Country for Old Men and Crash, each on its own disc, for $50. This is the Blu-ray debut of the first two films in that list, and the others get all the extras they boasted in previous releases. While this set includes some of the generally weaker best picture Oscar-winners of the past 15 years (with the exception of No Country for Old Men), all are excellent movies well worth bolstering any movie fanatic's collection.
Article continues below advertisement
The Big Year — The misfired bird-watching comedy wastes three formidable comic talents on a subject that seems impossible to make interesting. Maybe a faux-documentary, Best in Show-style treatment could have pulled it off, but this film can't seem to decide whether or not it wants to mock the hobby or present it as something that's as fascinating as its characters find it. Owen Wilson plays the cocky king of the birding hill, who competes with an uptight businessman (Steve Martin) and a geeky slacker (Jack Black) to see who can spot the most birds in the span of a year. The stars' natural hilarity occasionally creeps to the surface, but it's grounded by a lackluster script. The Blu-ray−DVD−digital copy combo includes deleted scenes and a gag reel.
City of God Blu-ray — Set in the Rio slums, the 2002 stunner from Brazil finally moves into HD. Aimless youngsters, abandoned by society, clash heads in an economy of their own making, rife with drugs and brutal violence that make the antics of The Wire seem tame by comparison. The disc seems to be a copy of an earlier Canadian release, with the lone notable extra being a 51-minute documentary about the real-life Rio slums.
Article continues below advertisement
The Double — A decent spy drama that packs several surprising twists into a tight, efficient package, The Double teams Richard Gere and Topher Grace as a pair of government agents who hunt down a Cold War−era Russian assassin who has apparently resurfaced. A solid cast, which includes Martin Sheen, and taut writing make the film a success. Filmmaker commentary and producer interviews make up the scant extras.
Drive — If 2011 was the year of Ryan Gosling, Drive was the double exclamation point that topped it off. Oozing a cool that would make Steve McQueen blush, Gosling — donning a jacket with a scorpion on its back — melts into the role of a stunt driver−criminal wheelman who communicates in far-off stares and minimal, rib-shattering words. Taking a single mother (Carey Mulligan) and her boy under his wing, he assumes the role of protector, helping her ex get out of a jam in the criminal underworld. Breakneck driving scenes, thrilling action and masterful dialogue keep the film moving at a breakneck pace. The Blu-ray−digital copy combo includes an interview with the director and breakdowns of the visual effects.
Article continues below advertisement
Frida Blu-ray — Director Julie Taymor's 2002 biopic of Mexican artist and feminist icon Frida Kahlo boasts a career-defining performance by Salma Hayek, as well as memorable supporting turns from Alfred Molina — as her husband, Diego Rivera — Geoffrey Rush, Antonio Banderas and Ashley Judd. Taymor lends visual style to the film, infusing her storytelling with Kahlo's distinctive artistic style. Extras include a biography of Kahlo, interviews with Hayek and Taymor and a look at the film's visual effects.
Malcolm X Blu-ray — Denzel Washington ratchets up his intensity to a mesmerizing level in this 1992 biopic, directed with a fevered pace by Spike Lee. The saga tracks Malcolm X from his humble beginnings in political activism through his development as a divisive, outspoken icon who lived his life in the center of a sociopolitical maelstrom. The extras are appropriate for the movie's 20th anniversary, with Lee's commentary, deleted scenes, a making-of documentary and a doc on the real-life subject.
Article continues below advertisement
Manhattan Blu-ray — Woody Allen's black-and-white 1979 film casts himself as a TV writer who is hapless when it comes to love. His wife (Meryl Streep) has ditched him for a woman, he struggles through a scandalous relationship with a teenager (Mariel Hemingway) and attempts to forge a lasting connection with a friend of a friend (Diane Keaton) his own age who shares many of his interests. The fascinating, riotous comedy is also a love letter to the beauty and vivaciousness of Manhattan. Don't expect much in the way of extras.
Notorious Blu-ray — Alfred Hitchcock's 1946 thriller stars Cary Grant as an American military intelligence officer who enlists Ingrid Bergman to infiltrate a band of Nazis holed up in Brazil at the end of World War II. She's ordered to seduce a key player (Claude Rains) but ends up romantically torn between him and Grant, leading to a series of brutal twists and backstabbings. Extras include film historian commentary and various background featurettes.
Article continues below advertisement
Rebecca Blu-ray — Alfred Hitchock's first American film, this 1940 thriller stars Laurence Olivier as a wealthy widower who brings his young new bride (Joan Fontaine) to start a new life in his imposing estate, which is run by a hovering housekeeper (Judith Anderson). Fontaine struggles to compete with the memory of Rebecca, her husband's dead wife, resulting in a psychological drama that convinces her Rebecca is oppressing her from beyond the grave. The disc includes commentary from a film historian, as well as several pieces about the movie's history.
Restless — Gus Van Sant directs an interesting but overly precious romance about two troubled teens, one who is terminally ill (Mia Wasikowska) and the other (Henry Hopper) who is struggling to cope with the death of his parents and whose best friend is the ghost of a Japanese kamikaze pilot (Ryo Kase). The film is fun and innventive, but tries so hard to be cute that it's sort of annoying. The Blu-ray−DVD combo features deleted scenes, several featurettes and Van Sant's alternate silent version of the film.
Article continues below advertisement
Shakespeare in Love Blu-ray — Many dismiss John Madden's 1998 tale of a young Shakespeare (Joseph Fiennes) as an unworthy best picture Oscar-winner bolstered by incessant campaigning, but that's no reason to ignore the movie. The story is a lively piece of historical fiction that gives fans of the Bard much to chew on and debate, and Gwyenth Paltrow is excellent in the role of a merchant's daughter who masquerades as a male so she can act in the theater. Commentaries, deleted scenes, a making-of featurette and a look at the costumes fill out the disc.
Spellbound Blu-ray — Ingrid Bergman and Gregory Peck star in this 1945 Alfred Hitchcock film, which while fascinating and reflective of the master's style, is probably the weakest of the three Hitchcock movies making their Blu-ray debut. Peck plays a doctor at a mental asylum whom Bergman, a psychoanalyst, begins to suspect is an impostor, even as she falls in love with him. The extras are bountiful, with movie historian commentary and several background featurettes.
Article continues below advertisement
The Thing — This prequel to John Carpenter's 1982 horror film does its predecessor proud, setting up a thrilling chain of Antarctic scares. A team of scientists (Mary Elizabeth Winstead, Joel Edgerton and Eric Christian Olsen) defend themselves against a supernatural beast that can take the form of anything it comes in contact with. Far more a hero than a scream queen, Winstead anchors the movie with a steadfast resolve. The effects range from brilliant to pathetic, but even the awful CGI doesn't get in the way of the kinetic action. The Blu-ray−DVD−digital copy combo boasts deleted and extended scenes, commentary and background featurettes.
To Kill a Mockingbird: 50th Anniversary Edition Blu-ray — The incredible 1962 drama, which played a significant part in the civil rights movement, stars Gregory Peck as lawyer Atticus Finch, who takes a stand against society by defending a black man against accusations of raping a white woman. The story is told through the eyes of a young girl and her male pal, which author Harper Lee based on herself and Truman Capote. The writing and storytelling are fantastic, and Peck is outstanding in his most memorable role. Universal showers the film with all the extras it deserves, including a digital copy — rare for a film as old as this — filmmaker commentary, Peck's Oscar speech and a full-length doc about the restoration process. The disc comes in two flavors, one packaged as a tribute book and the other not.
Transformers: Dark of the Moon 3-D Blu-ray — Blowing away the bare-bones release back in September, this impressive set — albeit for a mediocre movie — gives fans of the blowout action flick what they were hoping for. The set comes with a 2-D Blu-ray, 3-D Blu-ray, DVD and digital copy, and loads up on the extras, including a looks at the film's art direction, set design, effects and marketing. There's even a thoughtful featurette that examines the direction of NASA. There's nothing here for those who aren't Transformers movie superfans, but that's to be expected.