STYLE
The PhilmGuy's DVD Review: 'Episodes' starring Matt LeBlanc, 'Entourage,' 'Sherlock Holmes: A Game of Shadows'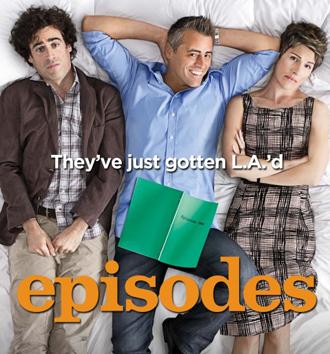 Entourage: Season 8 — HBO's comedy about a superstar actor (Adrian Grenier) and his buddies living the Hollywood dream hit its peak a couple seasons ago, but manages a soft, fairly satisfying landing as it wraps up its run. Stealing the show this time out is Andrew Dice Clay, of all people, who plays himself as he tries to resuscitate his career by voice acting in an animated show along with Johnny Drama (Kevin Dillon). Jeremy Piven, as motormouth agent Ari, shows a more human side than usual while still rattling off his famous hot-blooded one-liners. The Blu-ray includes a featurette that pays tribute to the show's run.
Article continues below advertisement
Episodes: Season 1 — Showtime's Golden Globe-winning comedy stars Matt LeBlanc as himself. Cast in an American adaptation of a popular British show, he flusters the writers (Stephen Mangan and Tamsin Greig), a married couple who are afraid the former Friends star will ruin their show. While not particularly funny, Episodes gets better as it rolls along, managing to become a biting, incisive look at the ugly, haphazard way TV shows come together. John Pankow is a standout as a slimy network executive , Mircea Monroe adds charm as an airhead actress and LeBlanc does some of the best work in his career. Extras are pretty much limited to a grab bag of episodes from other showtime shows, including The Borgias, Dexter and House of Lies.
OK!'S PHILMGUY REVIEWS PROMETHEUS STARRING NOOMI RAPACE, MICHAEL FASSBENDER AND CHARLIZE THERON
Ghost Rider: Spirit of Vengeance — It took some doing to crank out a Ghost Rider movie that was somehow worse than the 2007 effort, but never doubt Nicolas Cage and his handlers when it comes to achieving awfulness. Cage sleepwalks through his role as the flame-headed motorcycle vigilante. This time out, he's out to rescue a boy who's fallen under Satan's control. The Mark Neveldine-Brian Taylor directing team strives for edginess, but end up just embarrassing themselves with bombastic silliness. You have to be a true, forgiving fan of the comic books to find much to appreciate in the movie, outside of camp value. The Blu-ray 3D combo pack comes with a standard Blu-ray, as well as a digital copy. Deleted scenes, a six-part making-of documentary and video commentary round out the package.
Article continues below advertisement
The Grapes of Wrath Blu-ray — The 1940 film captures the spirit of John Steinbeck's famous Depression-set novel about a Dust Bowl family that ill-advisedly seeks its fortune in California. Henry Fonda is a standout as stalwart patriarch Tom Joad, and John Ford's calm, even-handed direction is masterful. Extras include a biography on producer Darryl F. Zanuck and commentary from a pair of movie historians. A great film deserved a more thorough treatment, but this is a step in the right direction.
Harold and Maude Blu-ray — Criterion gives Hal Ashby's 1971 May-Decemeber romance a warm hug with this exhaustive Blu-ray treatment. Bud Cort plays a morose rich kid who connects with a free-spirited woman in her 80s (Ruth Gordon). The bittersweet drama, brightened up by a fresh transfer, may be severely dated, but packs all the more charm as it's become a period piece. Extras include a tribute booklet featuring photos, interviews and commentary, as well as loads of special features, such as filmmaker/historian commentary, excerpts from Ashby's seminars and an interview with musician Yusum Islam.
Article continues below advertisement
Hoosiers Blu-ray — If you can ignore the stilted, poorly-choreographed basketball, you can easily lose yourself in one of history's greatest sports stories. Gene Hackman plays a hardscrabble coach who makes amends for his scandalous past by leading a tiny Indiana high school team to the state championship. In broad strokes, the inspirational movie manages to score by showing considerable heart. Special features are bountiful, including the actual state championship game on which the climax of the movie is based, deleted scenes and commentary.
Meatballs Blu-ray — Bill Murray's 1979 summer camp comedy catches the star at the height of his energy, long before he became a cranky old guy obsessed with being taken seriously as an actor. Along with Stripes and Caddyshack, Murray is at his loopiest in this movie, playing a rules-shattering camp counselor who's no more mature than the kids he's supposed to be responsible for. The movie isn't always funny, but still packs some major laughs after all these years. Director Ivan Reitman sits in on a commentary track for the lone extra feature. It's disappointing that there's no "where are they now" feature to show what became of the cast.
Article continues below advertisement
OK!'S PHILMGUY REVIEWS MEN IN BLACK 3 STARRING WILL SMITH, TOMMY LEE JONES AND JOSH BROLIN
Sherlock Holmes: A Game of Shadows — Director Guy Ritchie steers the Sherlock story even deeper into action territory than his 2009 effort, turning Robert Downey Jr. into a veritable Batman. Jude Law is back as Watson, who irks Sherlock by getting married, and squirrelly Jared Harris (the British dude from Made Men) is sharp as Sherlock's nemesis, Moriarty. There are far too many fight scenes, especially involving Sherlock taking out gangs of thugs by himself, but there are enough plot twists and riddles to keep things grounded. The Blu-ray/DVD/digital copy combo comes with Maximum Movie Mode, an interactive commentary hosted by Downey, as well as 7 background featurettes.
Spider-Man 1, 2 and 3 Blu-ray — Director Sam Raimi's 2002, 2004 and 2007 webslinger flicks, which are already being rudely dismissed in favor of a series reboot this summer, slink onto Blu-ray, seeking your love and approval. The movies are sold separately. HD does no favors to the laughably poor CGI effects, especially in the case of the first movie, in which Spidey looks like he jumped off of a GameCube. The second movie is by far the best, while the awful third flick is the one that killed the series. Tobey Maguire, James Franco, Kirsten Dunst and Willem Dafoe do solid work in the movies, even though the scripts aren't always up to par. My biggest gripe with Maguire's Spider-Man is that he's generally humorless, lacking the smarmy exuberance the character is known for. All three discs come with $10 toward a ticket for the new movie, a digital copy, commentaries, background featurettes and looks at the comic book inspiration.
Article continues below advertisement
Superman vs. The Elite — While Superman hasn't had much luck on the silver screen in the past few decades, he does just fine in direct-to-video animated movies. His latest pits the Man of Steel against a squadron of heroes who gain the upper hand in a PR battle, fighting crime with harsher, more modern methods. Superman has to prove his worth by taking on his rivals both physically and in the arena of public opinion, building toward a surprisingly mature and thought-provoking climax. The Blu-ray/DVD/digital copy includes a digital comic book, filmmaker commentary and several involving background featurettes.
The Three Stooges: The Ultimate Collection — Larry, Moe and Curley changed the landscape of comedy with their sadistic yet somehow wholesome brand of slapstick. This monstrous 20-disc set collects the Stooges' work from 1934 to 1959, encompassing 190 shorts, 28 of which were apparently never previously released. There's also the team's little-remembered feature films, Rockin' in the Rockies (1945) and Have Rocket, Will Travel (1959). The set boasts a whopping 65 hours to make you nyuk nyuk nyuk it up. If you're a big Father's Day spender, you might want to think about springing for the $96 set, because pretty much everyone's dad loves the Threee Stooges.
Article continues below advertisement
Too Big to Fail — Adapting Andrew Ross Sorkin's bestseller on the financial crisis and accompanying big bank shutdowns and bailouts, the HBO drama peels away all the difficult-to-grasp drudgery and turns the story into a relatable, understandable human drama. Paul Giamatti, Topher Grace, James Woods, Tony Shalhoub, Bill Pullman and Cynthia Nixon play power players in the high-stakes chess game, as businesses and government officials engage in arm-twisting as they attempt to keep the house of cards from tumbling and destroying everyone's 401(k). The Blu-ray/DVD/digital copy combo comes with a making-of doc, a roundtable with financial experts and a timeline that runs you through the whirlwind of headlines the film touches on.
Zorba the Greek Blu-ray — In the 1964 role that defined his career, Anthony Quinn stars as the title character, a freewheeling Greek islander who takes an uptight British writer (Alan Bates) who is visiting in order to check out his inheritance. They forge a mismatched friendship that evolves as they tackle various awkward situations. If you're a fan of Sideways (2004) you'll want to check this out, because it seems to have had a heavy influence on that one. Extras include a commentary track, a biopic on Quinn and an an alternate opening for the movie.