STYLE
The PhilmGuy's DVD Review: 'Game of Thrones', 'Jack and Jill'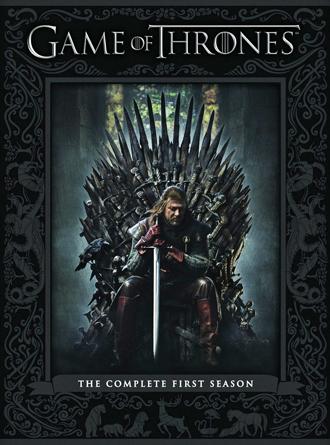 The Deer Hunter Blu-ray — Director Michael Cimino's devastating, Oscar-winning 1978 best picture drama about how serving in Vietnam affects a group of small-town, blue-collar guys looks spectacular in high definition. The war scenes are unbelievably intense, and performances from the brilliant cast (Christopher Walken, Robert De Niro, John Savage and Meryl Streep) shine through better than on any previous home-video release of the movie. Cinematogropher Vilmos Zsigmond joins a film historian for commentary, and there are also deleted and extended scenes.
Article continues below advertisement
Footloose (2011) — Director Craig Brewer's limp, anachronistic remake of the 1984 Kevin Bacon camp classic is the cinematic equivalent of a head-scratching cover track on a music album. The bulk of the cast is made up of enthusiastic no-names with middling talent, with parents played in extended cameos by Dennis Quaid and Andie MacDowell. The story of a town that's banned music and dancing was tough to swallow in the 80s (although it's based on a true story), and even tougher to wrap your head around today, with the movie presumably set in modern times. The Blu-ray/DVD/digital copy combo taps its toes with Brewer's commentary, deleted scenes and some music videos.
Game of Thrones: Season 1 — Badly in need of more watercooler shows after many of its old warhorses have been put out to pasture, HBO found this brilliant fantasy epic, based on George R.R. Martin's books. Peter Dinklage leaves perhaps the strongest impression as a power-mad dwarf who overcomes prejudice to stay a step ahead of his enemies. The show has it all — epic battles, political backstabbing and more than its share of gratuitous sex. It may sound like boys' club nerdiness, but many women who've given the show a try have fallen under its spell. The package is filled with extras, including commentaries on seven episodes, profiles of the major characters and kingdoms, as well as behind-the-scenes featurettes.
Article continues below advertisement
High Road — Director Matt Walsh rounds up a cast of game small-timers for this slacker comedy, letting his actors run roughshod and completely improvise their dialogue. The story focuses on a drug dealer and wannabe musician (James Pomphrey) who ends up accidentally kidnapping a neighborhood kid when he goes on the run from the cops. Although the plot drags and many jokes don't connect, some one-liners are so effective that you can tell that the other actors are barely able to hold back their giggles. Interviews with cast and crew members are the only extras.
THE PHILMGUY REVIEWS: SAFE HOUSE STARRING DENZEL WASHINGTON & RYAN REYNOLDS
Immortals — Henry Cavill and Stephen Dorff star in this surprisingly robust take on Greek mythology. Excellent visuals and an involving story, about gods who help a mortal king to keep the ancient Titans from going on an apocalyptic rampage, make the movie one of last year's late surprises. Comically gratuitous violence helps add some camp value to the over-serious tone of the movie. The Blu-ray/digital copy combo includes a pair of alternate endings, as well as a featurette that examines the style of director Tarsem Singh.
Article continues below advertisement
Jack and Jill — Adam Sandler plays an Eddie Murphy-like dual role in this dopey, borderline funny film about a family man forced to deal with his ugly, inappropriate sister. While the drag act grows tiresome, the movie's unapologetic absurdity is good for a few laughs here and there. This is Sandler's best effort in a while, but still a far cry from his 1990s glory days. The Blu-ray/DVD/digital combo is dressed up with deleted scenes and a smattering of brief featurettes.
Justice League: Doom — Batman, Superman, Green Lantern, Wonder Woman, Martian Manhunter and Cyborg tangle with Batman's nemesis Ra's al Ghul, who hatches plans to kill every one of the heroes and destroy the world. It's pretty standard fare, but delivered with a convincingly semi-mature bent, making for an involving adventure that culminates in a resonant finale. The Blu-ray/digital copy combo comes with filmmaker commentary, a look at the Justice League's diversity and a pair of animated Justice League Unlimited episodes.
Article continues below advertisement
Like Crazy — Felicity Jones and Anton Yelchin play lovebirds who come from different sides of the Atlantic and are determined to make their relationship last despite residency troubles, insecurities and their inexperience in love. The harmless yet uninspired romance was propped up by the studio as an awards contender after wowing easy-to-please crowds at Sundance, but pretty much drew blanks when it finally got a theatrical release. Filmmaker commentary and deleted/alternate scenes make up the bulk of the extras.
The Lion King 1 1/2 and The Lion King 2: Simba's Pride Blu-rays — Disney's sequels to its animated masterpieces have a reputation for slapdash quality, but the two Lion King follow-ups, which are available separately, do justice to the greatness of the original. "1 1/2" runs parallel to the first movie, with the perspective shifting to that of Timon and Pumbaa, while "2" is a straight-up sequel, cataloging the adventures of Simba and his family following the events of the first movie. The most notable extra on either disc is a new animated short featuring Timon and Pumbaa on "1 1/2."
Article continues below advertisement
Monty Python and the Holy Grail Blu-ray — The riotous 1974 take on the King Arthur myth is much better at home, rather than at midnight screenings, at which you have to suffer through fellow moviegoers reciting the dialogue along with the cast. The inimitable squad of Terry Gilliam, Terry Jones, Michael Palin, John Cleese, Eric Idle, and Graham Chapman function together with brilliant timing in a timeless classic that's lost nothing nearly three decades after release. Gilliam and Jones provide commentary, and there are loads of outtakes and featurettes for mega-fans to pore through.
THE PHILMGUY'S DVD REVIEW — THE RUM DIARY STARRING JOHNNY DEPP, TAKE SHELTER
Out of Africa — The 1985 best picture Oscar winner pairs Meryl Streep and Robert Redford in a breathless romance set in Kenya. Streep plays a rather uptight coffee plantation boss who falls for a roguish hunter played by Redford. The film is a beast to sit through, lasting 161 sometimes-excruciating minutes, but looks gorgeous in high-definition. The movie has never really done it for me, but fans will relish the remastered look, as well as ample extras, including a digital copy, commentary from director Sydney Pollack and deleted scenes.
Article continues below advertisement
The Skin I Live in — Antonio Banderas slips into Anthony Perkins mode in this Spanish-language creepfest, directed by Spanish director Pedro Almodovar, a master of bizarrely psychosexual fare. Banderas plays a grieving husband who becomes determined to fashion synthetic skin that's more durable than the real thing, and experiments on a captive lover (Elena Anaya) as he descends into madness. This isn't one of Almodovar's best films, but Banderas and Anaya provide enough intensity to make this weirdness appealing. The Blu-ray/DVD combo includes a Q&A with the director and a featurette about the film's New York premiere.
To Catch a Thief Blu-ray — Alfred Hitchcock's iconic 1955 drama pairs Cary Grant with Grace Kelly in a twist-filled romp set on the French Riviera. Grant plays a reformed cat burglar fingered for a crime who seeks to clear his name as he gets involved with an heiress played by Kelly. The movie doesn't rank among the best of the master director's work, but is certainly one of his most fun and breathless movies, with Grant and Kelly hamming it up to rollicking effect. Film historian commentary, spotlights on Grant and Kelly and a look at the way film censorship of the era affected the movie headline a strong set of extras.
Article continues below advertisement
The Town Ultimate Collector's Edition Blu-ray — Although some would question whether Ben Affleck's impressive 2010 directorial effort about fear and loathing in a crime-ridden Boston neighborhood is worthy of an "Ultimate Collector's Edition," fans of the movie will adore the over-the-top treatment Warner Bros. gave the film. The three-disc set provides a Blu-ray, DVD and digital copy, as well as an extended cut, alternate ending, a 48-page photo book, a 15-page FBI report and extensive commentary from Affleck. Big Ben stars as a career thief who starts up a relationship with a bank teller (Rebecca Hall) who could be a key witness to one of his earlier heists. Jeremy Renner's performance, as a brutal, street-wise thug who is Affleck's reluctant sidekick, is the gem of the movie.
Transformers Prime: Season 1 — The slick re-imagining of the Transformers mythos is far more interesting and thoughtful than the explosion-riffic movies. Although the story is nothing special — once again, Megatron and his Decepticons are trying to maul their way to control of the earth — the dialogue is smart and the plot twists are usually fun. The Blu-ray set is packed in with a mini graphic novel that supplements the plotlines in the series. There are also 15 commentaries and a making-of special.
Unforgiven: 20th Anniversary Blu-ray — Clint Eastwood stars and directs in this 1992 Academy Awards darling, a revisionist Western in which he and Morgan Freeman play broken-down outlaws who come out of retirement to take a bounty-hunting assignment. Natural dialogue and gritty performances from the leads, as well as Gene Hackman as a conniving sheriff, lift the film to its classic status. The Blu-ray is packaged in a 54-page tribute book, and features a documentary on the making of the movie, commentary and background featurettes.