STYLE
The PhilmGuy's DVD Review: 'I Don't Know How She Does It,' 'Contagion'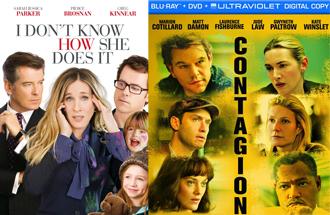 Contagion – Director Steven Soderbergh rounds up a knockout cast, including Matt Damon, Marion Cotillard, Bryan Cranston, Kate Winslet, Jude Law and Gwyneth Paltrow, for a kinetic drama about a viral pandemic that spreads disease and panic across the globe. Usually, characters played by stars are protected in films featuring interrelated tales, but that's not the case here. The script keeps you on-edge, ever unsure of each character's fate. Featurettes in the Blu-ray/DVD/digital copy combo examine the facts behind viral epidemics and facts on which the film is based.
Article continues below advertisement
THE PHILMGUY REVIEWS: THE IRON LADY STARRING MERYL STREEP
A Good Old-Fashioned Orgy – An aging social circle of friends stuck in suspended adolescence decide to stage an orgy because one of their parents is selling the house they party at on the weekends. Lively writing and a game cast, which includes Jason Sudeikis, Tyler Labine, Lake Bell and Will Forte, make up for the unlikely premise and keep the direct-to-DVD escapade watchable. Filmmaker commentary, outtakes and a making-of featurette make up the extras.
I Don't Know How She Does It – Sarah Jessica Parker plays a harried mother who juggles the all-consuming demands of her family and job. She seeks to rekindle the flame with her distant husband (Greg Kinnear) while staving off her urge to start an affair with a business associate (Pierce Brosnan). Christina Hendricks plays her confidante, while Olivia Munn and Busy Philipps check in with supporting roles. Shot in the documentary/confessional style of The Office, the movie is nothing special but nothing close to the bomb that critical reactions and its poor performance at the box office indicated. The lack of extras makes the disc feel like a rush job.
Article continues below advertisement
Justified: Season 2 – Those who miss Timothy Olyphant's rough-hewn lawman character in Deadwood should get hooked this FX series. As U.S. Marshal Raylan Givens, Olyphant exudes sensitivity buried under layers of cool-hand machismo. The second season takes the character out of his comfort zone, forcing him into the middle of a family quarrel involving a land grab. Outtakes and featurettes about the show's plotlines and characters fill out the set.
THE PHILMGUY'S TOP 10 MOVIES OF 2011 — THE GIRL WITH THE DRAGON TATTOO
Mildred Pierce – In a role that won her an Emmy to pair with her Oscar, Kate Winslet plays a Depression-era woman who struggles through single motherhood, romance and running her own restaurant. Todd Haynes directs the HBO miniseries, which brings James M. Cain's novel to lavish life. Other standout performances include Evan Rachel Wood as Winslet's cruel daughter, as well as Guy Pearce and Melissa Leo. A pair of commentary tracks and a making-of documentary highlight the extras.
Article continues below advertisement
Serendipity Blu-ray – John Cusack and Kate Beckinsale pair up in this 2001 romantic comedy, which features one of the dumbest premises imaginable. The couple meet and fall instantly in love, but Beckinsale refuses to exchange numbers, instead leaving their future in the hands of fate. Other than the moronic setup, the film works, with charming performances and writing. Commentary, deleted scenes and storyboards fill out the extras.
She's All That Blu-ray – No original thought whatsoever went into this 1999 Pygmalion tale, but that doesn't stop the movie from rising above its genre to endure as something memorable. Rachael Leigh Cook plays an outrageously beautiful dork who we're supposed to believe is a social outcast because she wears glasses, and Freddie Prinze Jr. is the most popular guy in school, who takes her under his wing in a crass, popularity-boosting experiment. Witty writing and just the right touch of magical realism – especially in the outrageously choreographed prom dance finale set to Fatboy Slim's "The Rockafeller Skank" – seal the movie's place in my heart. The disc is light on extras.