STYLE
The PhilmGuy's DVD Review: 'The Iron Lady' Starring Meryl Streep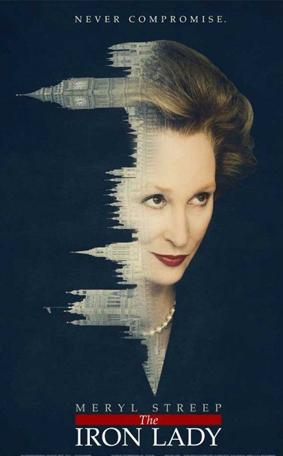 Astonishing X-Men: Dangerous — Adapted from a graphic novel series by Joss Whedon and John Cassaday, the hourlong, voice-acted motion-comic spins a gripping and mature X-Men yarn about an off-the-rails mutant who is determined to destroy the superhero clan from within. The extras are lacking, but the movie is well worth at least a rental for those too lazy to read comic books themselves.
The Iron Lady — Meryl Streep tosses another Oscar on the pile in this Margaret Thatcher biopic, which takes an admirably gruff look at the trailblazing prime minister. As the film tells it, Thatcher burned with regret in her later years for having put her professional drive before her family, and Streep lets us peek inside Thatcher's head as she begins to lose her faculties and scrambles to make sense of it all. The Blu-ray/digital copy combo includes making-of featurettes, a look at the costumes and jewelry, and a short film about Thatcher's husband, Denis, played by Jim Broadbent.
Article continues below advertisement
OK!'S PHILMGUY DVD REVIEW: THE TWILIGHT SAGA: BREAKING DAWN: PART 1 WITH ROBERT PATTINSON
A Streetcar Named Desire: 60th Anniversary Edition Blu-ray — Marlon Brando tackles the Tennessee Williams script in one of his most unforgettable roles, playing Stanley, an unrefined, caveman-like bundle of angst and misdirected self-righteousness. He's married to Stella (Kim Hunter), who has her older sister, Blanche (Vivien Leigh) over for a visit. Stanley and Blanche engage in a battle of mental gamesmanship. Brando's performance is so astounding because his acting is raw and realistic rather than mannered and stagey like most other acting of the era. The Blu-ray treats the film with appropriate reverence, including Brando's screen test, five documentaries about the project and commentary from movie historians.
OK!'S PHILMGUY REVIEWS AMERICAN REUNION
The Witches of Oz — As a semi-serious drama, the SyFy miniseries is an abject failure. But watch it as an unintentional comedy, loaded with hammy acting, campy plotting and special effects that seem like they were created by PowerPoint clip art, and the 164 minutes fly by. Paulie Rojas plays Dorothy, an up-and-coming author of Oz books who learns she's actually recalling memories rather than drawing on creativity. Sean Astin plays a tiny elf-thing, and Christopher Lloyd, bless him, is the wizard. SyFy is obsessed with these Oz adaptations, so bear in mind that its 2007 outing, Tin Man, starring Zooey Deschanel, is far superior. The lone notable extra on The Witches of Oz disc is a behind-the-scenes featurette.