STYLE
The PhilmGuy's DVD Review: Kevin Smith Week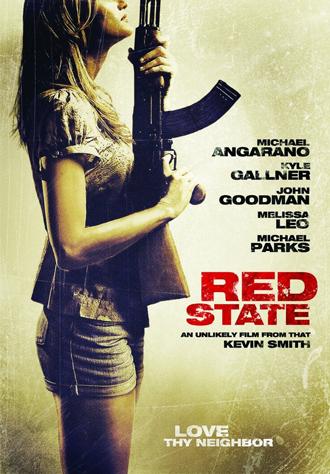 Red State – Director Kevin Smith rebounds in a major way from the Cop Out debacle with a heady thriller that subversively comments on religion, law enforcement, the media and gun control. Michael Parks plays a zealot who leads a small-town fundamentalist sect to trap and torture a group of sex-crazed teenagers, leading to a standoff with law enforcement. Smith's crackling dialogue is bolstered by excellent performances from Kerry Bishe as a woman caught in the middle of the firestorm and John Goodman as a law enforcement agent forced to struggle with morality and duty. Smith preserves his perfect record in providing excellent commentary tracks, and the extras also include a making-of doc and the filmmaker's infamous Sundance appearance, in which he lured distributors to the screening under the guise of auctioning off the film, only to tell them to go screw themselves and say he'd take the movie around the country on his own.
Article continues below advertisement
Bad Teacher – It's been years since Cameron Diaz found a comedic role like this to sink into. She adroitly plays a burned-out, narcissistic middle school teacher who ignores and exploits her students with the goals of getting through the days as quickly as possible and saving up enough money for breast implants she thinks she needs to become a trophy wife. Justin Timberlake and Jason Segel are in fine form as colleagues she uses in a love triangle in the movie that's one of the year's comedy highlights. The Blu-ray/DVD combo features deleted scenes, outtakes and behind-the-scenes segments.
Batman: Year One – Adapted from the Frank Miller comic series, which redefined the hero in the 1980s and also served as inspiration for Christopher Nolan's spectacular Batman films, the animated film tells the story of a young Bruce Wayne finding his way and evolving into the Caped Crusader. The animation is as strong as the formidable voice cast, which features Kevin Conroy, Bryan Cranston, Eliza Dushku and Katee Sackhoff. The DVD version includes a Catwoman short and a making-of documentary.
Article continues below advertisement
A Better Life – Director Chris Weitz (The Twilight Saga: New Moon) takes a detour from his usual big-budget projects for this gritty, urban indie film about an illegal immigrant day laborer (Demian Bichir) who toils away in L.A. so his ungrateful son (Jose Julian) can benefit. When the father risks his life savings in a ploy to better his circumstances that ends badly, the teen and his dad bond as they risk their necks in a tense and harrowing adventure. Extras include commentary and deleted scenes.
Cape Fear Blu-ray – Martin Scorsese's 1991 thriller, a remake of a 1962 film, stars Robert De Niro as a psychopath who emerges from prison to exact revenge on an attorney (Nick Nolte), whose wife (Jessica Lange) and daughter (Juliette Lewis) are forced into danger. An unusually pulpy and popcorn-style movie from the cinematic master, the film wears its two decades well and is every bit as exciting and creepy as you might remember it as a kid. A making-of doc and a pair of behind-the-scenes featurettes creep in waiting.
Article continues below advertisement
Friday Night Lights: The Complete Series – The underappreciated 2006-2011 series, about the trials of a small-town Texas high school football coach and his family, is regarded by many to be one of the greatest TV shows of all time. I'll vouch for the show as one of the best network TV has ever offered. The off-field antics rarely descend into soap opera activity, and the writers and actors are able to accomplish the near-impossible feat of making the ins and outs of football culture seem interesting even to those who don't care for the sport. Episode introductions, deleted scenes, commentaries, a retrospective documentary and gorgeous packaging featuring memorable screenshots from the series buff up the lineup.
The Guns of Navarone Blu-ray – The 158-minute 1961 World War II film is probably something your dad or grandpa loves. The military epic of the old school stars Gregory Peck, David Niven and Anthony Quinn in a tale of British operatives who slink their way through occupied Greece and scale a daunting cliff to neutralize a German command post. Steeped in strategy and grim male bonding, the film is a long, determined slog fueled by duty and honor. The gritty film doesn't look all that great in HD, but then maybe it didn't look so hot in theaters either. The 50th anniversary Blu-ray bombards you with extras, including commentary from the director as well as film historians, the story of the Greek resistance and looks at the film's music and weapons.
Article continues below advertisement
Heathers Blu-ray – Largely a rehash of the 2008 premature 20th anniversary disc, the 1989 dark high school comedy pairs Winona Ryder and Christian Slater in a dysfunctional romance that blossoms as it becomes en vogue for classmates to commit suicide. This is the movie Mean Girls copied and came close to perfecting, but the original — though no longer shocking — still packs plenty of charm. Extras are slim on this edition, and Amazon has new versions of the previous Blu-ray available for cheaper.
Judy Moody and the NOT Bummer Summer – Hollywood has little to offer the tween girl set, so filmmakers had better get it right when they get their rare chances. Judy Moody, a tale of an imaginative girl (Jordana Beatty) who struggles through a summer vacation in which her parents best friends abandon her for camp and vacation. Far better than its 15 percent positive RottenTomatoes rating would indicate, the film is lively and fun and boasts strong supporting performances by Janet Varney as Judy's mother and Heather Graham as her aunt. The Blu-ray/DVD/digital copy combo includes deleted scenes, a silly how-to-make-a-movie guide and a music video.
Article continues below advertisement
Page One: Inside the New York Times – Director Andrew Rossi (Food, Inc.) examines not only The New York Times but the decaying print media industry in general. Far from a hagiography, the film pays tribute to the paper's power and influence while also pulling down its pants and making fun of its outdated -- yet still crucial -- business model. Much of the running time focuses on old-school media reporter David Carr, whose witty self-deprecation and blunt fatalism make him seem like a George Carlin-like figure. Extras include bonus interviews with Carl Bernstein, Emily Bell and Sarah Ellison, as well as the reactions of journalists to the film.
Pirates of the Caribbean: On Stranger Tides – The sea-sick scatter-brained effort isn't nearly as cohesive or fun as the the previous three movies, and that's saying something, because those movies were barely watchable at times. Johnny Depp is back in his maniacally theatrical Jack Sparrow act that will sadly ruin his legacy by replacing far better performances in public consciousness with these four cinematic bludgeons. Penelope Cruz and Ian McShane are along for the ride as a sassy romantic foil and Blackbeard. The movie isn't awful, but feels far less than inspired. Hopefully we are at series' end. The Blu-ray/DVD combo lacks a digital copy but features some funny Lego shorts as well as director commentary.
Article continues below advertisement
Robotech: The Complete Series – The 17-disc anime compilation, which carved out a spot of many geeks who came of age in the 1980s, pits humanity against alien conquerors in an intergalactic rumble. The set includes all 85 episodes, as well as 10 hours of bonus features, such as a making-of doc, a 70-minute version of the pilot and deleted scenes. I was a Masters of the Universe boy, and didn't connect with Robotech then or now, but have friends whose opinions I respect who swear by it.
Tomcats Blu-ray – The 2001 comedy comes from the era in which everyone was trying to make the next American Pie, and this one stands near the top of the heap. Jerry O'Connell, Horatio Sanz and Jake Busey play guys among a group of friends who made a deal to contribute to a huge sum of money and have it go to the one who can remain unmarried the longest. The story is a slim excuse for a parade of crazy, sex-based gross-outs. The presence of Shannon Elizabeth and Jaime Pressly helps reduce the sausage-fest factor. The Blu-ray is light on extras, and to be honest, some of the nastier scenes are probably less stomach-turning in fuzzy standard-def than HD.
Article continues below advertisement
Willy Wonka and the Chocolate Factory: 40th Anniversary Blu-ray – After long last and countless video releases — I still gag at thoughts of the old full-screen DVD version — this truly great musical gets a worthy tribute set. In a career-defining performance, Gene Wilder plays a loony, sadistic candy business emperor who stages a contest that gives a few kids and their parents a chance to tour his house of horrors. Little do they realize that he's set up the gauntlet to judge their dark souls. Every bit as brilliant as it is freaky, the movie is a timeless, gloriously preachy masterpiece that demands to be viewed by every parent and child. Packaged in the giant, limited edition box is a swell of befittingly random extras, such as a mock golden ticket/contest entry code, a pencil set disguised as a Wonka bar and lavish tribute book. The on-disc extras are just as robust, including two new retrospectives along with commentary and featurettes from previous editions.
Kevin Smith: Too Fat for 40 and SModimations – Available both separately and with Smith's Hollywood Babble-On in a box set, the DVDs emphasize Smith's considerable talents as a stand-up comedian and performer, which match his ability as a filmmaker. Too Fat for 40 is the extended cut of a special released last year, in which Smith spins audience questions into riotous observations of his life and career. SModimations, animated adaptations of Smith's podcast with friend and producer Scott Mosier, takes the same format of the Ricky Gervais show and somehow manages to top it in irreverence and spontaneity. The geek god reigns supreme in these DVDs.