STYLE
The PhilmGuy's DVD Review: 'New Year's Eve' starring Zac Efron, Ashton Kutcher and Katherine Heigl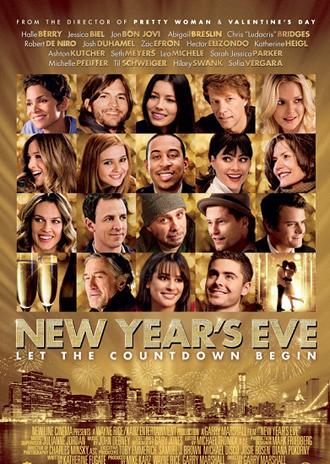 Clueless Blu-ray — In this subversive 1995 satire of teen solipsism, based on The Taming of the Shrew, Alicia Silverstone plays a popular high school girl who befriends an outcast (Brittany Murphy) in hopes of lifting her to popularity. The entire cast follows along on the obliviously self-obsessed note that Silverstone establishes. The movie elevated her into icon status, but unfortunately turned out to be her high point. The Blu-ray adds trivia to the stable of featurettes on the DVD releases. I would have appreciated a look back at the career of the underrated Murphy, who passed away in 2009.
Article continues below advertisement
OK!'S PHILMGUY REVIEWS: THE FIVE-YEAR ENGAGEMENT STARRING JASON SEGEL AND EMILY BLUNT
Haywire — Taking on a spy-on-the-lam tone of the Bourne movies, director Steven Soderbergh whips up a crackling little thriller, starring MMA fighter Gina Carano. She plays a covert ops agent who is screwed over by the government and determined to find out who was responsible for attempting to kill her. A strong supporting cast, including Channing Tatum, Bill Paxton, Antonio Banderas and Ewan McGregor, takes a back seat to Carano's impressive combat scenes. The Blu-ray/digital copy combo includes Carano's training footage and a look at the dizzying array of characters.
Joyful Noise — In this down-home musical, Dolly Parton and Queen Latifah play members of the same small-town Georgia church chorus who bicker as they prepare for a big competition. The Parton character's grandson (Jeremy Jordan) further complicates matters by starting up a romance with Latifah's daughter (Keke Palmer). The movie is drab, slow-moving and plagued with rotten dialogue, but Parton is a standout, proving her voice is as great as ever in her mid-60s. The Blu-ray/DVD/digital copy combo features extended songs and a couple throwaway featurettes.
Article continues below advertisement
New Year's Eve — I feel compelled to list the cast, not in praise, but in the elementary school manner of writing their names on the board for misbehavior. Halle Berry, Jessica Biel, Jon Bon Jovi, Abigail Breslin, Ludacris, Robert De Niro, Josh Duhamel, Zac Efron, Hector Elizondo, Katherine Heigl, Ashton Kutcher, Seth Meyers, Lea Michele, Sarah Jessica Parker, Michelle Pfeiffer, Ryan Seacrest, Hilary Swank and Sofia Vergara, you're all ordered to lunch detention and your parents will be getting notes reprimanding you for starring in this lifeless, painfully obnoxious romantic comedy of interlocked stories. A follow-up to Valentine's Day (2010), the movie is an utter embarrassment to all involved. The only thing that kept me watching was the will to verify whether it would stay as bad as it was throughout, which it somehow managed to do. The Blu-ray/DVD/digital copy combo includes director Garry Marshall's commentary, deleted scenes and a gag reel.
Road Trip Blu-ray — One of my favorites, the 2000 college comedy stars Breckin Meyer as a student who cheats on his long-distance girlfriend with a coed (Amy Smart), then accidentally mails off a tape documenting the event to his girlfriend. Determined to intercept it, he goes off on a hurried cross-country excursion with his pals (Tom Green, Seann William Scott, DJ Qualls and Paulo Costanzo). The unbelievably hilarious comedy was the feature debut of Todd Phillips, who went on to make Old School and the Hangover movies. The disc just repeats the extras from the old DVD release, which happened to be the first DVD I ever bought.
Article continues below advertisement
OK!'S PHILMGUY REVIEWS: AMERICAN REUNION STARRING JASON BIGGS AND ALYSON HANNIGAN
Pillow Talk Blu-ray — The seminal 1959 Doris Day-Rock Hudson romantic comedy makes its way to HD, with a digital copy in tow. Hudson plays a smooth playboy who tries to seduce a Type A interior decorator (Day) by pretending to be a rich cowboy. The movie hasn't aged well, with most of the jokes falling flat, but Hudson and Day generate some charming chemistry that helps keep the rickety plot afloat. Extras include commentary from three movie historians, a featurette that examines the rapport between Day and Hudson, as well as a look at the restoration process.
W.E. — Madonna puts on her director's hat and goes the Julie & Julia route to explore the infamous romance between Wallis Simpson (Andrea Riseborough) and King Edward VIII (James D'Arcy), who gave up his crown in the name of love. As a parallel to that story, we also peek into the life of a 1990s housewife (Abbie Cornish), who tries to live her life vicariously through details she uncovers about Wallis. The framing device is more distracting than beneficial, muddying up the narrative and turning it into a slog. Still, Madonna shows an artist's touch for setting up elegant visuals, somewhat making up for the slow story. The Blu-ray/DVD/digital copy combo comes with a making-of featurette.