STYLE
The PhilmGuy's DVD Review: 'Our Idiot Brother,' 'One Day'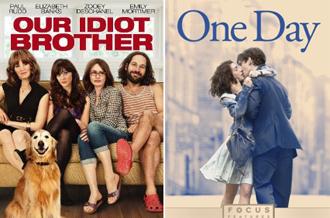 The Future – Quirky writer/director Miranda July (Me and You and Everyone We Know) stars in this offbeat, slice-of-life tale of mid-30s angst. July plays a creatively stifled dance teacher who's unhappy with every aspect of her life, including her wallflowerish live-in boyfriend (Hamish Linklater). Joyfully bizarre, the film is bookmarked with narration by a cat, and is absolutely crammed with exquisitely awkward moments and unforgettable lines. July's commentary, a making-of featurette and a deleted scene are included.
Article continues below advertisement
THE PHILMGUY REVIEWS: THE TWILIGHT SAGA: BREAKING DAWN - PART 1
One Day – If you're feeling too good about life, love and relationships, pop this one in to take you down a peg. The downbeat romance employs a When Harry Met Sally-like premise, about friends-with-few-benefits played by Anne Hathaway and Jim Sturgess. Over a 20-year period, we watch them pretend as though they aren't meant for one another as they meet up once a year, just for the sake of regret and torture. A couple of late-film plot devices are obnoxious, but the well-made and well-acted tear-jerker is worth a look. Director commentary, a featurette about Hathaway and deleted scenes round out the package.
Our Idiot Brother – Paul Rudd shows some diversity by eschewing his clean-cut straight man act to play a long-haired stoner whose antics cause his three sisters (Elizabeth Banks, Zooey Deschanel and Emily Mortimer) endless grief. Each sister, who juggles her own wacky dilemmas, takes a turn at attempting to "fix" the family black sheep, but the longer the comedy goes, the easier it is to see that he may be it's the sisters who need the fixing. The lightweight film isn't anything special but packs enough chuckles to stay interesting. Commentary, deleted and extended scenes and a making-of featurette are included.
Article continues below advertisement
Smallville: The Complete Series – All 10 seasons of this series, which started off on the WB and switched to CW after the merger with UPN, fly onto DVD in this box set. As the boy who will grow up to be Superman, Tom Welling stars as a teen dealing with the emergence of his super powers as he copes with the pain and awkwardness of growing up and finding his place in the world. It's pretty much what every teen/young adult goes through, only with 200 percent more attacks from maniacal supervillains. Packing a whopping 62 discs, the set – featuring a 90-minute series retrospective – includes a Daily Planet newspaper that looks back at the storylines, as well as two picture books. Also available this week is Smallville: Season 10 on Blu-ray.
THE PHILMGUY REVIEWS: JACK AND JILL
The Smurfs – Due out Saturday, this seemingly surefire disaster is nowhere near as awful as it could have been, thanks mainly to a script that doesn't take itself too seriously. Neil Patrick Harris and Jayma Mays (Emma on Glee) play a couple whose house is overrun by the blue, computer-animated munchkins, with evil wizard Gargamel (Hank Azaria) in tow. The film hits on a source material satirizing vibe similar to Enchanted, although it's not quite in the same league as that romp. Katy Perry, Jonathan Winters and Alan Cumming all help out, contributing solid voice work as Smurfs. The Blu-ray/DVD combo includes deleted scenes, featurettes and a short film that expands on the main feature.
Tucker and Dale vs. Evil – In a clever, Shaun of the Dead-like horror parody, Tyler Labine and Alan Tudyk play backwoods yokels who engage in a battle for survival. Thanks to a sequence of misunderstandings, a group of snotty college kids become convinced that Tucker and Dale are about to go Deliverance on them, so they try to murder the innocent hicks to pre-empt their attack. Katrina Bowden (Cerie from 30 Rock) takes a liking to the heroes, adding a Romeo and Juliet-like vibe to the hilarious proceedings. Labine, Tudyk and director Eli Craig provide commentary, and there's also a making-of featurette.