STYLE
The PhilmGuy's DVD Review: 'The Rum Diary' starring Johnny Depp, 'Take Shelter'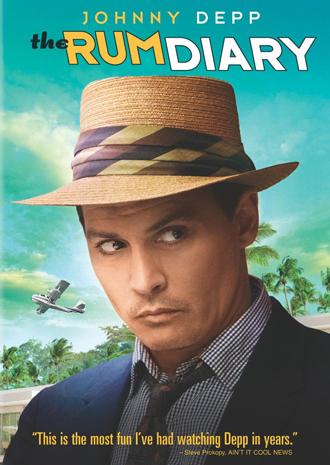 All Quiet on the Western Front Blu-ray – One of the first great movies with sound, the 1930 classic tells the sad, brutal saga of German teens who enlist to fight in World War I at the behest of a saber-rattling professor. The film unblinkingly shows the horrors of one of the more brutal wars mankind has ever fought. Excellent transfers of movies from this era are tough to come by, but the film looks sharper and more vivid than you'd expect. The packed-to-the-gills set includes a digital copy, introduction from a film historian, a look at the restoration process and a silent version of the movie.
Article continues below advertisement
Beavis & Butt-Head: Volume 4 – Following a 14-year absence, Mike Judge's numskull animated teens returned to MTV, not having missed a beat. Now the obliviously satirical doofuses comment on MTV's reality programming as well as music videos, delivering hilarious commentary about the likes of 16 and Pregnant and Jersey Shore. The 12 new episodes are every bit as funny as the classics. Hopefully they'll stick around for years to come. Included is footage of the 2011 Comic Con panel and a short in which the duo encourage you to silence your cell phones.
The Human Centipede 2: Full Sequence – Doing its revolting predecessor proud by doing its best to gross you out whenever possible, this film takes the meta-route by making its new villain (Laurence R. Harvey) a mute shut-in who is obsessed with copying the mad-science surgery of the first film. The egg-shaped, mute man, who bristles under the control of his brow-beating mom — think Alfred Hitchcock's Psycho — is a terrifying creation. He stalks and captures victims in an effort to attach them to recreate the experiment from the first movie. I found the film engaging and fast-moving, but unless you have a high tolerance for disturbing imagery, stay away. Deleted scenes, as well as commentary by Harvey and director Tom Six, make up the tail segments of the package.
Article continues below advertisement
The Lorax Blu-ray – The pro-environmentalism 1972 Dr. Seuss adaptation has always been a cruddy-looking piece of nostalgia, and is barely recognizable in remastered form. Typical 1970s graininess gives way to sharp images and striking colors, making it impossible to go back to watching the film the old way. While the short film, about a greedy business-monster who guts the land of trees in order to turn a profit, is second-tier Seuss, but still captures the artist/author's absurd spirit and biting cleverness. The Blu-ray/DVD/digital copy combo includes a pair of other little-known Seuss adaptations.
The Rum Diary – Johnny Depp shines in this adaptation of an early Hunter S. Thompson book, which wasn't released until late in his career. Depp plays a young, idealistic journalist who takes a job at a newspaper in Puerto Rico and must decide whether to try to expose corruption or go with the flow. Director Bruce Robinson helps translate Thompson's cynical style to the screen, and Depp melds with a supporting cast led by Amber Heard and Aaron Eckhart to keep the tale captivating. Extras delve inside the making of the film, as well as the book's roundabout path to shelves.
Article continues below advertisement
Take Shelter – Michael Shannon builds off his excellent work in the HBO series Boardwalk Empire to play a troubled rural construction foreman troubled by visions of disaster. Jessica Chastain stars as his wife, whom he keeps in the dark as he attempts to prepare for the apocalypse as he questions his own sanity while risking everything to protect his family from what he thinks is certain death. The psychological mindbender is exquisitely shot and acted. Shannon and director Jeff Nichols provide commentary. There are also deleted scenes, a behind-the-scenes featurette and cast interviews.
Tiny Furniture Blu-ray – Director/star Lena Dunham plays a recent college grad who boomerangs back home to live with her mom and sister, unsure of what her next move should be. Filled with wry humor and delicious awkwardness, the movie plays like a female take on Garden State. It's rare that Criterion tackles such a recent release — the movie came out in 2010 — and it's refreshing to see what many, including me, hold up as a modern classic get treated the right way. Extras include Nora Ephron's interview with Dunham, several earlier films by Dunham and a tribute booklet.