STYLE
The PhilmGuy's DVD Review: 'Savages' starring Taylor Kitsch and Blake Lively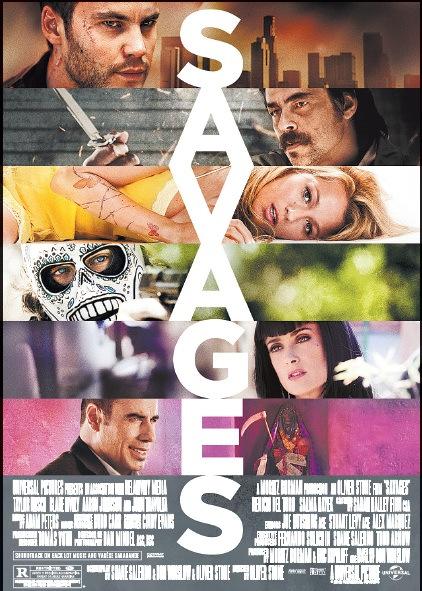 Astonishing X-Men Blu-ray Collection — The Joss Whedon-penned motion comic series, which takes the X-Men mythos off in surprisingly mature directions, has been trickling out in a series of four releases, all of which are bundled together in this set, adding up to five hours of blistering action and intrigue that put most live-action X-Men movies to shame. Included are the stories Gifted, Dangerous, Torn and Unstoppable, the latter of which is also hitting the market as a stand-alone. The extras are just about non-existent.
Article continues below advertisement
Brave — While nowhere near as much of a letdown as last year's Cars 2, this middling action-adventure isn't amazing enough to rank alongside the Pixar greats. Kelly Macdonald voices a self-centered princess whose messing with magic gets her mother turned into a bear. She spends her coming-of-age adventure attempting to right her wrong. It's a rousing tale, but unfolds by the numbers and fails to surprise or evoke real emotion. The five-disc set includes the 3D and 2D Blu-ray, DVD and digital copy versions, as well as loads of extras, including the brilliant short film La Luna, sundry making-of featurettes and filmmaker commentary.
Dark Horse — Writer/director Todd Solondz (Happiness, Storytelling) continues to prove to be a master of depressing black comedies about sad, hopeless characters. Jordan Gelber plays Abe, an overweight, mid-30s man-child who lives with his parents, works for his dad and dotes on his vintage toy collection. Things seem to break right for him when an aloof woman (Selma Blair) seems to respond to his romantic interests, but things aren't as they appear and she starts to add more pain and misery to Abe's life. Christopher Walken and Mia Farrow are priceless as Abe's parents, and Gelber makes a remarkable angry-at-the-world doofus in the fascinating-like-a-train-wreck film. There are no notable extras on the disc.
Article continues below advertisement
Friends: The Complete Series Blu-ray — The 1994-2004 sitcom, which defined a generation of TV comedy and was ever-present in the nation's living rooms Thursday nights, even if it grew stale as the writers burned through all possible romantic combinations of the characters several times over, looks far better in HD than it ever did on your dusty old tube TV. The set weighs in at just $200 at most places online, which seems to be on the pricey side, but there are a ton of extras to tide over superfans, including retrospective documentaries, a fresh gag reel, an alternate cut of the watershed episode The One Where Rachel Tells Ross, and a look at the show's influential sense of style.
Lawrence of Arabia: 50th Anniversary Blu-ray — Director David Lean's sweeping 1962 drama is one of the all-time greats, but has always been severely bastardized on home video, which would sap away its wow factor. Blu-ray does the movie more justice than VHS or DVD managed, using vivid detail to suck you into the real-life tale of British statesman T.E. Lawrence (Peter O'Toole), who loses himself into Arabic tribal war during a war-torn period in the early 20th century. O'Toole deserves his best actor Oscar for the nuanced portrait of a fascinating figure, and Omar Sharif, a best supporting actor Oscar winner, also makes a lasting impression. Mountains of background featurettes, newsreel footage of the New York premiere, picture-in-picture commentary, a digital copy and an interview with O'Toole fill out the set.
Article continues below advertisement
My Big Fat Greek Wedding 10th Anniversary Edition Blu-ray — The 2002 box office phenomenon stars Nia Vardalos as a bride-to-be who juggles demands from her overbearing Greek family as she prepares to get married to a guy (John Corbett) they're suspicious of because he's not Greek. Silly and vivacious throughout, the movie boasts a standout performance from Vardalos, who unfortunately has yet to repeat it in any of her subsequent roles. The Blu-ray/DVD/digital copy combo includes a half-hour retrospective, the original commentary track and deleted scenes.
Pixar Short Films Collection 2 — This compilation of recent shorts is better than any feature films the beloved studio has cranked out the last couple years. Highlights include the Ratatouille offshoot Your Friend the Rat (2007), the WALL-E side story 'BURN-E' (2008) and the gorgeous, heartbreaking La Luna (2011), which played as the lead-in to Brave in theaters. Each short in the Blu-ray/DVD combo includes commentary.
Article continues below advertisement
Rashomon Blu-ray — Akira Kurosawa's 1950 masterpiece is one of the most influential pieces of cinematic storytelling. Using flashbacks colored by four disputing viewpoints of four protagonists about a rape and murder, Kurosawa makes you question the nature of truth and memory as they relate to prosecuting a crime. The Criterion Collection release provides a brilliant new restoration, commentary from a film historian, a feature-length making-of documentary, vintage interviews and a tribute booklet that talks about the movie's influences.
Savages — Director Oliver Stone delves into the blood-soaked morass that is the Mexican drug cartel scene, telling a story of bloodlust and betrayal through the eyes of a pair of Californian best pals/business partners (Taylor Kitsch and Aaron Taylor-Johnson) and their shared girlfriend (Blake Lively). She's kidnapped by the cartels, ensnaring all three in a bitter, life-or-death game of trickery and deceit, involving law enforcement and hangers-on. Benicio Del Toro and John Travolta also check in. The drama, which never lets you pause to breathe, is mostly enthralling, but it seems like thin melodrama that's not quite worthy of the director's talents. The Blu-ray/DVD/digital copy combo includes an unrated version, commentaries from Stone and the film's producers, deleted scenes and other background featurettes.
Article continues below advertisement
Teenage Mutant Ninja Turtles: The Complete Series — The massive, 23-disc set resurrects childhood memories from the action series, which ran from 1987 to 1996. The Turtles were dudebros before dudebros existed, swapping fist-bumps and catch phrases as the romped through the streets of New York, battling the Foot Clan and its evil, metal-armored samurai leader, Shredder. the $100 set, which comes in packaging shaped like the Turtles' party wagon and boasts three hours of bonus features, can be had for $88 online, and is worth a pick-up for superfans since it's not streamable on Netflix.
The Watch — The star power is certainly here, with Ben Stiller, Vince Vaughn and Jonah Hill joining the lesser-known Richard Ayoade as an overeager neighborhood security team. But the moving parts don't come together as a laugh machine. The laughs only occasionally flow, leaving far too much running time dull and lifeless. The story does itself no favors by throwing in a bizarre extraterrestrial twist. The Blu-ray/DVD/digital copy combo includes deleted scenes, a gag reel and a look at Hill's improvised lines that didn't make the cut.