STYLE
The PhilmGuy's DVD Review: 'True Blood: Season 4' Starring Anna Paquin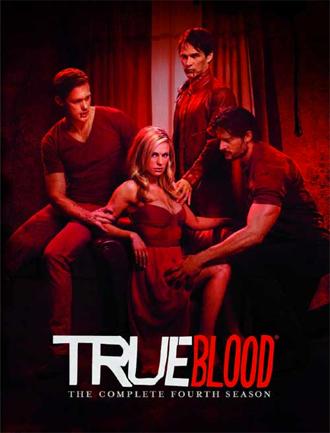 Goon — In a departure from his usual cutup roles, Seann William Scott plays a directionless thug who stumbles onto a tryout with a local minor league team. He evolves into a popular player, copes with his disapproving parents and weighs the risks of getting his face bashed in with pursuing his dreams. The movie is more downbeat than I expected, and is rarely funny. Scott isn't altogether convincing as a brute, although he establishes the character's heart. Those starving for a hockey movie with realistic ice action and fighting would do well to check this out, but anyone else can sit this one out. There's nothing spectacular in the bonus features.
Article continues below advertisement
The Lethal Weapon Collection Blu-ray — All four of the Mel Gibson-Danny Glover action/comedies, which were released in 1987, 1989, 1992 and 1998 blast their way into HD. The movies popularized the buddy cop genre, inspiring loads of imitators. For my money, though, none could ever match the chemistry of Gibson's loose cannon Riggs combined with Glover's pragmatic, by-the-book Murtaugh. Rene Russo and Joe Pesci also add a lot to the movies. Commentaries, deleted and extended scenes, as well as loads of background and tribute featurettes fill out the package.
OK! NEWS: THE PHILMGUY'S DVD REVIEWS: ONE FOR THE MONEY STARRING KATHERINE HEIGL
Man on a Ledge — In an underappreciated gem from earlier this year, Sam Worthington plays an ex-cop poised to jump off a Manhattan high rise, as a frazzled negotiator (Elizabeth Banks) tries to talk him down. After starting at the climax, the narrative skips back in time to show how Worthington's character got himself into the fix, which turns out to be an elaborate diversion to facilitate his true intentions. The spry thriller manages to keep you on your toes throughout the running time. There aren't any notable extras on the disc.
Article continues below advertisement
Traveller/Telling Lies in America Blu-ray — Released in 1997, Traveller was never on my radar, so it felt like finding a hidden treasure to pop the movie in and have so much fun with it. Bill Paxton is a grizzled conman who takes an up-and-comer (Mark Wahlberg) under his wing. An elaborate web of double-crosses and backstabs results, and I was pleased with the way the plot stayed unpredictable throughout. I can't vouch for the other movie on the disc, but Traveller alone is worth the $15 MSRP. The disc's extras are slim.
OK! NEWS: THE PHILGUY REVIEWS: MEN IN BLACK 3 STARRING WILL SMITH, JOSH BROLIN & TOMMY LEE JONES
True Blood: Season 4 — HBO's sex-filled vampire show has now fully involved into cramming any and all fantasy creatures it can think of into its increasingly complicated web of nonsense. Any social commentary or symbolism the series once had has long since given way to soap opera-like outrageous nonsense. I still can't stop watching, though, because the slap-happy nonsense is entrancing. The Blu-ray comes with a rare-for-TV-series digital copy. There's also picture-in-picture background featurettes, an interactive archive and commentaries.