STYLE
The PhilmGuy's DVD Review: 'Wanderlust' Starring Paul Rudd, Jennifer Aniston & Justin Theroux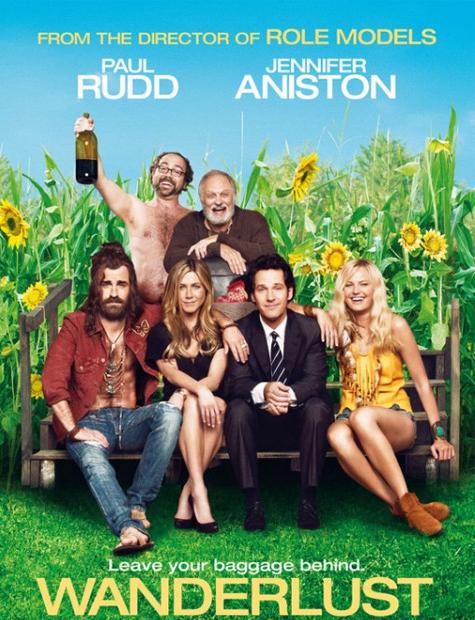 Big Miracle — The earnest-to-a-fault family flick recounts the true 1988 story of the rescue of whales trapped under an ice shelf in Alaska. John Krasinski and Drew Barrymore provide the star power and romantic intrigue, as a TV reporter and animal rights activist who dedicate themselves to the cause. Ted Danson and Kristen Bell play self-absorbed pseudo-villains who act like they're helping out but really just get in the way. The tales tries a little too hard to be inspirational and often drags, but its innocence is disarming. The Blu-ray/DVD/digital-copy combo includes filmmaker commentary, deleted scenes and a pair of featurettes that recount the true story.
Article continues below advertisement
Jeff, Who Lives at Home — Brothers Jay and Mark Duplass, who directed the 2005 indie sensation The Puffy Chair, re-team for this oddball, higher-budget lark with Jason Segel as a 30-something burnout who lives with his mom (Susan Sarandon) and constantly seeks mystical signs to direct his aimless life. As he helps his straitlaced brother (Ed Helms) investigate his possibly philandering wife, his mom pursues a sexual awakening at the office. The humor is hit-and-miss, with an annoyingly meandering story that never coalesces into much of a point. The Blu-ray/digital-copy combo doesn't include any notable extras.
OK!'S PHILMGUY REVIEWS PROMETHEUS STARRING NOOMI RAPACE, MICHAEL FASSBENDER AND CHARLIZE THERON
Louie: Season 2 — After an impressive debut, Louis C.K.'s comedic opus really hit its stride in season two, just about perfectly replicating the stand-up comic's observational act into a sitcom. His humor is all about staring into the middle-age void as a divorced dad, all but sure that life will only get tougher as each day passes. The second season is not only filled with hilarity but packs some devastating emotional punches as well. Some of my favorite moments include Louie facing danger in the Middle East on a USO tour, as well as a Halloween episode, in which he and his young daughters face down a pair of unhinged street thugs. Extras are sparse, save for some Louis C.K. commentary tracks.
Article continues below advertisement
Project X — The found-footage thing has been done to death, but this high school party flick overcomes the gimmick, managing to relay its feel of exuberant fun. The narrative follows a trio of high school losers who record themselves as they stage a wild house party that grows more insane by the hour, drawing the attention of cops, TV news and late-night talk shows. Director Nima Nourizadeh takes the Superbad template and blows everything over the top. There's not a believable scene in the movie, but there's also not a boring one. The Blu-ray/DVD/digital-copy combo includes a mock tally of the financial damage caused by the party, as well as a look at the making of the stunts.
The Sarah Silverman Program: The Complete Series — Silverman's boundaries-shoving 2007-2010 Comedy Central sitcom captures the comedian at the height of her subversive powers, freely taking on issues such as racial stereotypes, abortion and politics, and making them gleefully funny rather than taboo. As Silverman cuts it up as a slacker version of herself, Brian Posehn and Steve Agee are solid as her oddball gay neighbors, and Silverman's uptight sister, Laura, also does excellent work. The set includes an alternate version of the pilot, audio commentaries, animated shorts, audition videos and footage of the cast at the 2007 San Diego Comic-Con International.
OK!'S PHILMGUY REVIEWS THE DICTATOR STARRING SACHA BARON COHEN
Wanderlust — Paul Rudd and Jennifer Aniston play a couple that loses all their income just after they buy a West Village loft, forcing them to flee to Rudd's brother's house until they can find work. Along the way, they wind up at a bed and breakfast that turns out to be a commune led by free-love, veganism-encouraging messianic figure (Justin Theroux). The couple falls under the cult-like spell and deals with comical culture clashes as the group subtly saps away their will to leave. An excellent beginning and finish mask a saggy middle section. There's just enough biting, poignant humor to keep things interesting. The Blu-ray/DVD/digital-copy combo includes a rundown of the cast, an alternate cut of the movie with different jokes substituted in and a behind-the-scenes peek.