STYLE
The PhilmGuy's DVD Reviews: 'John Carter' starring Taylor Kitsch and 'Breaking Bad'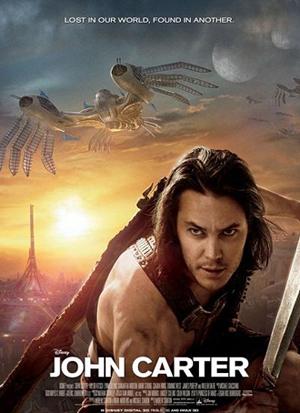 Breaking Bad: Season 4 — In the latest season of AMC's drama about a meth-dealing, cancer-stricken teacher (Bryan Cranston), the plot abandons the dual-life issue it juggled for each of its first three seasons, shifting squarely into brutal crime drama. I missed the feel of the previous seasons, but there is plenty to love in this outing, with some shocking twists and dark explorations into characters who had previously received lighter touches. There are commentary tracks on all 13 episodes and a whopping 30 featurettes to let you overdose on the show's minutiae.
Article continues below advertisement
Curb Your Enthusiasm: Season 8 — Larry David's exceptional HBO comedy series, which uses mostly improvised dialogue attached to a solid outline, shows no signs of losing its hilarity. David, playing himself, deals with divorce and heads to New York for the second half of the season. David messes with the likes of Ricky Gervais, Michael J. Fox and infamous Boston Red Sox player Bill Buckner. Extras include the Leon character's guide to New York City, as well as a David-led roundtable talk.
OK!'S PHILMGUY REVIEWS THE DICTATOR STARRING SACHA BARON COHEN
Erin Brockovich Blu-ray — Julia Roberts won a best actress Oscar in this 2000 drama, starring as a single mom/law firm secretary who tirelessly uncovers a water pollution conspiracy, leading to a massive class-action suit. Director Steven Soderbergh turns what could have been a hokey story into a crackling drama that allows Roberts to show her range and energy. The Blu-ray/DVD/digital copy combo includes looks at the real-life Brockovich, as well as the making of the film.
Article continues below advertisement
John Carter — Taylor Kitsch trades in his Friday Night Lights for a toga and two hours of box office poison (only $72 million earned domestically with a $250 million budget). The action flick, based on an Edgar Rice Burroughs novel, as a Confederate soldier who transports to Mars, where he rages in a Braveheart-like quest in a battle of poorly computer-animated alien oppressors. Stiff dialogue and iffy special effects drag down some otherwise impressive battle scenes, making the movie a sometimes entertaining but tough sit. The Blu-ray/DVD combo has extensive making-of footage, filmmaker commentary and a look at the lengthy adaptation process.
Journey 2: The Mysterious Island — The Rock leads the way into the Mysterious Island Jules Verne wrote about in this jovially dumb family flick. The pec-popping wrestler-turned actor plays a stepfather desperate to win the approval of his wife's son (Josh Hutcherson). The pair enlists the help of father-daughter travel guides (Luis Guzman and Vanessa Hudgens) to explore the lush island, which is filled with treasure, abnormally large bees, adorably tiny elephants and a hermit played by Michael Caine. Silly and self-aware, the movie is good for some silly fun. Deleted scenes and a gag reel fill out the Blu-ray/DVD/digital copy combo.
Article continues below advertisement
OK!'S PHILMGUY REVIEWS THE FIVE-YEAR-ENGAGEMENT STARRING JASON SEGEL AND EMILY BLUNT
Machine Gun Preacher — Gerard Butler snaps back into 300 mode, playing a freformed drug dealer who dedicates his brutal instincts to God. He heads to war-torn Sudan as a booty-kicking missionary. He hurls himself into the front lines of battle as he sacrifices his livelihood and relationships to develop resources for starving, hopeless children. What could have been a feel-good Christian flick in the vein of Fireproof instead develops as a murky and brutal examination of a half-crazy man — the story is based on the life of Sam Childers — who is driven on a personal, morally questionable crusade. The Blu-ray/DVD/digital copy combo includes filmmaker commentary.
Safe House — Ryan Reynolds plays a young CIA agent who's tasked to reign in a rogue veteran agent played by Denzel Washington. The dueling spies collide in a deadly game of one-upsmanship, eventually working toward a fragile alliance that can and does crumble at any moment. Safe House is thoroughly a B movie, but it's an exciting one, with both stars ratcheting up their intensity to full effect. The Blu-ray/DVD/digital copy combo includes several making-of featurettes and scene breakdowns and a look at the real CIA.
The Sting Collector's Edition Blu-ray — Robert Redford and Paul Newman — along with director George Roy Hill — reignite their Butch Cassidy and the Sundance Kid chemistry in this 1973 roller coaster ride about a pair of conniving con artists, operating in Depression-era Chicago. Both leads are in top form, and David S. Ward's script is a shimmering gem, which overflows with quotable one-liners and rapidfire exchanges. The packaging doubles as a tribute book, and the package includes a digital copy. There's also a three-part making-of documentary.