STYLE
The Philmguy's DVD Reviews: 'My Week With Marilyn' and 'The Descendants'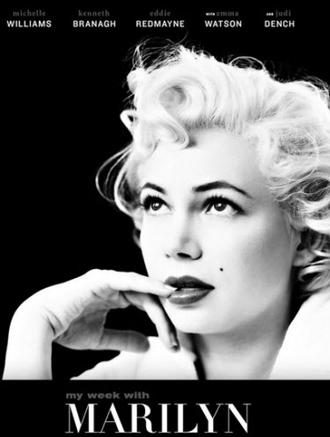 The Adventures of Tintin — Steven Spielberg goes the route of The Polar Express in this whimsical adaptation of the Belgian comic book series about a baby-faced reporter who totes his little dog through rollicking adventures. The film plays something like a computerized painting come to life, with creepily realistic expressions on every character. The oft-meandering but ultimately satisfying plot finds the plucky hero globe-trotting in search of a supposedly cursed lost treasure. The Blu-ray/DVD/digital copy combo boasts 11 background featurettes.
Article continues below advertisement
American Pie trilogy Blu-rays — American Pie (1999), American Pie 2 (2001) and American Wedding (2003) debut in HD, all sold separately. The comedies track a social circle of high schoolers through young adulthood, rounding up a cast that includes Jason Biggs, Seann William Scott, Alyson Hannigan and Tara Reid for an endless chain of hit-and-miss sex gags. The original is by far the best of the lot, with the second and third films trying and failing to recapture the Porky's-style silliness of their progenitor. The discs appear to have mostly the same extras as the DVD releases, with the added bonus of digital copies.
OK!'S THE PHILMGUY DVD REVIEWS: HUGO AND JOHNNY ENGLISH REBORN
The Descendants — George Clooney stars as the head of a family with deep Hawaiian roots who's forced to decide whether or not to sell or keep land that's been in the clan for generations, while also juggling his difficult daughters and coping with the death of his wife. Director Alexander Payne (Election, Sideways) is a fantastic filmmaker, but this is his weakest effort to date. On-the-nose and outrageously manipulative, it plays more like a Lifetime movie than an Oscar contender. The Blu-ray/DVD/digital copy combo includes deleted scenes, interviews with Payne and Clooney and several unremarkable background featurettes.
Article continues below advertisement
Happy Feet Two — Director George Miller had a thought-provoking winner on his hands with the original animated penguin-fest Happy Feet (2006), but this distant sequel recaptures little of the charm or social relevance of the previous movie. Set years after the last movie, the story picks up as Mumble — the hero from the first film — and his wife struggle to coax their dance-phobic son into letting go of his inhibitions to assimilate. The kid ends up going on his own way to come of age, much as his father did, only with severely less interesting results. There are a few mesmerizingly silly song and dance numbers, but the charm feels forced and the pacing falls flat this time out. The Blu-ray/DVD/digital copy combo boasts sing-alongs, a drawing lesson and a few featurettes.
The Last Temptation of Christ Blu-ray — Martin Scorsese's elegant 1988 passion play stars Willem Dafoe as Jesus, Harvey Keitel as Judas and Barbara Hershey as Mary Magdalene in this modernist take on the Gospels, which depicts Jesus as a tortured figure, struggling to choose between mortality and godhood. Aside from a few now-laughable special effects, the movie is a stirring triumph that remains riveting throughout its nearly three-hour running time. Scorsese, Dafoe and the screenwriters team for a commentary track, and there's also an interview with composer Peter Gabriel, production stills and an essay from a film historian. As far as Criterion Blu-ray releases go, this one is a bit light on the bonuses.
Article continues below advertisement
OK!'S PHILMGUY DVD REVIEW: THE TWILIGHT SAGA: BREAKING DAWN PART 1 WITH ROBERT PATTINSON
My Week with Marilyn — Miscast yet still mesmerizing, Michelle Williams melts into the role of Marilyn Monroe in this coming-of-age tale, about a young assistant director (Eddie Redmayne) who is ordered by Laurence Olivier (Kenneth Branagh) to keep tabs on the starlet during the making of the movie The Prince and the Showgirl. A friendship leads to a deep connection that borders on romance. Although Williams is far from an exact physical replica of Monroe, she captures every facet of her persona. The Blu-ray/DVD combo includes commentary by director Simon Curtis and a featurette on Monroe.
Melancholia — Sort of in the same vaguely sci-fi vein as Another Earth, the film tells the story of a doomed planet that's heading on a collision course with Earth. With that apocalyptic backdrop, the film tells the story of a troubled relationship between a pair of sisters played by Kirsten Dunst and Charlotte Gainsbourg. Kiefer Sutherland and Alexander Skarsgard play men caught in the sister's web of awkwardness and resentment. The disc offers several looks at the making of the film, including analyses of its visual style and effects.
Article continues below advertisement
The Three Musketeers — A director known for his Resident Evil movies, Paul W.S. Anderson cranks out a cookie-cutter version of the French swordsmen, doing little to improve on what's come before. Ray Stevenson, Luke Evans and Matthew Macfayden make up the core trio, with Logan Lerman popping in as D'Artagnan and Milla Jovovich playing a femme fatale and Christph Waltz and Orlando Bloom making scenery-chewing appearances. The upbeat, fast-moving film won't bore you, but nor will it inspire you. Filmmaker commentary and deleted scenes round out the Blu-ray/digital copy combo.
Wallace & Gromit's World of Invention — An amusing educational show tours the world in search of inventors with stunning products, with the claymated British icons providing commentary during transitions between segments. Although the box's cover is misleading because the stars' appearances amount to only cameos, the show is still worthwhile. There's not much on the disc in the way of extras.
Young Adult — The Juno tag team of screenwriter Diablo Cody and director Jason Reitman reteams for a dark comedy about a self-loathing, alcoholic tween fiction writer (Charlize Theron) who returns to her hometown and tries to pry her ex-boyfriend (Patrick Wilson) from his wife and baby. She also forms a connection with a former geek (Patton Oswalt), whom she enlists as a confidante. Theron is deliciously cruel in the movie, in the vein of Cameron Diaz in Bad Teacher, and Cody's dialogue is as great as usual. The Blu-ray/digital copy combo includes Reitman's commentary, a making-of featurette and deleted scenes.