STYLE
Pretty Little Liars Costume Designer Mandi Line on Her New Aeropostale Collection and the Cast Member Who Is Most Likely to "Borrow" From the Wardrobe Closet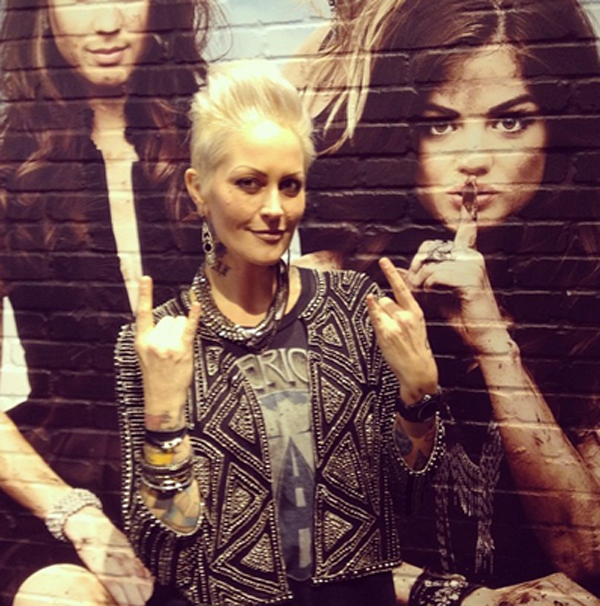 Tell me that haven't looked at the Pretty Little Liars girls before and held in fits of jealousy over each character's descriptive, trendy, perfectly stylish wardrobe. If you did happen to tell me that there wasn't at least one cast member's closet that you gave a hoot about, I would tunefully sing "Liar, Liar. Pants on fire." Because, well, the show has got one of the best costume departments in the biz, thanks to designer Mandi Line.
Article continues below advertisement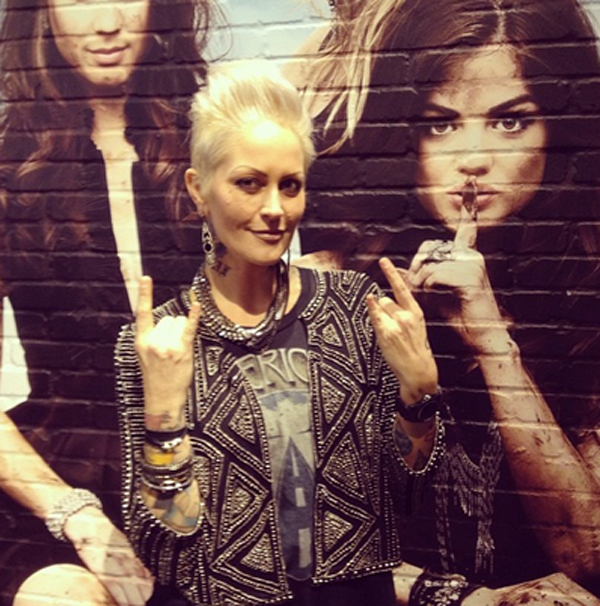 Mandi curates the show ensembles for the a couple chicks—you might know them as Aria, Hanna, Spencer, and Emily. But now, in addition to styling up some looks for the ladies of Rosewood, PA, the talent has created a series of collections inspired by PLL sold in Aeropostale.
Using a TV show for outfit inspiration is a thousand times more enjoyable when you can actually pick up the same stuff and afford them, huh? OK! caught up with Mandi and talked inspiration, obviously clothes, and a few tidbits about the famous gals on the show.
OK! Magazine: Tell me a little bit about the inspiration behind the collection?
Mandi Line: The inspiration was, hopefully with the first release, to give an iconic piece for everybody. We have three more releases, and they are going to get bigger and bigger and better. It's insane. If you think things are iconic now, you are going to get Pretty Little Liars shoved down your throat.
Article continues below advertisement
OK!: So are any of the girls going to be wearing the clothes in the season?
ML: Yeah. You're going to see about 50 percent of the clothes on the girls. You're going to see the bomber jacket on Emily. We're going to put at least 50 percent of the pieces on them.
OK!: Did you talk to the girls about it? What do they think about the collection?
ML: They trust me so much. They don't care. They're like, 'Oh, we'll wear it.' Whatever I want, they are into. It's cool.
OK!: You have obviously taught them so much about fashion, but what have they taught you?
ML: Oh my god. The young, grunge, dirty, hippy look. They have taught me about this natural beauty. I'm really over the top. I'm pretty much like Aria in a nutshell. They've taught me about this whole casual beauty. It's really, really cool.
OK!: Out of the girls, who is most likely to "borrow" from the wardrobe department?
Article continues below advertisement
ML: Hanna! Ashley Benson She doesn't give me sh*t back either. She gives me nothing back. We have to go in her trunk and take it out.
OK!: Do you have a favorite look in the collection?
ML: I like the blazer because Aeropostale never did a blazers, and they did it just for this line.
A Stylish Series: The Girls of Pretty Little Liars
OK!: Who is the biggest risk-taker on the cast?
ML: Lucy. She'll wear things that she can't move in. I think she just wore a pastel leather bomber. She will put something on and say, ' I can't move. I'm uncomfortable, but I'm going to rock this.'
OK!: Who is the most like their character?
ML: Lucy.
OK!: Would you ever design a men's collection? Is that in the future?
ML: I would love to. I want to do my own sh*t too. I think women—we work during the week, but on Saturdays and Sundays, we wear workout clothes and we do grocery shopping and get our nails done. I want to be able to come out of spin class and put on some awesome, drop-crotch pants, a cool skirt, and some bada** hoodie.