NEWS
Red Carpet Confidential: How Ashley Benson Recovered From Her Most Embarrassing Fashion Moment Ever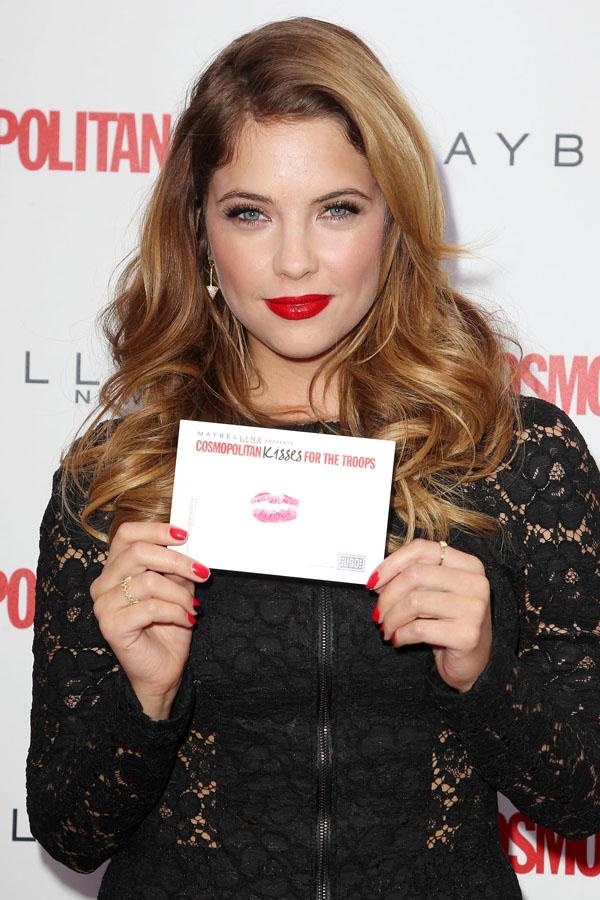 Ashley Benson is fortunate to count Spring Breakers co-star Selena Gomez and Pretty Little Liars co-star Shay Mitchell among her closest friends.
"I just went to see Selena's concert," the actress, 23, excitedly tells me Monday during Cosmopolitan's Kisses For The Troops event held in NYC's Times Square. "She did so good! She sold out the Staples Center—I'm so proud of her. She's like my sister. To see her accomplish all that is amazing."
Article continues below advertisement
OK! News: How To Get Lucy Hale's CMA Awards Beauty Look
Recently, Ashley needed to lean on pals during an embarrassing incident.
"It was my best friend's birthday, and I was wearing these red leather pants, and I saw him, and I was super excited," she says, after pondering whether she should keep talking. "I jumped up to see him, and my pants, like, ripped. laughs And my shirt was short! I was like screeches 'oh my gosh!' I looked back, and I was so nervous if someone saw it."
OK! Exclusive: Lady Gaga on Wearing The World's First Flying Dress
She continues, "No one had anything to cover me up, so I had to get in my friend's car, drive to her house, put on all of her clothes, because I had nothing. I had to stay there and be with my best friend, but that's one of the most embarrassing things that has ever happened to me. And people saw that it happened. I ran out of there as fast as I could—it was so horrible."
Article continues below advertisement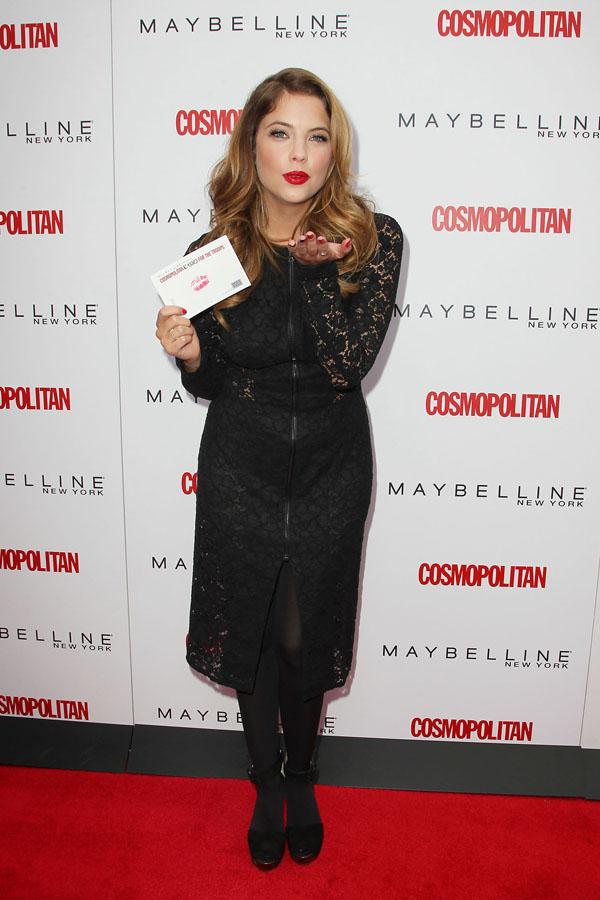 How did she pull herself together?
OK! Exclusive: PLL's Cody Christian on The Hunger Games Spoof Movie
"I just got back—they were like 'where'd you go? Why are you changed?' I was like 'I just got hot in the pants, I don't know.' But I have so many pictures of the pants—they're ripped open. It's so horrible! It's pretty embarrassing."
For Ashley, having close female friends makes all the difference.
"I think it's so important," she says. "Females should support each other. It's necessary, and to have your friends support you in everything you do, it's great. When my friends succeed, it makes me feel happy. It's good to support your friends."
For the event, Cosmopolitan teamed up with Maybelline New York and the USO of Metropolitan New York to collect and deliver Kisses For The Troops. Ashley and other women kissed postcards, which will be delivered to servicemen overseas. For every kiss collected, Cosmopolitan and Maybelline New York are donating $1 to the USONY.
Photos: The Pretty Little Liars' Best Halloween Costumes
Catch Ashley when Pretty Little Liars returns Tuesday, January 7 at 8 pm on ABC Family. What do you think of Ashley and Selena's friendship? Are you cringing at Ashley's embarrassing moment? Tweet us @OKMagazine.