STYLE
'Project Runway All Stars' Host Angela Lindvall Talks Style With OK!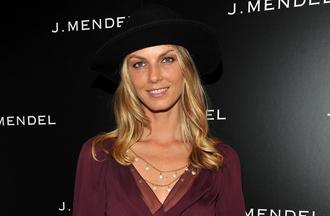 In anticipation of seeing some of our favorite Project Runway contestants duke it out in the sewing room, we talked style with Project Runway All Stars' host Angela Lindvall.
Of course, this all-American beauty has some savvy fashion advice of her own to share.
OK! NEWS: TALKING STYLE WITH HEIDI KLUM
How would you describe your style?
I really like to be comfortable, so I wear flowy pieces and soft layers. I'm a little bohemian.
Article continues below advertisement
What trend do you hope never ends?
Cowboy boots! I never want those to go away. They're cool, and you can dress them up or down.
What's the best style advice you've ever received?
My mother says, "Pretty is as pretty does." My father told me, "It takes pain to be beautiful." I think they are both right.
OK! NEWS: DIET CONFESSIONS WITH MARTINA MCBRIDE
What's something that takes courage to wear?
My friends always make fun of me for my big, floppy black hat. But I like it! It's not just a fashion statement. It keeps the sun out of my eyes and the rain off my head.
CHECK OUT MORE OF ANGELA'S INTERVIEW WITH OK! IN THE NEW ISSUE, ON SALE NOW!