STYLE
SAG Awards: The Best-Dressed Couples of the Night!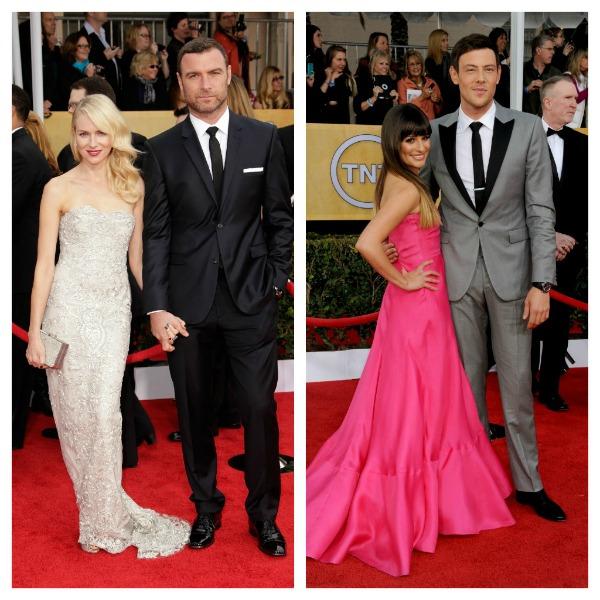 Model Porschla Kidd knows what it means to be one half of a great looking couple (she's the wife of New York Knick Jason Kidd), which is why we recruited her as our SAG Awards guest commentator! Find out which celeb couples were her faves and what her #1 tip is for coordinating outfits with your guy.
The stand out couple of the night was definitely Liev Schreiber and Naomi Watts! Schreiber was perfection and handsome as always in a classic black suit and tie, and Naomi Watts was absolutely stunning in her white Marchesa gown. Naomi definitely showcased the dress properly with minimal jewelry, sleek hair, and a red lip!
Article continues below advertisement
YOUR ULTIMATE GUIDE TO THE SAG AWARDS!
Lea Michele and her Glee co-star/boyfriend Cory Monteith were hot on the red carpet. Lea was a bombshell in her hot pink Valentino gown and Cory's gray Calvin Klein suit with black lapels and black piping was equally young and hip. The gray color of his suit helped to soften the look of Lea's bright dress.
THE BEST-DRESSED STARS AT THE SAG AWARDS
Alec Baldwin, along with his wife Hilaria Thomas, was another favorite of mine. Hilaria's red dress made her liken to a Greek goddess with her one shoulder Grecian inspired gown. Her dress was the perfect shade of red and had great movement. Alec wore a classic black tux with a black bow-tie, which seems to be his standard outfit of choice for award shows. But I'm a fan and firm believer of the motto "stick with what works!"
When Jason and I attend an event together we always pick colors that complement each other, to wear. I always decide what I'm wearing first and then Jason will plan his look accordingly. The key for a guy to match his date is always in the tie. A tie with hints of the dresses color is a subtle way to coordinate without looking cheesy.
What was your favorite moment from the SAG Awards? Comment below or tweet us at @OKMagazine!