STYLE
The Secret Behind Heidi Klum's Silky Mane and the One Reality Show She Can't Stop Watching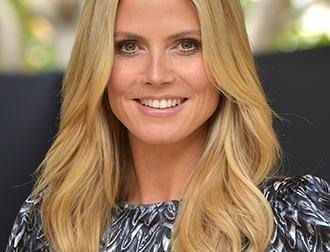 When you think of Heidi Klum, you instantly think of her insanely shiny, gorgeous, blonde hair—or at least I do. Sure, she's got a killer bod, a contagious charm, and a wardrobe that any woman would envy, but she's also got some of the best locks in Hollywood, which is why I had to grill her on all things beauty in our recent interview. Read on for her secrets!
OK!: Clear Hair Care held a "Right End" Hair Revolution event in LA recently, encouraging women to pay more attention to their scalp—why did you decide to partner with this brand?
Article continues below advertisement
Heidi Klum: I tried the products before I joined and I think they're great because they do what they promise—make your hair stronger and more beautiful. Everyone always thinks about split ends, but once they are split the only thing you can do is cut them, no matter what product you use. I think you can help that by feeding your hair through the scalp and Clear does that.
News: First Look at Heidi Klum and Mel B as Judges on 'America's Got Talent'
OK!: What's your favorite product in the line?
HK: The 7 Day Intensive Treatment. I use it twice a month and it makes my hair softer and silkier.
OK!: Clear did a recent study that says 99% of the hair's natural strength and beauty comes from the scalp, where else do you think your strength and beauty comes from?
HK: From eating right. You are what you eat and that's so important; you have to eat right.
Article continues below advertisement
OK!: You've worn a lot of different hairstyles in your career, which trends do you consider the most timeless?
HK: I've cut my bangs and grown them out so many times—I do love them—but for me, I like my hair long. I feel more feminine with longer hair. Maybe it's the girly girl in me, but I like to play with my hair and I can also do more things with it when it's long. Last week I made it really curly, and I love it dead straight or slicked back tight in a bun. It also depends on what I'm wearing.
OK!: Has there ever been one trend that you loved on others, but didn't like on yourself?
HK: I do love those cute little braids that people have, but they just don't look good on me. I think, yes, my name is Heidi and I should be on a dirt road in braids, in the mountains, but it looks wrong.
OK!: What's your get-ready routine?
HK: Most of the time, I wash my hair and condition it, grab a big pair of sunglasses and run out of the house. If I have a meeting, then I would put on a little bit of base, blush, mascara, and a lip gloss.
Article continues below advertisement
OK!: I want to talk to you about America's Got Talent. How has it been working with Mel B?
HK: I love Mel, Howie, and Howard. They are a lot of fun and we make each other laugh all day. Everyone is always on time, which I also love. It's not really about us though. It's about whoever is the act that is on the stage, but we are having a really good time.
News: What's New in Celebrity Fragrances
OK!: What was the transition like for you? To go from hosting to judging?
HK: It's definitely different than anything I've ever done before, but I do enjoy it. I love looking at amazing, goofy acts all day and judging them. I feel like I have good taste. I've seen a lot of things in the 20 years I've been traveling around the world, from any music act to every cirque de le show, to everything that you can watch in Vegas. You name it, I've seen it. I get bored quite fast, so if there's an act on stage and it's boring, it's getting an X quick.
Article continues below advertisement
OK!: Do you watch any other reality shows?
HK: I don't watch a lot of television, but I do like Wipeout. I watch that with my kids, they love it.
OK!: Speaking of your kids, Mother's Day is coming up—what's the best present you've ever received?
HK: My kids made these painted clay pots for me that had a flower planted inside. I thought they were really cute because they lasted.
OK!: How will you be spending the holiday this year?
HK: We will probably be home barbecuing or something like that. We have a beautiful garden, so we will probably just do that. Eat a lot and hang out.
OK!: And we have to talk about your famous Halloween party. Are you doing it again this year?
HK: Of course! I already know what I'm going to wear; I'm all prepared.
What do you love most about Heidi Klum? Are you excited to see her on America's Got Talent? Sound off in the comments below or on Twitter @OKMagazine!