STYLE
Shoeology With Evelyn Lozada: Welcome to Ev's New Blog!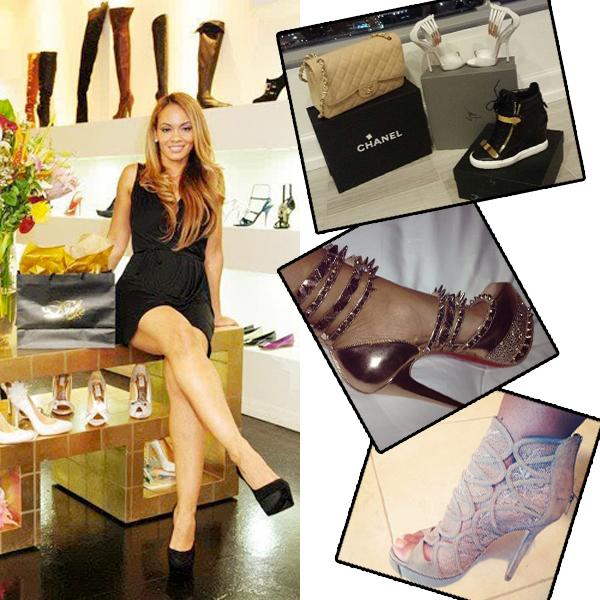 Get ready to talk shoes! Basketball Wives star Evelyn Lozada is OK!'s newest fashion contributor and she'll be answering all your burning stiletto, wedge, and gladiator sandal q's every week, as well as give inside glimpses into her own amazing collection.
OK!: What are you most excited for readers to take away from your new OK! shoe blog?
Evelyn Lozada: I've always loved fashion in general, but my millions of fans (who I also call my friends) know me for my "Shoe Game" and the fact that I'm addicted to shoes. With this blog, I want to help the readers of OK! identify the latest designers, hottest trends, and best techniques to keep them looking fabulous by the foot!
Article continues below advertisement
OK!: How would you describe your shoe style?
EL: Anything with a 4-6 inch heel! This would include platforms too! I also love flats, however, they need to be embellished with some type of jewel or hardware.
OK!: Who are some of your favorite shoe designers?
EL: On the high end, my favorite shoe designer is Giuseppe Zanotti. I guess anyone can tell, because I've been on an Instagram craze with a few of his designs! On the more affordable end, my favorite is Steve Madden…there's just something about that man and his shoes.
5 Surprising Truths About Basketball Wives Star Evelyn Lozada!
OK!: How many pairs of heels do you own?
EL: Roughly over 200 pairs.
OK!: How do you organize your shoes?
EL: It's crazy, I actually organize my closet by designer. Currently, I don't have any pictures because I just moved to LA and I'm in the process of getting a closet make-over! Can't wait!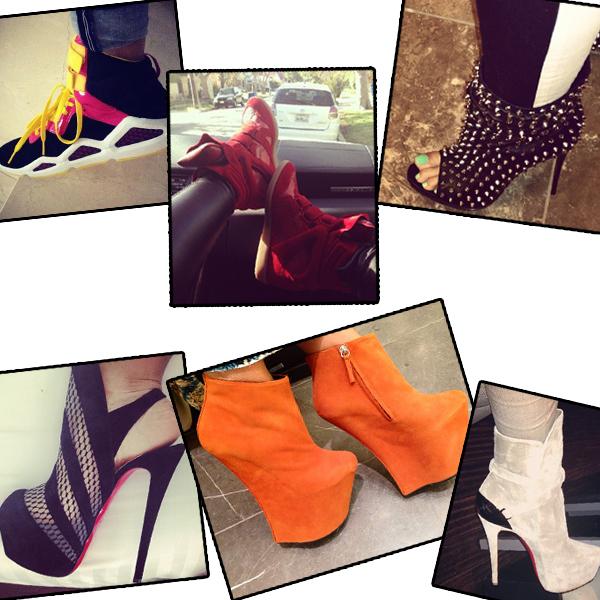 OK!: How do you pack your shoes when traveling?
EL: I put my shoes in the bags that they come in and some I take in my carry on depending on the value.
Article continues below advertisement
OK!: What's your go-to shoe type?
EL: Something FUNKY! I don't have one basic shoe in my closet. If I'm out, I want my shoes to POP…I want people staring at my feet…giving all the attention to my shoes. LOL
OK!: What's your #1 shoe shopping tip?
EL: Personally for me, price doesn't mean anything. If it's cute and it fits, I will buy it, even if it's a $7 pair of leggings. You can always mix and match something expensive with a less expensive item.
Reality Stars Who Took On the Fashion & Beauty Biz
OK!: What's one shoe trend you're loving right now? Which do you hate?
EL: The wedge sneaker—it's so cool and girly! The one I hate is the KITTEN HEEL—I will always loathe the kitten heel. I just can't.
OK!: What's your rule of thumb when it comes to accessories?
EL: When it comes to accessories, don't over do it! Accessories are the glue that holds any outfit together and if you do too much, you will kill an outfit. I cringe when I see someone with too much going on. If I'm wearing embellished earrings, I usually don't add a necklace. When it comes to my bags and shoes, I normally go with what matches. Keep in mind, I'm a New Yorker and sometimes I will just wear my hoop earrings. Keeping it simple is a plus—try not to become a fashion violation. Yikes!
What do you think of Ev's shoe advice? What's your favorite pair of shoes she owns in these pics? Sound off in the comments below or on Twitter @OKMagazine!