STYLE
Spotted! The Coolest Celeb Happenings This Week – January 27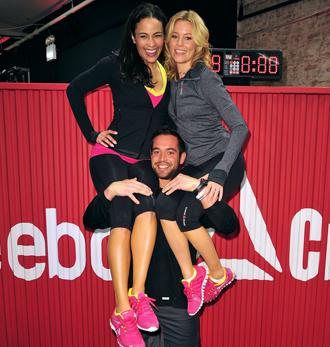 Elizabeth Banks and Paula Patton participated in an intense CrossFit workout in SoHo under the watchful eyes of Rich Froning, Fittest Man on earth,for Reebok's official launch of their "Sport of Fitness Has Arrived" campaign.
AnnaLynne McCord scooped up Paul Frank earmuffs, beanies and a scarf for boyfriend Dominic Purcell's twin daughter's Lily and Augustus at Sundance. The 90210 starlet proudly boasted that she would be the best "Daddy's new girlfriend" ever.
Rihanna and Chris Brown not interacting at Dr. Dre's birthday party at Greystone Manor Supperclub. The Nivea model and Chris stuck to separate sides of the venue before he left with his rumored new girlfriend, Karrueche Tran.
Newly single Heidi Klum buying a Columbian quartz at Crystalarium in West Hollywood. The subdued and contemplative Project Runway star may benefit from the crystal's supposed properties which include filling the owner's chakra with love and bringing health, wellness and fortune.
Elizabeth Olsen stopped by Miami Oasis and made a beeline for the goodies at Udi's Gluten-Free Foods and göt2b POWDER'ful's "back 2 bed Texture Powder." Those Olsen's always have great hair, but Elizabeth Olsen is forever on the prowl for the perfect hair product.
Article continues below advertisement
Extremely pregnant Hilary Duff bundled up in a scarf and oversized sweater and her very friendly to the staff and customers in the store, hockey player husband Mike Comrie at Sprinkles Beverly Hills. The Gossip Girl star purchased 6 cupcakes including s'more, which was created by her fellow co-star, Blake Lively as well as 4 doggie cupcakes. The married couple has dogs Dubois, Jak, Lola, Coco and Rue.
Oscar nominees for Best Actor, Brad Pitt and Best Actress, Michelle Williams receiving Erno Laszlo's limited edition Hollywood Collection. The custom made skin formulations celebrate 85 years of the iconic skincare line.
Wilmer Valderrama took a break from the snowy streets of Park City, UT to test out Vice Merchants luxury bedding at the Talent Resources gifting suite during the Sundance Film Festival.
Jennifer Aniston enjoyed a double date night out with her beau Justin Theroux and Horrible Bosses co-star Jason Bateman and his pregnant wife Amanda Anka at FIG & OLIVE Melrose Place in L.A. on January 21. The actress sipped on her usual Grey Goose martini, dirty, with olives on the side as the two couples chatted for almost three hours over dinner.
Joan and Melissa Rivers brought in huge platters of shrimp cocktail and deviled eggs for the crew when recently filming an episode of Joan & Melissa: Joan Knows Best? at Stript Wax Bar in Los Angeles.
Emma Roberts stopped in to get the "Lucky Stars" look at Blushington Makeup & Beauty Lounge in West Hollywood before heading to a pre-Golden Globe party.
Mary J. Blige picked up a rainbow of colored DL1961 Premium Denim at the Talent Resources suite at Sundance Film Festival.
Adrian Grenier celebrating with Heineken at the SHFT Sundance Lounge. SHFT is Adrian's company which conveys a more sustainable approach to the way we live through video, design, art and culture.
While recent reports have reality star Kendra Wilkinson on the outs with husband Hank Baskett, a recent sighting suggests otherwise. The couple was spotted dining at the Westlake Village Inn's Mediterraneo restaurant in the tony suburb of Los Angeles on January 24, dressed casually, sharing a meal and laughing.
Ben Flanjik, Mario Lopez, Jason Ritter and Malin Akerman seen at the End of Love Party sponsored by Brita FilterForGood Music Project in Park City, UT.
Nick Lachey at the Bertolli Meal Soup Chalet at the Gen Art Lounge with a friend. Later in the evening, Nick was joined by about 10 guys at Tao at the T-Mobile Village at the Lift and confirmed this was his first trip out to Sundance and they came to celebrate his friend's bachelor party.
Screen starlets Octavia Spencer (Smashed), AnnaLynne McCord (Excision), Lake Bell (Black Rock), Anne Heche (That's What She Said), and Gina Rodriguez (Filly Brown) stopped by the naturally nourishing hydration station from Burt's Bees and Vita Coco, who premiered their own new partnership at Sundance.
Nickelodeon's Victorious star Victoria Justice and The CW's The Secret Circle star Brit Robertson catching up at the PUMA Social Lounge before talking with MTV News together
Miley Cyrus stopped into the office of Dr. Gene Rubinstein, M.D. F.A.A.D, of the Dermatology and Laser Centre of Studio City to make an appointment and pick up some products. She pulled up in her brand new Mercedes convertible with an unidentified guy in the passenger seat.